Get With The Guidelines Stroke EMS Data Integration
Enhancing EMS engagement in your stroke system of care
Stroke systems of care are important to ensure timely high-quality stroke care. The American Heart Association® has been working to develop a better way for hospitals and EMS agencies to work together on stroke quality improvement. To support this important initiative, Get With The Guidelines®-Stroke has built a solution to ingest a standardized EMS data file and is working with the country's leading EMS software vendors to link EMS and inpatient stroke records.
Role of EMS Providers in Acute Stroke Care
Paramedics, EMTs and other first responders are often the first healthcare provider to assess and treat a stroke patient. The acute time-sensitive nature of stroke highlights the importance of efficient and accurate triaging of stroke cases in the field. Along with fastidious triaging and pre-hospital management by EMS, the data gathered during triage is crucial to the care and outcomes of a stroke patient as the triage data will determine the appropriate facility the patient will have to be transported to.
The Role of Get With The Guidelines - Stroke
It is important to note the role of robust and accurate data in improving stroke care and outcomes. GWTG-Stroke is fundamental in the quest to improve stroke care across the globe. Using GWTG-Stroke for complete system of care data collection is crucial to supporting research, driving the constant refining of standards, maintaining updated treatment guidelines and educating health care professionals in the care of stroke patients.
GWTG-Stroke is Connecting Healthcare to Support System Quality Improvement
EMS providers are expected to provide early notification, when possible, to the receiving hospital when stroke is recognized in the field. However, this and other information first entered by EMS is often unable to be located by hospital staff. Additionally, when this information is available, in many cases it must be manually re-entered into the GWTG-Stroke registry by hospital staff. To decrease redundant data-entry from multiple clinical end-users, the American Heart Association have engaged major EMS software vendors, which serve a significant number of EMS agencies in the United States to create a new workflow for clinical end-users to share EMS transport data using the NEMSIS 3.4 data standard to directly import and link records in GWTG-Stroke registry through the Get With the Guidelines compatible vendor program.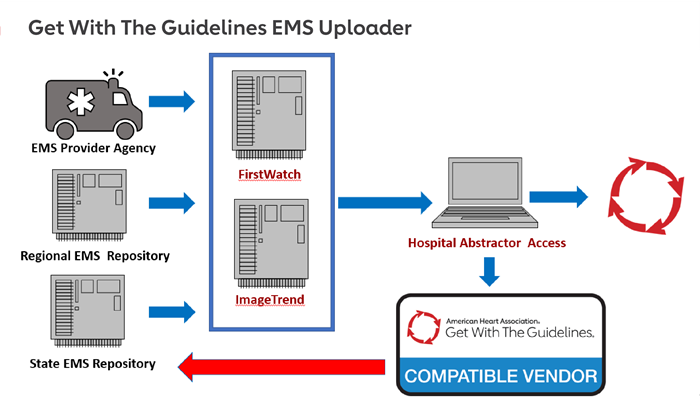 In addition to the inbound connection of EMS data to GWTG-Stroke, through the engagement with the EMS Vendors, the American Heart Association has provided evidence-based EMS-centric measure specifications to the EMS software vendors. These measures will utilize specific outcome elements which the GWTG-Stroke users at the hospital will be able to send back to the EMS agency that provided care for the patient. This allows the EMS provider agencies to examine and evaluate their performance within their own native environment and not depend on the hospital manually sending back outcomes one-by-one. By providing this connection, GWTG-Stroke can effectively provide end-to-end analysis of the Stroke System of Care and better support Stroke System Stakeholders. This provides complete care continuity between the prehospital, In Hospital, and Post Hospital care setting, so each set of healthcare providers can be equally active participants in the system's quality improvement program.
Healthcare is complicated; the use of coordinated systems of care is key in managing an acute stroke patient. Get with The Guidelines-Stroke registry allows for a central point of analysis of a standardized data set to support Quality Improvement and Scientific Research.
For more information about this exciting new enhancement, please reach out to your local Quality Systems Improvement Director or email [email protected].
---