Who will win the top dog prize?
Be part of the American Heart Association's Healthy Bond for Life International Heart Classic Virtual Dog Show. This first-ever event for professional show dogs celebrates and recognizes the benefits of the special bond between pets and their owners.
Cats, dogs and COVID-19
As we all continue to adapt to life during COVID-19, you may be wondering about the latest information on the pandemic and pets.
The Centers for Disease Control and Prevention have reported about 1 million human cases of COVID-19 in the U.S. as of late April. Only one dog, two pet cats and several tigers and lions in a U.S. zoo have become mildly ill as a result of infection with the virus that causes COVID-19, according to the American Veterinary Medical Association.
Watch how the molecules in soap help everyone, including those with pets, during COVID-19
Always be mindful of good hygiene practices when caring for your pets — but especially during a pandemic.
Keep your pets (and yourself!) healthy, so everyone can enjoy the benefits that pets bring to our lives.
We also urge you to stay informed about the rapidly changing pandemic. The Centers for Disease Control and Prevention offers regularly updated and reliable information. Be sure to also follow the guidance of your state and local health officials.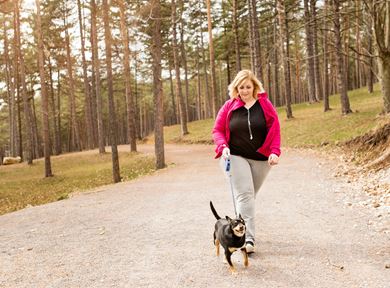 Keeping weight off your pet is important.
What's the bond between pet ownership and your health?
Studies have shown pet ownership may increase fitness levels, relieve stress, lower blood pressure and cholesterol levels, and boost overall happiness and well-being. But are you and your pet as healthy as you can be?
Welcome to Best Friend Fridays™
Learn what pet parents are saying about bringing their pets to work.
Wagging tails can help keep the workplace calm.
Think about opening your doors to employees' four-legged friends!
Owning a pet can change your life.
Whether you adopt a pet or want to foster a pet, this February you can give your heart to a pet who needs you.
Thinking about adopting or fostering a pet? National Love Your Pet Day is Feb. 20, 2020.
It's also American Heart Month, so treat your heart (and your pet's heart) to a little something wonderful.
America's Top Dog and the Go Red For Women® Red Dress Collection®
Meet America's Top Dog from Westminster Kennel Club's annual dog show.
Learn why the American Heart Association invited King, the Westminster "Best in Show" winner to join Rachel Smith on the runway.
Adopting a Dog Could Be Good for Your Heart
Watch and listen while Dan Schachner, the Puppy Bowl Referee Host / MC and Dog Trivia Master, speaks with
Dr. Suzanne Steinbaum, about adopting a dog and how this can actually be good for your heart.
This is the 16th Puppy Bowl so we rounded up 16 facts you'll want to read after viewing our Animal Planet video.

Move More in Style
Your dog can Go Red in our fashionable Go Red Gingham Dog Collar or Leash!
Proceeds benefit our mission to be a relentless force for longer, healthier lives.