The Facts About High Blood Pressure
High blood pressure (also referred to as HBP, or hypertension) is when your blood pressure, the force of blood flowing through your blood vessels, is consistently too high.
Are you concerned about high blood pressure?
Know your numbers
Great! "Knowing your numbers" is important for you and the ones you love.
Why not know?
Not interested in your blood pressure numbers? Everyone should be. If you change your mind:
Sponsor
Bayer Consumer Health, maker of Coricidin® HBP, is a proud sponsor of the AHA High Blood Pressure Web content area.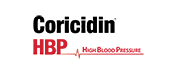 Take the
first step
Knowing your blood pressure numbers is key to a longer, healthier life.