Fish and Omega-3 Fatty Acids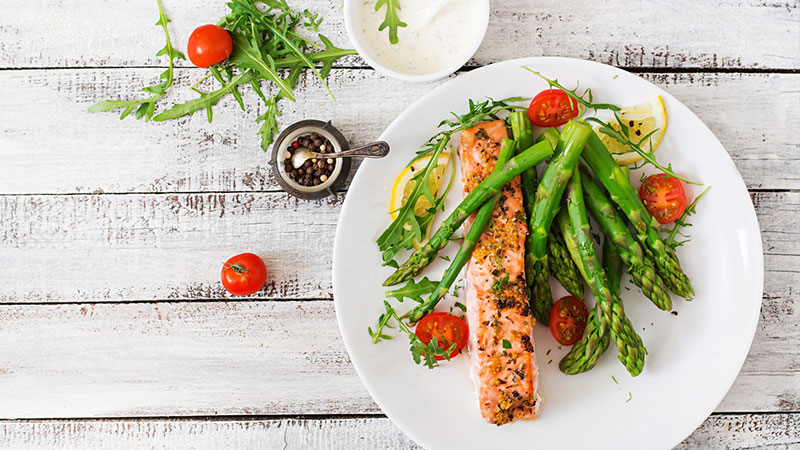 Fish is a good source of protein and, unlike fatty meat products, it's not high in saturated fat. Fish is also a good source of omega-3 fatty acids, which are good for your heart. Research has shown that omega-3 fatty acids can reduce your risk of heart disease and stroke.
Eat fish at least twice a week.
The American Heart Association recommends eating 2 servings of fish (particularly fatty fish) per week. A serving is 3.5 ounce cooked, or about ¾ cup of flaked fish. Fatty fish like salmon, mackerel, herring, lake trout, sardines and albacore tuna are high in omega-3 fatty acids.
There's a catch - avoid mercury.
Some types of fish may contain high levels of mercury, PCBs (polychlorinated biphenyls), dioxins and other environmental contaminants. Levels of these substances are generally highest in older, larger, predatory fish and marine mammals.
The benefits and risks of eating fish vary depending on a person's stage of life.
Children and pregnant women are advised by the U.S. Food and Drug Administration (FDA) to:
Avoid eating those fish with the potential for the highest level of mercury contamination (such as shark, swordfish, king mackerel or tilefish).
Eat a variety of fish and shellfish that are lower in mercury (such as canned light tuna, salmon, pollock, catfish).
Check local advisories about the safety of fish caught by family and friends in local lakes, rivers and coastal areas.
For middle-aged and older men and postmenopausal women, the benefits far outweigh the potential risks when the amount of fish eaten is within the recommendations established by the FDA and Environmental Protection Agency.
Eating a variety of fish will help minimize any potentially adverse effects due to environmental pollutants.
Five of the most commonly eaten fish or shellfish that are low in mercury are shrimp, canned light tuna, salmon, pollock, and catfish. Avoid eating shark, swordfish, king Mackerel, or tilefish because they contain high levels of mercury.
---