Profiles in research: Juan Zhao, Ph.D.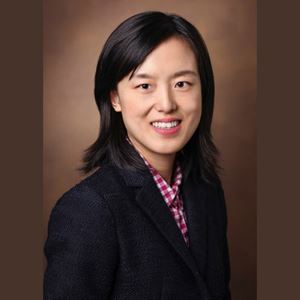 Juan Zhao, Ph.D., has in the last decade honed her skills in machine learning and deep learning. She graduated with a Ph.D. in computer science from the University Chinese Academy of Sciences in Beijing, China, and spent the subsequent years using that knowledge to analyze vast amounts of internet data to, among other things, prevent cybercrime.
While the work tapped her skills in data and information analysis, she wanted to pursue research on a more human level, using human data to solve real-world problems. Now she's realizing that dream as a postdoctoral fellow in the Center for Precision Medicine at Vanderbilt University Medical Center where she puts her skills to use in biomedical informatics Specifically, Dr. Zhao is leveraging the massive amounts of healthcare data at Vanderbilt University Medical Center to improve stroke and cardiovascular disease prediction. Through a grant from the American Heart Association (AHA) Institute for Precision Cardiovascular Medicine, she's using the AHA Precision Medicine Platform to quickly and efficiently identify which features beyond traditional stroke risk factors might impact a person's stroke risk.
That's important because stroke is a leading cause of death and disability worldwide. The American Heart Association and other groups have developed models to predict stroke risk based on known risk factors, such as hypertension, age, diabetes, smoking, and atrial fibrillation. But research suggests these risk factors explain only about 15% to 60% of strokes.
"Looking beyond conventional factors is essential for accurate stroke prevention, especially given that stroke is preventable, and its first sign may be fatal," according to Dr. Zhao.
Health record data could help Dr. Zhao and colleagues detect things that increase stroke risk that are not considered traditional risk factors, such as a patient's genetics, laboratory test results, medication use, medical history, and more. The data also allows researchers to look at more than just a snapshot of the patient, but rather the patient's health during longer time periods.
"We are looking at how to incorporate such knowledge into existing risk prediction models," she said.
Dr. Zhao and colleagues are harnessing the powers of machine learning and deep learning on Vanderbilt's longitudinal electronic health records and genetic data including more than 2.8 million patients to better predict 10-year stroke risk. Better ability to predict stroke could reduce the risk of death and high financial costs from stroke-related disability.
The idea, according to Dr. Zhao, is to arm people and their doctors with a more accurate prediction of stroke risk so that doctors can optimize treatment, and people can make lifestyle changes before stroke occurs.
The AHA Institute's Precision Medicine Platform is helping her to translate the massive health data into real-life stroke prediction for individual patients. "The Institute's platform has fantastic features that allowed us to quickly develop algorithms and share the algorithms with other researchers conveniently," Dr. Zhao said. "I came to Vanderbilt for medical informatics to work with large medical data that comes from the real world, realizing the work could benefit people. This motivated me to do this kind of research and continue my career here. It's really exciting."
For more information on the American Heart Association's Institute for Precision Cardiovascular Medicine grants, please go to: www.heart.org/en/professional/institute/grants
---