Profiles in research: John W. Cole, M.D.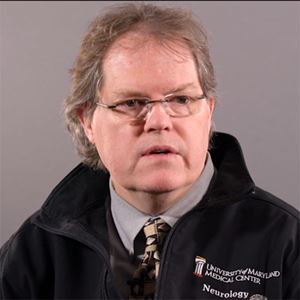 Before going to medical school, John W. Cole, M.D., M.S., was an electrical engineer troubleshooting computer circuits.
He does similar work today in the human brain. As a vascular neurologist, Dr. Cole tries to disarm blood clots that cause strokes. His aim is to save stroke patients' lives and prevent stroke-related disability.
While many stroke patients who come in soon after stroke symptoms start have good prognosis, those who wait to be treated or don't recognize stroke symptoms often suffer from long-term disability or death.
However, there's another aspect to Dr. Cole's job that he considers just as important as treating stroke patients, namely stroke prevention. "Part of my drive is to figure out ways to prevent stroke because it's such a devastating illness," said Dr. Cole, an associate professor of neurology at the Maryland Stroke Center, Baltimore VA Medical Center and University of Maryland School of Medicine.
Through a grant from the American Heart Association's (AHA) Institute for Precision Cardiovascular Medicine, he conducts research through the AHA Precision Medicine Platform to better understand how having certain genetic variants might make some people more prone to stroke.
"Genetics play a role in stroke for sure," Dr. Cole said. "The question is how do genetic variants interplay with each individual? Is it based on their risk factor profile, which can include smoking or high blood pressure, that certain genetic causes have a higher effect?"
One of the large datasets that Dr. Cole and colleagues are using to conduct their research is one they've compiled of 1,000 young stroke patients—younger than 49. For comparison, that dataset includes a similar group of 1,000 people who have not had stroke.
"If you're young and have a stroke, there is probably a greater propensity for genetic drivers," he said.
Dr. Cole's most recent grant from the Institute focuses on a stroke type caused by small vessel disease, which accounts for 20% to 25% of strokes and is a leading cause of disability.
Using the power of precision medicine, Dr. Cole and colleagues ran genetic panels on all 2,000 people in the young dataset, looking at genetic variants throughout each individual's genome.
"We're looking to see if there's a higher incidence of certain genetic variants in stroke cases and have been able to tease out some genetic risks using our young-onset stroke model, which we're presenting early next year at the AHA's International Stroke Conference ," Dr. Cole said. "The next step is to determine how these genetic variants increase risk. This could be due to an interplay between standard risk factors such as hypertension or diabetes, or through inflammation or increased clotting, or pathways we have yet to consider."
His ultimate goal is to tailor-make prevention strategies based on an individual's genetics to reduce stroke risk.
AHA's Institute is helping foster Dr. Cole's and other researchers' work by pooling large datasets and making them accessible.
"One of the key things you have to do, especially in genetics' research, is once you've found something you need to be able to replicate it," Dr. Cole said. The AHA's Precision Medicine Platform also facilitates such replication studies. Once replicated, researchers' discoveries can be put into practice—in the case of Dr. Cole's research to prevent stroke.
---