The American Heart Association and The Children's Heart Foundation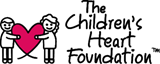 To help further lifesaving research for congenital heart defects (CHD), the American Heart Association/American Stroke Association and The Children's Heart Foundation are joining forces to help tackle the world's number one birth defect: CHDs.
This alliance will not only provide grants to further research, but will also provide an outlet to encourage conversations among parents and caregivers through the patient Support Network. This network connects people living with heart disease and stroke with others that are going through a similar journey and offers an online community, as well as materials for starting face-to-face community support groups.
In addition, both organizations will continue to raise awareness about CHDs, the need to address national policies for early CHD detection and health advances that can change the life expectancy of babies born with a congenital heart defect.
Related links:
---