Heart Valve Surgery Recovery and Follow Up
What to expect after heart valve surgery
The normal recovery time is usually four to eight weeks, and may be shorter after minimally invasive surgeries.
Immediately after surgery
People are usually practicing very basic self-care and are encouraged to get up, to breathe deeply, and to resume eating, drinking and walking as soon as possible after surgery.
Days and weeks following surgery
During this phase, people can expect to gradually regain energy and return to their normal activity level.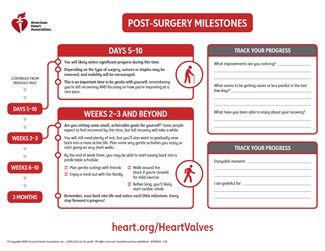 Download our Recovery Milestones checklist (PDF) and chart your progress toward wellness. This checklist is also available in Spanish (PDF).
Make Your Winning Post-Surgery Recovery Plan
Patients preparing for a major surgery – such as heart valve surgery – are often focused on their most important objective: life. The good news is that heart valve survival rates are incredibly high. If your health care provider has recommended you have heart valve surgery, you can and should begin planning now for recovery and wellness after your surgery. Download our helpful checklist (PDF)(link opens in new window) now and keep it handy during your preparation.
"When I left the hospital, I had to ask my husband to tie my shoes. I didn't realize before my surgery that I wouldn't be allowed to bend over for a while during my recovery. I had a lot of questions, but I didn't know who to ask or where to find answers." — Liz, Heart Valve Patient
Here are some common recovery considerations, but of course you should always follow your individual health care provider's instructions, which will be tailored to your needs and precautions.
What should you bring to the hospital?
Loose-fitting pants or shorts. Why?

They are easier to put on and take off.
Loose, stretchy pants can accommodate a catheter if needed during recovery.
Swelling can be common after surgery.
Hospital gowns don't offer modesty protection and hall-walking is encouraged during recovery.

Comfortable, slip-on shoes or slippers.
Women may want to consider a special bra.

Post-surgery bras can be helpful, especially for women who usually need substantial support. Keep in mind that raising your arms overhead may not be permitted or comfortable. Consider investing in a special bra with front or shoulder Velcro tabs or hooks.

Something loose and comfortable to wear when it's time to go home.
What do I need to consider for my recovery at home?
Use our checklist to help you think through:

Managing home tasks
Managing self care
Managing family, work and even pet care routines
"One difficulty I didn't expect was that I could not do laundry. I could drop a few pieces of lightweight clothing in the washer but lifting the wet laundry to put it in the dryer was a huge no-no. The other challenge was loading and emptying the dishwasher. Again, for me, the bending over was off limits for one, but also the weight of some of the dishes was too much for me to lift right at first." — Liz
How long will my recovery take?
Recovery is unique for each person. It will depend on the type of procedure, your overall health prior to surgery, and any potential complications.
Here's what one patient had to say about managing her expectations.
"When you are told you'll be recovering for 4-6 weeks, and then you follow up with 12 more weeks of cardiac rehab, and then you realize that you still feel like you're not recovered, it's not actually because you are not recovered. It is because after a major heart surgery you have a new normal. You just feel differently and you're sporting the scar that shows you have been through a battle. I call it my courage scar. I can do most of the things I used to do, and making that connection to other survivors [helped me continue to] get stronger and to remain hopeful." — Eva, Heart Valve Patient
---