Grocery Shopping Without a Car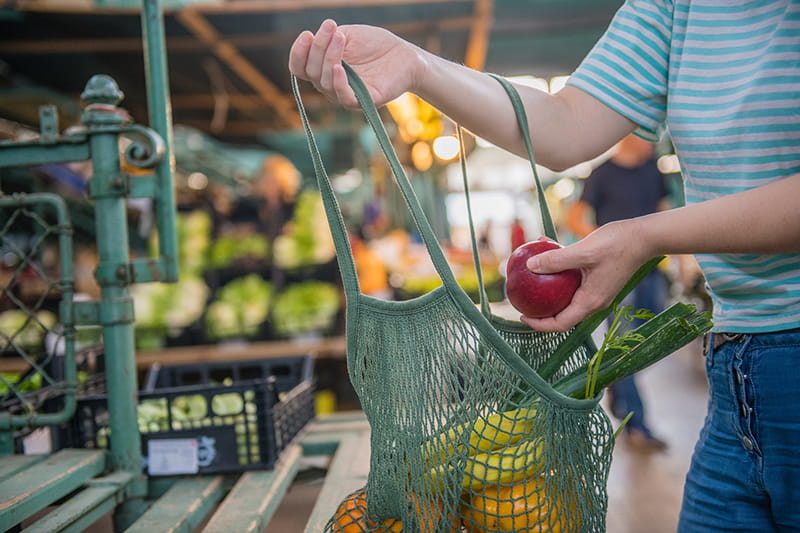 Grocery shopping on foot can require some planning ahead. It may be a necessity if you don't have access to a car, or it can be a good way to get some extra steps in your day if you live in a walkable neighborhood.
Before you head to the store, make a meal plan and write down a list of the ingredients you need. Stick to your list to keep from running up your grocery bill and adding extra weight to carry home. Instead of juggling plastic or paper grocery bags from the store, find a reusable bag (if the store allows) such as a backpack, duffel bag or tote bag, which is easier to carry. A rolling bag or cart can make things easier, too.
Here are some more tips to simplify and lighten your load:
Buy Foods That Go Far
Get the most meals out of one package of food so you have less to carry home. Here are some ideas:
A bag of dry beans stretches into more meals than canned beans – and weighs less.
A small bottle of canola or olive oil is a great staple to have on hand for a variety of uses, including making your own salad dressings at home instead of buying bottled dressing. (It can be less expensive and healthier, too!)
Instead of heavy jarred pasta sauce, pick up a small can of tomato paste. Add water, garlic powder and dried oregano and other spices for an easy homemade sauce.
Lighten the Load
Look for lighter options of the same type of food.
Look for lighter options of the same type of food. For example, bags of frozen fruits or vegetables will weigh less than canned, and you can pack them next to refrigerator items like milk or yogurt that need to stay cool on the way home.
Eat Stem to Root
When you buy fresh fruits and veggies, try to use every part of the produce.
Sauté the leafy green tops of beets, carrots or turnips with garlic, pepper and a splash of vinegar.
Shred broccoli stalks to use in coleslaw or stir fry.
Toss the leaves from cauliflower, celery or broccoli into salads or save them for making soup.
Grow Your Own
Consider growing some of your food, such as vegetables and herbs, instead of buying them.
If you don't have a yard, use containers (like recycled plastic tubs) on your porch, patio or balcony. Some plants do very well in pots, such as tomatoes, peppers and lettuce. And herbs like oregano, cilantro, basil, mint and thyme grow well in pots or even recycled jars on your windowsill.
Last reviewed 1/2015
---