Quick Fixes for Family Meals when There's No Time to Grocery Shop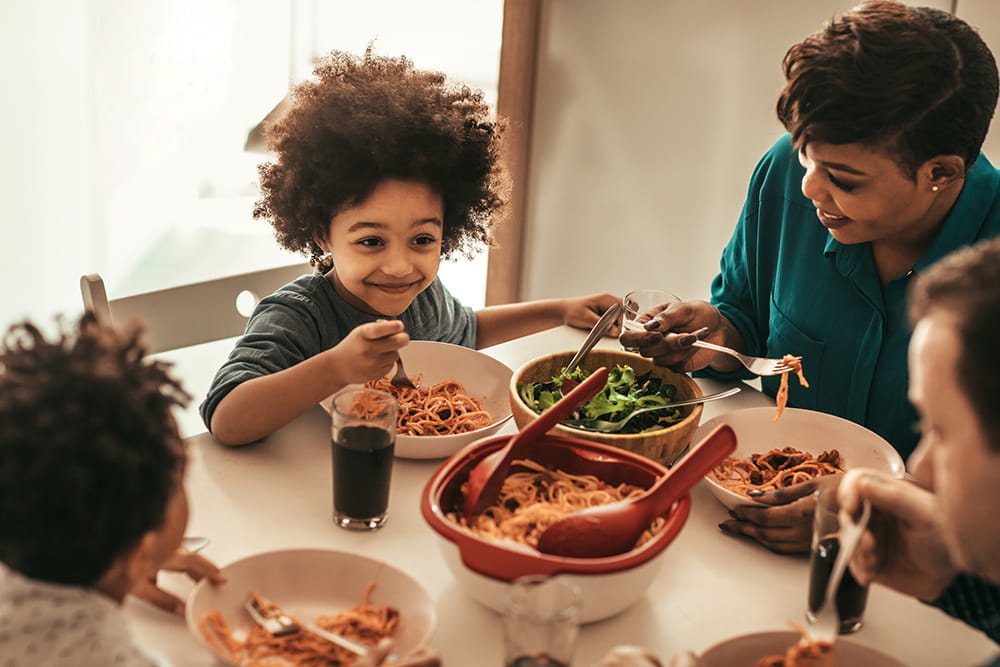 The fridge is empty, there's no time to grocery shop between work and other activities, and appetites are ramping up. A little creative thinking can help you avoid resorting to fast food.
Here are a few options to try for last-minute family meals:
Use packaged and prepared foods wisely.
Healthier options in the packaged and prepared foods sections can help round out a meal. For example, a grocery store rotisserie chicken can be a great time-saver for several meals during the week. Serve as a main dish for one meal and use remaining meat to top salads or add to a soup or casserole later in the week. A frozen, fast-food or takeout entree can serve as a good starting point when you add extra veggies, beans, whole grains or lean protein.
Get food delivered.
In larger communities, you may be able to order groceries online and have them delivered to your doorstep. Some stores also offer services that shop for you and assemble your items for quick pick-up at the front of the store. And food delivery apps and services can be a lifesaver – as long as you've done a little research to identify healthier restaurants and choices. Look for special offers and discounts for signing up.
Shop your pantry.
Pull together a quick meal with staple ingredients like canned beans, dried whole grain pasta, quick-cooking grains such as quinoa or bulgur, and canned fish or chicken. You can transform canned tomatoes into a healthy sauce, without the excess sodium or added sugars of prepared sauces. Canned broth or stock can be the start to a quick soup, using canned or frozen chicken and veggies.
Try a meal kit.
Options abound! There are meal kits to fit a variety of diets and tastes as well as available prep time. While many require a subscription for delivery, some are available at grocery stores, drugstores and other major retailers. This is a quick way to pick up everything you need to prepare a meal without navigating the store aisles. Read the nutrition info and watch portion sizes, which can be overly generous.
Shop the corner store.
A nearby convenience store always works in a pinch. While there are shelves full of sugary and salty snacks, many also have some healthy options, including fresh produce, canned soup and frozen foods. Walk around the store to scan what's available and find the healthier options, rather than choosing impulsively.
Bottom line: Quick, healthy meal options are available. Just remember to make smart choices! Read nutrition label information and choose products with lower amounts of sodium, saturated fat and added sugars.
---