Delicious Cooking for One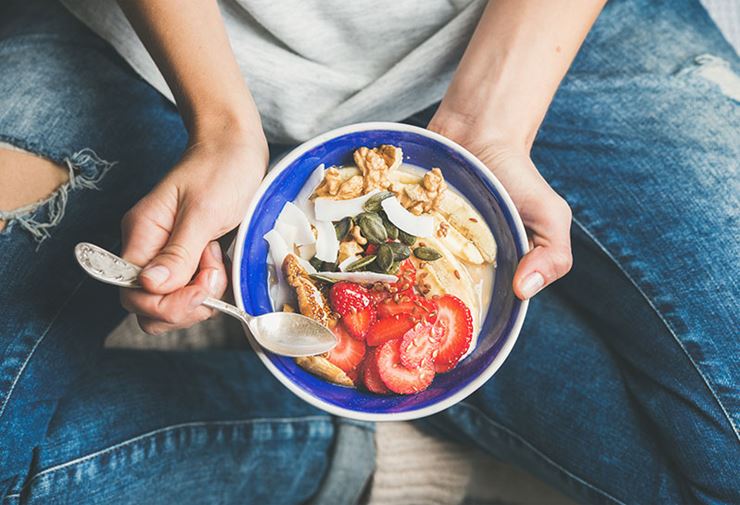 Taking just a few minutes to make a home-cooked dinner for yourself can be more deliciously satisfying than the same routine of heating packaged frozen dinners in the microwave night after night – and it can be done without washing lots of dishes! The trick is to have a few staples in the pantry and in the freezer. Here are some must-have meal-builders for fast and healthy meals for one:

Stock your pantry
Keeping tasty shelf-stable items on hand means cooking at home will be almost as easy as ordering take-out, but much more satisfying!
Canned tuna – The American Heart Association recommends eating fish – preferably oily fish that contain omega-3 fatty acids – at least twice a week. Canned light tuna can help you meet those recommendations! Tuna is the go-to sandwich maker, but it can also be stirred into low-sodium pasta sauce along with some chopped peppers and some paprika for a Spanish sauce. Jazz up your tuna salad by adding grated carrot, celery, raisins and curry powder; instead of mayo, stir in low-fat plain yogurt. The combo of apples, tuna and a sprinkle of sunflower seeds makes delicious toppings for a green salad.

Canned beans – If you have canned beans, you have a meal in minutes; just drain and rinse to remove some of the excess sodium. Make a salad for dinner (or pack it for lunch) with mixed greens, beans, any veggies on hand and a sprinkle of unsalted sunflower seeds. Microwave a sweet potato and puree it with beans and low-sodium chicken broth for a satisfying soup. For a hearty pasta sauce, sauté beans in a little olive oil for 3 minutes with garlic, then add low-sodium tomato sauce and serve over whole wheat noodles.

Interesting whole grains – Brown rice is a great pantry staple, but to add different flavors and textures to your meals, try any of these quick-fix grains instead of rice: Pearled barley, whole wheat couscous, bulgur, or whole grain corn grits.

Low-sodium or no-salt tomatoes – A personal pizza is as easy as opening a can of tomatoes and heating them with dried oregano and garlic (or garlic powder) and then spooning onto whole wheat pita bread and topping with a small sprinkling of low-fat mozzarella and fresh vegetables. To make a quick and easy huevos rancheros meal, warm canned tomatoes with cumin and chili powder to make a sauce; then top two corn tortillas (choose tortillas with lowest saturated fat, no hydrogenated fats, and low sodium content) with an egg and the tomato sauce.
Stock your freezer
Whenever you cook, make a recipe for extra servings so you can freeze the extra in individual serving containers for heat-and-eat meals.
Pasta sauce – On the weekend, make a big batch of homemade red sauce, pesto or low-fat white sauce. Freeze in ice cube trays and then transfer to a zip-top plastic bag. When reheating, take out as many cubes as needed. Reheat tomato sauce in the microwave or defrost pesto and white sauce by placing in a freezer bag and dunking into hot water (so the sauce doesn't separate.) Serve over a big plate of cooked veggies or whole grain noodles. Check out these great ideas on how to Create Your Own Tomato Sauce!

Corn tortillas or whole grain pita bread – Healthy pizzas or Mexican inspired recipes are always on hand when tortillas or pita bread are kept in zip-top freezer bags in the freezer. See the tips above for individual pizzas and huevos rancheros. Two corn tortillas cut into eight 'pie' slices and sprayed with cooking spray become warm corn chips after about 8-10 minutes in the oven at about 400 degrees Farenheit. Top with drained and rinsed, canned beans; green peppers and chopped tomatoes and a sprinkle of low-fat, low sodium cheese for tasty nachos.

Frozen fruits & vegetables – Picked at the peak of freshness, some frozen fruits and vegetables can be even higher in certain nutrients than fresh varieties. Toss different frozen veggies into low-sodium chicken broth for a big bowl of soup; top with a cooked egg or stir in shredded chicken breast. Add frozen fruits to a batch of corn muffins or spoon over whole grain toaster waffles. Whip frozen fruit in a blender with low-fat milk to create a tasty smoothie.

---