Meal Planning: Benefits & How-To's of Family Dinners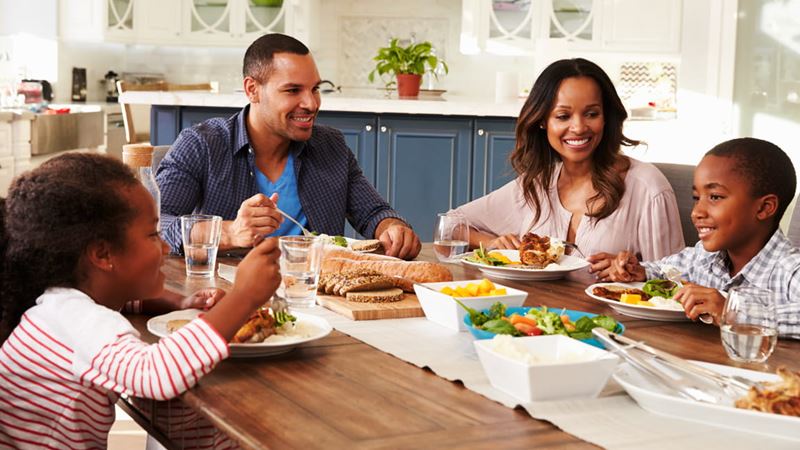 These days, we eat more food away from home compared to generations before us, which is unfortunate because there are many benefits of family mealtime. Here are reasons why it's important to eat together, as well as tips on how to make family meals a reality and an enjoyable time despite everyone's busy schedules.
Eating together with your family for about 20 minutes only three to five times a week is all it takes to benefit1,2,3.
Some positive sides of a family mealtime include:
Fewer behavior problems in young children
Stronger vocabulary and more academic successes
Teens are less likely to smoke cigarettes or marijuana, or to abuse alcohol
Kids are less likely to be overweight and less likely to develop disordered eating
Eating healthier foods
So, how do you make family meals part of your weekly routine?
Plan Ahead
Have a calendar with everyone's work and activity schedules. Pick at least two days where everyone has time to join a family meal. Even if you have to eat dinner separately and come back to the table after a soccer practice for snack of fruit with everyone, that counts! Eating breakfast or lunch together over the weekend is another great way to spend time together.
Unplug
Make the family dinner table a cell phone/TV/computer/video-game free zone; adults too! Without these major distractions, it's easier really focus on each other. The idea is to have an actual conversation with your entire family or group of friends.
Break the Ice
It may seem strange but often families say they not sure what to talk about around the table! If some don't feel like sharing the details from their day, ask everyone's favorite memory from last month or start a round of knock knock jokes. Conversation can be silly and light hearted, especially with kids.
1Martin-Biggers, J. et al., (April 2012). Family meals linked to healthier eating. Presented at American Society for Nutrition's Scientific Sessions and Annual Meeting, San Diego, CA.
2Hammonds, A.J. et al., Is frequency of shared family meals related to the nutritional health of children and adolescents? Pediatrics. 2011 Jun;127(6): 1565-74.
3Eisenberg, M.E. et al., Family meals and substance use: is there a long-term protective association? J Adolesc Health. 2008 Aug;43(2): 151-6.
---