Understanding and Improving Cholesterol (Spanish brochure)
Published by: The American Heart Association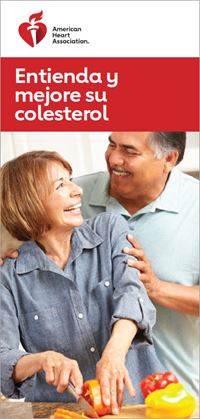 Product Code: 50-1746
This brochure helps patients understand how cholesterol affects the body and what they can do to improve their numbers and reduce their risk of heart disease and stroke. Content offers clear explanations of LDL, HDL and triglycerides. It also includes the latest information about how making lifestyle changes, improving diet and using medication if necessary can help.

Request a Sample
If you are interested in receiving a Spanish cholesterol information packet containing this brochure, please complete our product order form. Requests are limited to residents of the United States and to no more than one packet and two brochures per household.

Bulk Orders
If you are interested in placing an order, receiving print samples or viewing online e-samples, visit our distributor, Krames. Registration is required to request samples and order online.
English: 50-1713
---