Losing Weight the Healthy Way (Brochure)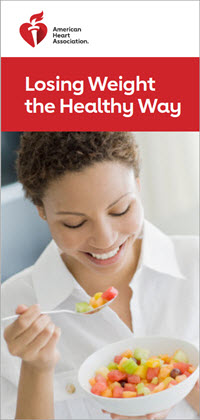 Published by: The American Heart Association
Product Code: 50-1680
National Health Information – Merit Award Winner
The basics of weight management, in just a few easy-to-read pages. Includes information on how to develop a healthy eating plan, select and prepare food, and become more physically active.
If you are interested in receiving a weight management information packet containing brochure, please complete our product order form. Requests are limited to residents of the United States and to no more than one packet and two brochures per household.
If you are interested in placing an order, receiving print samples or viewing online e-samples, visit our distributor, Krames. Registration is required to request samples and order online.
---