Losing Weight the Healthy Way (Brochure)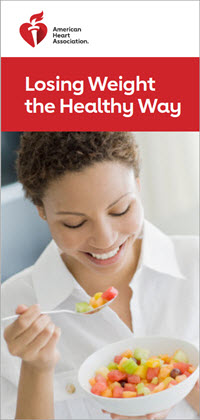 Published by: The American Heart Association
Product Code: 50-1680A
National Health Information – Merit Award Winner
This brochure walks readers through the basics of weight management. These include planning an effective weight-loss program, choosing healthy foods and getting regular physical activity. New content introduces the importance of peer support and celebrating milestones in achieving long-term success.
If you are interested in receiving a weight management information packet containing brochure, please complete our product order form. Requests are limited to residents of the United States and to no more than one packet and two brochures per household.
If you are interested in placing an order, receiving print samples or viewing online e-samples, visit our distributor, Krames. Registration is required to request samples and order online.
---