Infective Endocarditis Wallet Card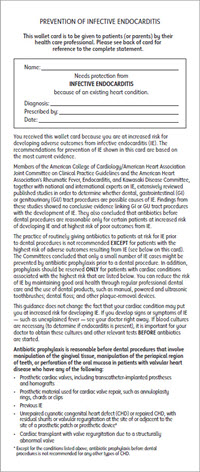 Published by: American Heart Association
Product Code: 50-1605A
An ID wallet card for patients who are at increased risk for developing adverse outcomes from infective endocarditis. Patients can show the card to health care professionals before undergoing dental or surgical procedures to ensure that proper precautions are taken. Includes antibiotic dosage guidelines.
Request a Sample
If you are interested in receiving a sample of this brochure, please complete our product order form. Requests are limited to residents of the United States and to no more than one packet and two brochures per household.
Bulk Orders
If you are interested in placing an order, receiving print samples or viewing online e-samples, visit our distributor, Krames. Registration is required to request samples and order online.
---