Fighting women's heart disease is a bipartisan issue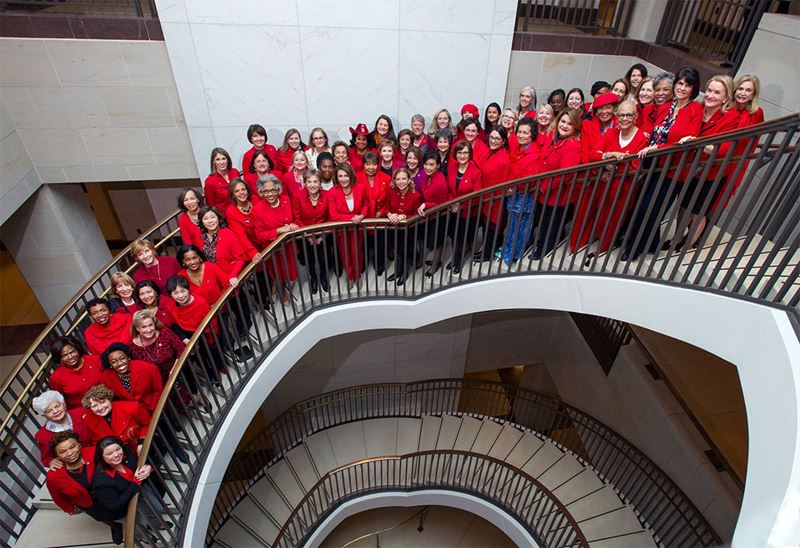 In this era of partisan politics, it would seem unusual to see Democratic and Republican members of Congress laughing, chatting and taking photos together.
But that's exactly what happened when more than 50 women of Congress gathered for the annual Go Red for Women photo on Capitol Hill.
It's a bipartisan event that since 2013 has provided an opportunity to highlight women's heart disease, raise awareness about prevention and advocate for research on heart disease, the No. 1 killer of women in the United States.
Rep. Joyce Beatty, D-Ohio, a stroke survivor and co-chair of the Congressional Heart and Stroke Caucus, believes it's imperative that women listen to their bodies and know the warning signs.
"We want women to know the signs [of heart disease] so they can stay healthy," she said after last week's photo.
Less than 50 percent of women know the major symptoms of heart disease.
Unlike movie scenes in which an actor clutches his chest and falls to the floor, heart attack symptoms in women may not be that dramatic.
Instead, women may experience:
Shortness of breath

Pressure or pain in the lower chest or upper abdomen

Dizziness

Upper back pressure

Extreme fatigue
That's why it's imperative that women have access to quality health care and schedule regular physical exams.
Rep. Amata Radewagen, R-American Samoa, said many women in her district would prefer to hide their heart disease symptoms instead of admitting when they're sick. That's why she supports prevention efforts, so women can treat their symptoms before they become more severe.
Knowing your family history is also important.
Rep. Susan Wild, D-Pennsylvania, has seen her father and other members of her family succumb to heart disease.
"This is something that my generation and the next generation are similarly affiliated with," she said. "Fortunately, not yet for myself. But I am constantly in touch with my cardiac health."
'My mom, like millions of other women, has heart issues'
Many congresswomen were inspired by their mothers to bring greater awareness to women's heart disease.
"My mom, like millions of other women, has heart issues," said Rep. Cathy McMorris Rodgers, R-Washington. "It reinforces to me every day the importance of this awareness."
Rep. Sheila Jackson Lee's mother also battled heart disease.
"She fought it as long as she could, she was a real fighter," the Texas Democrat said. "But it helped me understand how important it is for early diagnosis and early detection to be able to save lives."
Even with advances in research and treatment options, it's important to address persistent heart health disparities for women. This includes educating all women, especially those for whom English is not their first language, about their risk factors and treatment options.
"We need to make sure everybody knows about [heart disease], said Rep. Grace Napolitano, D-California. "Especially for minorities in languages they understand."
Awareness is especially important for populations who face disproportionate risk for heart disease and stroke – because statistics show gaps in awareness, according to the Journal of Women's Health. Black and Hispanic women, for example, are less likely than white women to be aware of heart attack symptoms, according to the National Institutes of Health.
The American Heart Association continues to advocate for increased funding for research and public education programs that help prevent and treat heart disease.
---