Peripheral Artery Disease National Action Plan
Peripheral artery disease (PAD), a progressive atherosclerotic disease in which one or more peripheral arteries, typically in the lower limbs, are partially or completely obstructed afflicts 8-10 million people in the United States.
Each year, approximately 150,000 leg amputations are performed in the United States and residents of rural areas, Black and Native American people and those of low socioeconomic status are at the highest risk of amputation.
Yet many Americans — even some clinicians — remain unaware of the disease and its devastating impact on individuals, their families and communities.
The time is NOW
Because this preventable, treatable condition causes so much unnecessary suffering and death, the American Heart Association and more than 70 representatives from over 25 organizations committed to improving vascular health outcomes in 2018. During the time since that commitment was made, countless hours of work and passion have been put into developing a PAD National Action Plan.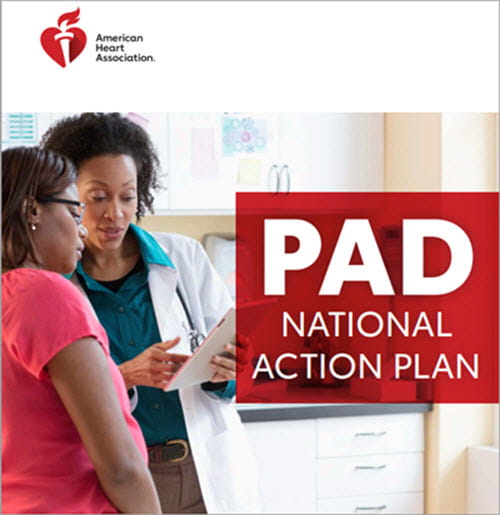 The plan serves as a roadmap for reducing the burden of peripheral artery disease through a thoughtful approach to six major goal areas: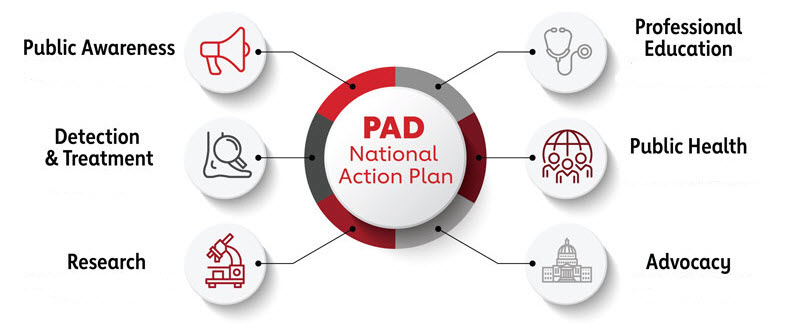 The long-term success of the PAD National Action Plan depends on collaboration and coordination by the many groups committed to conquering this disease.
How can I get involved?
The PAD Collaborative brings together organizations and experts committed to advancing the PAD National Action Plan with the goal to reduce serious complications and improve quality of life for people living with periphery artery disease. Complete the contact form to be included in communications.
---