Steve Hamburger's PAD Story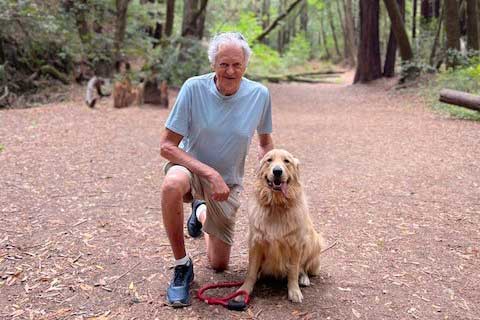 It started with pain in the calves when Steve Hamburger, then 63, tried to walk or pull a suitcase at the airport.

The marketing executive was not overly concerned, thinking the pain was perhaps strained from playing too much tennis, a favorite pastime. But pain in both legs that prevented him from sleeping finally prompted Steve to seek medical attention.

An ankle-brachial index test and a peripheral angiogram helped diagnose him with peripheral artery disease, a disease of the blood vessels outside the heart. PAD causes reduced blood flow to the area of the body with the diseased blood vessel. The most common symptoms of PAD are burning, aching, numbness, fatigue or discomfort in your leg or hip muscles while walking, and symptoms caused by your legs not getting enough blood.

The artery in Steve's right leg was completely blocked, so his cardiovascular surgeon suggested a bypass. But Steve was shocked to learn he would likely require another bypass in three to five years. He sought a second opinion and received a markedly different type of treatment.

"The vascular surgeon said, 'I can't improve your quality of life, but I suggest that you start an intensive walking regimen,'" recalls Steve, now 77 and living in the Los Angeles area. "I didn't want to go through an invasive surgery that could have complications for a very short-term result."

So Steve laced up his sneakers and started walking, despite the pain he felt in his legs. Initially, he couldn't walk more than two blocks before the pain became overwhelming. Fourteen years later, he walks for 45 minutes once or twice a day. He also plays tennis and works out in a gym 30 minutes three times a week. Steve also watches his carbohydrate intake and makes sure to get at least seven hours of sleep a night. These changes have helped improve the blood flow in his legs, eliminated much of the leg pain and given him a new lease on life.

"I'm a very strong proponent of balancing a number of different components to avoid surgery," says Steve. "It begins with smoking cessation, testing and screening by a doctor, a walking and some other kind of exercise regimen, dietary changes, medications when prescribed and then monitoring your symptoms. It's about developing regimens that become good habits."

An estimated 8.5 million Americans live with peripheral artery disease, the majority of them 65 and older. The most common symptoms of PAD are burning, aching, numbness, fatigue or discomfort in your leg or hip muscles while walking, caused by your legs not getting the blood they need. Smokers, people with diabetes and those with a family history of heart disease are more likely to develop PAD.

Unfortunately, Steve checked many of these boxes. He's a Type 2 diabetic and smoked for 20 years. He also remembers his father having difficulty walking when he was in his late 70s, although he was never diagnosed with PAD. But since embarking on his daily walks, frequently with his golden retriever, Buddy, at his side, sleeping well and other good habits, Steve has been amazed at the improved circulation in his legs that has spared him from surgery.

"Sometimes I experience pain, and I have to stop," says Steve. "As I've grown older, the distances I can walk have grown shorter, so I stop and start numerous times again until I complete the walk."

Since his diagnosis in 2008, Steve has become a patient advocate with the American Heart Association and started a Facebook group(link opens in new window)(link opens in new window) focusing on non-surgical interventions for peripheral artery disease. And he's a board member for Vascular Cures, an organization focused on advocacy and research of PAD.

"I want people to know that being diagnosed with PAD is not a death sentence if you decide you're going to take steps to control it," says Steve.
---
Hear Steve and medical experts in this podcast: Improving PAD Lifestyle Changes in your Patients: Balancing Mind and Body
---