Systems of Care Overview and Implementation Strategies
Why Mission: Lifeline®?
For the estimated 785,000 Americans who will have their first heart attack each year and the 470,000 Americans who will have a recurrent heart attack.
Mission: Lifeline Systems of Care are:
A patient-centered, multidisciplinary team focused on expediting appropriate emergency care for patients with time-sensitive conditions and are:
Supported by AHA Quality Improvement Staff
Focused on timely reperfusion
Regionally coordinated
Aimed to deliver care within the recommended AHA/ACC Guidelines
Mission: Lifeline Stages of STEMI Systems of Care Implementation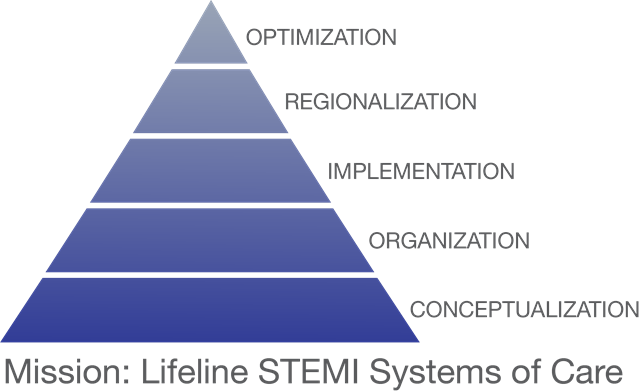 Conceptualization

Identify all contributors to the system of care
Propose an implementation plan

Organization

Form a small executive task force
Identify known gaps in STEMI care for the region
Gain consensus for uniform data collection
Plan implementation strategies and activities
Set measurable goals

Implementation

Announce implementation plans, strategies, activities and goals
Each STEMI Receiving Center, EMS agency and STEMI Referring Hospital surveys for their baseline state
Identify areas requiring process change at the individual facility/agency level
Implement process changes
Share strategies
Perform continuous evaluation of process improvement activities

Regionalization

Coordinate implementation strategies, activities and goals at a regional level
Survey regional processes
Convene stakeholders to adopt and implement like processes across the region
Share data (anonymized or identified)

Optimization

Perform continuous evaluation of regional process improvement activities
Re-survey regional processes
Although the stages of STEMI Systems of Care Implementation are shown as hierarchical, the process is always in a dynamic state and a system of care can therefore move up or down levels based upon the ever-changing state of each participant and overall landscape of the system of care.
Mission: Lifeline STEMI Systems of Care Implementation streamlines care across a geographical region or regionalizes STEMI care. A Regional STEMI System of Care:
Covers a defined city, county, region, state or regions made up of portions of multiple states
Uses a centralized data source to observe process and clinical outcomes over time for quality improvement
Holds Mission: Lifeline Regional calls/meetings on a regular basis to share the latest research, best practices, data trends, tips for improved care and opportunities to improve the system of care
Collaboratively addresses competitive markets
Participates in Mission: Lifeline Regional Reports
---