Pets are Our WFH #Coworkers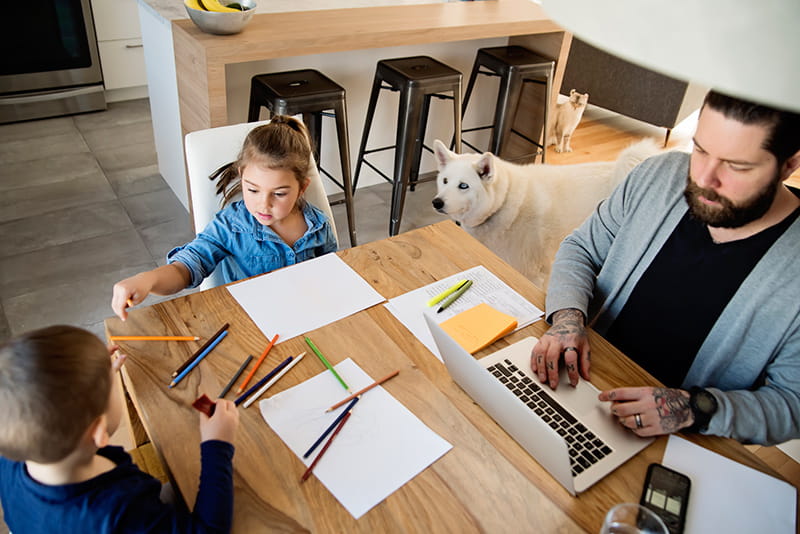 Employees are reporting greater productivity and higher job satisfaction when working from home — especially if they have furry co-workers standing by for support, walks, hugs and play time with the kids.
"The Best Friend Fridays concept is simple — human and pet interaction can lead to better physical and mental health. Studies have shown that pet ownership is associated with increased exercise and fitness levels, lower blood pressure and cholesterol levels, decreased stress and greater overall happiness and well-being," said Dr. Glenn Levine, volunteer medical expert for Healthy Bond for Life and the lead author of the AHA Scientific Statement on Pet Ownership and Cardiovascular Risk.
More people are working from home.
If you're working from home like more than 20% of the U.S. workforce, according to an April 2020 study by Statista, the social interaction that comes from seeing people you work with at the office is now coming from online conferencing. But there are big benefits in working from home. Your non-human coworkers provide companionship and support and are always there for you — often right by your side.
Up to 30% of the workforce could be working from home multiple days per week by the end of 2021, according to Global Workplace Analytics. This could mean a healthier, happier workforce, especially if there are pets at home.
Pets make work better.
During the coronavirus pandemic, many people brought new pet companions into their lives to help with the isolation. In an online Pollfish survey in March 2021, almost all of these new pet parents said their "pandemic pet" improved their mental and/or physical well-being. Four out of five respondents said it made working from home more enjoyable and they were able to bond with their pet more during this time.
Having a pet around while working can help reduce stress, increase productivity and improve employee satisfaction, teamwork and collaboration.
Returning to work in person?
Many pet owners feel anxious about leaving pets at home when they go back to work in person.
The American Veterinary Medical Association recommends you start preparing by leaving them alone for two to three hours at a time each day. But try to keep their routine as consistent as possible.
Veterinarians also suggest:
Keep up your pet's daily exercise.
Try to avoid emotional goodbyes.
Distract them – give a favorite treat or toy when leaving.
People enjoy the flexibility of bringing a pet to work, as we found in our Healthy Bond for Life Survey in 2019. Over half of those surveyed said they would prefer if they could bring their pet to work. In a 2021 survey, 71% of Gen Z employees and 48% of millennials said they want to bring their pets with them when they return to the workplace, and about half of the employers surveyed were considering the idea.
Share your WFH #coworker photos and how your pet helps you at work and tag AHA on your favorite social media.
---