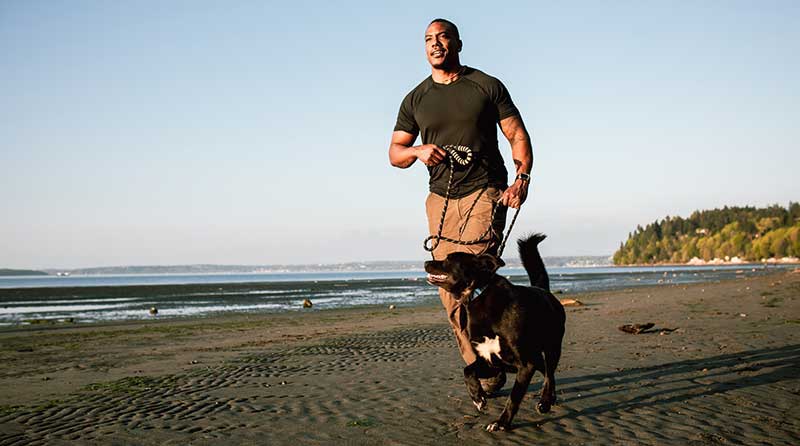 Pets? Let's!
Get moving more with your pet.
Studies show that pets are good for your health! Not only do pets offer companionship and stress relief, but pets can keep you active – which is good for your heart and overall health.
Good for you. Good for them.
Remember, pets needs physical activity too. Keeping active with them benefits you both!
Play fetch. It's a classic for a reason. Grab that tennis ball or Frisbee and get out there. Don't forget to keep moving.
Bike with a furry passenger. Have a pet carrier on your bicycle? Show your pet the sights – you supply the pedal power.


Pets & poses. Invite your puppy to join you for yoga – after all, she already knows puppy pose and down dog. It's a great answer when cooler fall temps keep you inside.


Indoor obstacle course. Too cold out? That's no obstacle. Create a fun obstacle course for your pet using household objects and boxes. Chase them through, so you get moving too.
Pets keep you motivated.
Let's face it – sometimes you might not feel like going for a walk. Your pet can encourage – even demand – that you get out there!
Great health, inside and out
Playing with your pet, indoors or outdoors, can help you reach healthy goals. Try to get outside when the weather is nice – nature has its own health benefits, and your pet will love it.
Fit in 150+ - Get at least 150 minutes per week of moderate-intensity aerobic activity, preferably spread throughout the week. A brisk walk with the dog counts!


Move more, sit less - Get up and move throughout the day. Pets welcome playtime – grab that cat toy and start some active fun.


Add intensity - Moderate to vigorous aerobic activity is best. Increase your time and/or intensity to get more benefits. Jog or run with your pet.


Add muscle - Include moderate- to high-intensity muscle-strengthening activity at least twice a week. (Soon you'll have no trouble lifting those heavy bags of food for your golden retriever.)
Harness health benefits.
Horses may not cuddle in your lap, but they're healthy too. Riding is great exercise, and time spent around horses is good for your well-being.
Learn more about the healthy bond with pets. Visit heart.org/pets
---