Healthy Bond for Life Mascots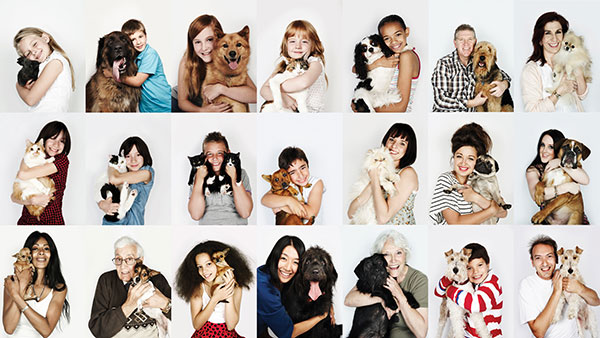 Meet Our Healthy Bond for Life Mascots
Angela Kao and Ollie
Sacramento, Ca.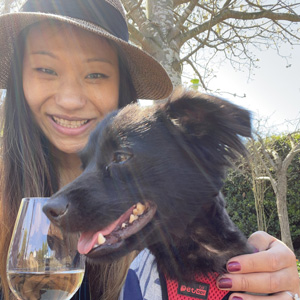 Angela always grew up with animals, and although she wanted a pet, as a busy working professional, she didn't think she had time.
That all changed during the pandemic when she was isolated from her friends and longing for companionship.
She was introduced to Ollie, a one-year-old Patterdale terrier mix, at the Sacramento SPCA.
"He was really shy. They described him as a dog with high anxiety, that he was problematic," said Angela, an HR manager for a Biotech company. "That pulled at my heart strings. Who hasn't had high anxiety in the last year? This puppy looked at me, and I just wanted to be that person in his life to change things around."
She adopted him on the spot, and immediately was forced to develop new, healthier habits.
"He helped me establish a routine -- during the pandemic, it has been hard to have a routine. He reminds me to take a break for lunch, and then we take a walk. He loves veggies. I'm including more in my diet."
A marathon runner, Angela's gym runs had been sidelined. Now Ollie runs with her outside, and she's training for another marathon.
"Ollie's definitely shifted my perspective, she said. "He's just really made me focus on the small things."
Kit Clark and Thoreau
Inman, South Carolina (Greenville)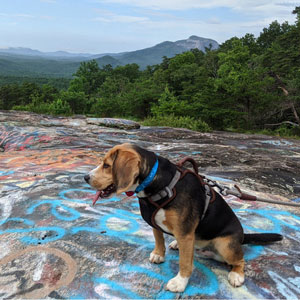 Kit and her husband were without pets for 13 years after the death of their beloved 11-year-old family dog.
Until Thoreau entered their lives.
The beagle puppy, who they brought home right as the pandemic hit, had a much bigger impact on the Clarks than they would have ever imagined.
A massage therapist, Kit was forced to close her business down for two months due to Covid.
"It was devastating. I was used to being surrounded by clients all day. I had that people connection all day long, and to go from that to nothing was really hard. He's been instrumental in my emotional and mental health. My stress level was very high. I honestly don't believe I would have made it through that time without him."
The Clarks are avid hikers, and Thoreau has fit right into their routine.
"We incorporated him into our hiking. We love to hike. We're walking more out at parks, in the mountains," she said. "Dogs need to be at a healthy weight, just like humans. He needs to exercise just like you do."
Now that she's back at work, Thoreau has helped her remember to take breaks during the day.
"He's taught us to slow down a little bit. I leave my job at lunch and come home and walk with him. It gives me time to center myself and keep active."
Kit, who was diagnosed with a congenital heart defect in her 30s, has been a supporter of the American Heart Association in her community. Although she didn't require surgery to correct the hole in her heart, it was a light-bulb moment for her to live a full life.
In fact, her favorite quote is from poet Henry David Throeau -- Thoreau's namesake -- and inspires her to do just that: "Go confidently in the direction of your dreams! Live the life you've imagined."
Stephanie Morris and Whistler
Salt Lake City, Utah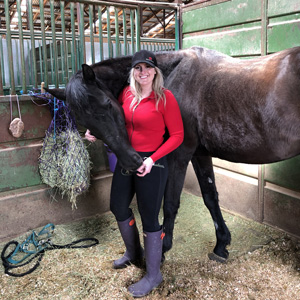 Stephanie had dreams of riding horses, but growing up, she didn't think it was a possibility.
Until seven years ago when she and her sister Jennie started taking lessons as adults. It was at the practice barn where they met Whistler, a thoroughbred Hannovarian cross breed.
Whistler, who is now 21, had been a champion show jumper -- but an injury forced his retirement from the competition ring. His owners kept him at the barn as a school horse for people like Stephanie and her sister, who were learning to ride.
Whistler's owners were looking for a new home for him. Unfortunately, he wasn't in good enough shape for the therapy riding organization they wanted to send him to. Instead, the owners gave him to Stephanie and her sister, who were beyond thrilled to realize their childhood dream.
Just last year Whistler sustained an injury to his foot, and Stephanie has been there to help him through his recovery.
"I feel like I owe it to him to take care of myself and keep him in the best shape I can," she said. "Taking care of him motivates me more for myself. You can't explain to an animal, 'I just don't feel like doing it.' I'm committed to helping him be happy and healthy."
That means making sure she's in good shape, too. Stephanie does strength training and flexibility exercises to strengthen her hips, in addition to cardio to keep her from getting winded during riding.
The benefits of riding extend to mental health, too.
"I'm an anxious type of person. I practice yoga, mindfulness and being in the moment. You can't focus on anything else but the horse when you're riding, you have to be really present."
During the pandemic, caring for Whistler helped her emotional state in the midst of a swirl of uncertainty.
"With Covid there's been such a shift in finding what truly makes you happy. We didn't know if we'd be able to go to the barn. When you are inside all day, you lose focus about what's around you. Seeing him, grooming him, being outside more helped me stay positive."
NOTE: Stephanie works in the neurosciences center at the University of Utah Hospital. (the hospital partners with AHA locally). She was team captain of her own Cycle Nation team, and she worked as a nurse's assistant on the cardiovascular unit for a few years. Heart disease runs in her family -- her dad, grandpa and family on her mom's side have had heart disease.
Billie Jo Waelz and Grace
Gastonia, NC (near Charlotte)
Billie Jo grew up riding horses in upstate New York. But when she went to college, she left horses behind.
She made a promise to herself that she would one day have a horse again.
An unhealthy lifestyle reined in her dreams -- a significant weight gain kept her from riding. That was the motivator for her to start improving her health and lose weight.
Two years ago, some friends were selling their horses, including Grace; they made Billie Jo a deal she couldn't refuse.
"She has been an amazing boost to keeping me healthy," Billie Jo said. "I ride her more than any horse -- we take "Sunday drives" together. She's encouraged me. Having her encourages me to stay healthy."
Billie Jo and Grace have developed a special bond.
"Our kitchen window overlooks the pasture," she said. "When she knows I'm in the kitchen, she'll come and stand by the window.
Grace has helped improve Billie Jo's physical -- and emotional -- health.
"She's my exercise. She lowers my blood pressure. She takes away my stress. Grace just has a graceful spirit and heart. She just exudes love."
During the pandemic, Billie Jo, a special ed teacher, especially leaned on Grace to help her cope with the stress.
"Being a teacher in a pandemic was difficult. Teachers are used to being in a classroom with kids. We were all being called to do things we weren't used to. It was stressful. Being able to have her and pet her and be with her was so good for my stress level."
Billie Jo wanted to share Grace with her students, so she started virtual "barn math" lessons. One day a week she broadcasted from the barn and taught real world lessons with Grace -- like measuring the angles of her shoulder and calculating feed.
One of Billie Jo's students with autism fell in love with Grace and started riding her.
"She's been a very big motivator for him."
NOTE: Autistic student's family may be willing to participate. Billie Jo is also going to look for video footage of her teaching her students "Barn Math" on Zoom. Grace and Billie Jo did the 20-mile beach ride last year in Myrtle Beach. Billie Jo's dad died of heart disease.
What are Best Friend Fridays?
Pets make us better humans.
Take time each Friday to celebrate your pets and all they add to your life and post a photo or video using #BestFriendFridays.