Heart Attack Tools and Resources
Recovering from heart attack is a team effort. You are not in this alone. The American Heart Association can help you understand and manage your condition. Consider us your partner for heart-healthy living.
Learn about heart attacks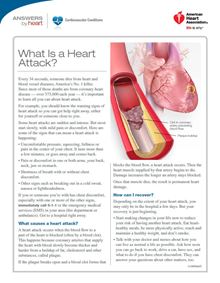 Use our educational resources to learn more about heart attacks:
What is a heart attack?
How will I recover from my heart attack?
What are the warning signs of heart attack?
What is dual antiplatelet therapy (DAPT)?
Manage your condition with these tools:
Heart attack discharge worksheet English (PDF) | Spanish (PDF)
Cardiac rehabilitation referral card English (PDF) | Spanish (PDF)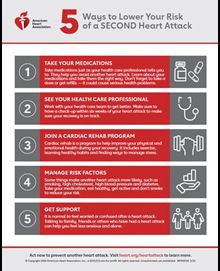 Infographic: Five ways to lower your risk of a second heart attack English (PDF) | Spanish (PDF)
Downloadable medication tracker English (PDF) | Spanish (PDF)
Connect with others
---