Nick Saban named Paul 'Bear' Bryant Coach of the Year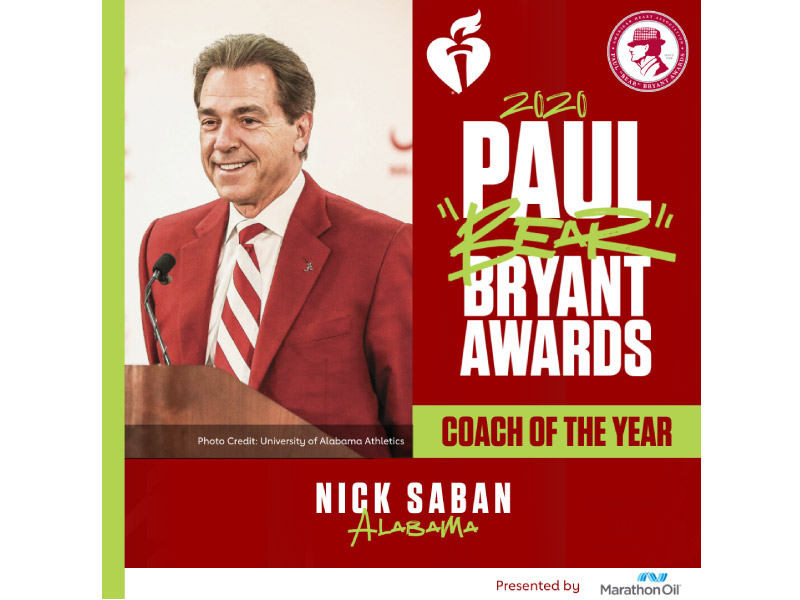 Coach Nick Saban from the University of Alabama was named college football Coach of the Year at the American Heart Association's Paul "Bear" Bryant Awards.
The 35th annual awards program, held Wednesday, honors a top college football coach and raises lifesaving funds and awareness of heart disease and stroke.
Saban won the Paul "Bear" Bryant Coach of the Year Award in 2003 while serving as head coach at Louisiana State University. This season, he led the University of Alabama to an undefeated record, including the Southeastern Conference Championship, and won his seventh national championship.
"On behalf of our university, our athletic department, all of our coaches and players – especially our players who made sacrifices this year to be able to compete and play – I'm very honored to accept the Coach of the Year Award," Saban said at the virtual event.
The Paul "Bear" Bryant Coach of the Year Award recognizes the country's top college football coach for coaching excellence and leadership. After Paul "Bear" Bryant died of a heart attack in 1983, the Bryant family teamed up with the AHA to honor Bryant's life. The award honors "coaches with heart" professionally and personally, and brings awareness to heart disease and stroke, the world's top killers.
Fans had a chance to participate in the awards with the online Coach of the Year Fan Vote. In a hard-fought battle, Saban won with over 7,000 votes.
New this year, the Paul "Bear" Bryant Awards program presented Conference Coach of the Year Awards to coaches from each of the "Power Five" collegiate athletic conferences (Atlantic Coast Conference, Big Ten, Big 12, Pac-12 and Southeastern Conference) and one from the "Group of Five" conferences (American Athletic Conference, Conference USA, Mid-American Conference, Mountain West Conference and Sun Belt Conference).
The 2020 Conference Coaches of the Year awardees are:
Big Ten – Tom Allen, Indiana University
Big 12 – Matt Campbell, Iowa State University
Group of Five – Jamey Chadwell, Coastal Carolina University, Sun Belt Conference
Pac-12 – Mario Cristobal, University of Oregon
ACC – Brian Kelly, University of Notre Dame
SEC – Nick Saban, University of Alabama
Coaching legend Howard Schnellenberger received the 2020 Lifetime Achievement Award. Sylvester Croom received the 2020 Heart of a Champion Award.
---