Facebook and health organizations launch preventive health tool
Facebook is friending health organizations to help fight heart disease, stroke, cancer and seasonal flu with a tool that will connect millions of people with health resources and reminders about preventive care.
Heart disease and cancer are the leading causes of death in the United States, yet tens of millions of people miss out on recommended preventive care screenings, according to the Centers for Disease Control and Prevention.
"Many of today's leading health threats aren't ones that science or medicine can solve alone. Changing trends in communication and unequal access to care mean we need new solutions and partnerships to overcome these global challenges," said Freddy Abnousi, M.D., Facebook's head of healthcare research.
The interactive tool connects people who use Facebook with health resources and checkup reminders from the American Heart Association, the American College of Cardiology, the American Cancer Society and the Centers for Disease Control and Prevention.
"We've contributed our content and resources to the Facebook Preventive Health tool to empower Americans to take the first step to know about and take action to lower blood pressure, blood sugar and cholesterol, each of which has been shown to increase the chance of a longer, healthier life and reduce the likelihood of a heart attack or stroke," said Eduardo Sanchez, M.D., the AHA's chief medical officer for prevention.
People can search for "preventive health" in the Facebook mobile app to find out which tests, such as cholesterol tests and mammograms, are recommended based on their age and gender. The tool lets people mark when tests are done, set reminders to schedule future tests and tell loved ones about the tool. During seasonal months, the tool will offer reminders for users to get a flu shot.
"One of the main reasons people don't get screened for cancer is that they don't realize their own risk," said Richard Wender, M.D., the American Cancer Society's chief cancer control officer. "We hope this program will help by building awareness about important recommendations from expert organizations."
Preventive health screenings and primary care consultations have been found to significantly increase life expectancy(link opens in new window), particularly among 30- to 49-year-olds. Prevention also saves money. Overall costs of cardiovascular disease in the United States were $555 billion in 2016. By 2035, the annual cost is expected to grow to $1.1 trillion.
More and more, consumers are looking for information online. Seventy-four percent of internet users engage on social media, and 80% are seeking health information, according to the Pew Research Center.
Information on social media can have a direct influence on patients' decisions to seek a second opinion or choose a specific provider, according to a PricewaterhouseCoopers study. That's especially true for people who are coping with a chronic condition or managing their diet, exercise or stress.
"Preventive measures have the potential to detect disease early when it's most treatable and, in some cases, prevent it from developing. Yet factors such as awareness, access and cost create barriers to testing for many people," Abnousi said. Most of the recommended preventive measures are free of charge with insurance coverage. For those who don't have insurance, Facebook offers a way to find a Federally Qualified Health Center, which provides care to people regardless of ability to pay.
"Health is particularly personal, so we took privacy and safety into account from the beginning," Abnousi said.
"Preventive Health allows you to set reminders for your future checkups and mark them as done, but doesn't provide us, or the health organizations we're working with, access to your actual test results," Abnousi said. "Information you provide is securely stored and access is restricted to a group of people at Facebook who work on the product or maintain our systems. We don't show ads based on the information you provide in Preventive Health — that includes things like setting a reminder for a test, marking it as done or searching for a healthcare location. As always, other actions that you take on Facebook could inform the ads you see, for example, liking the Facebook page of a health organization or visiting an external web site linked to from Preventive Health."
To learn more about Facebook's preventive health tool visit: Preventivehealth.facebook.com.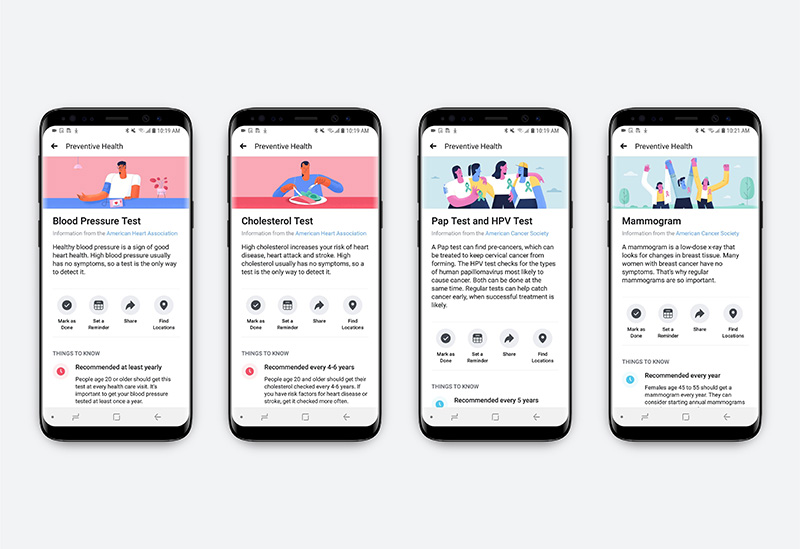 ---