Cobb County School District in Georgia sets one-year AHA fundraising record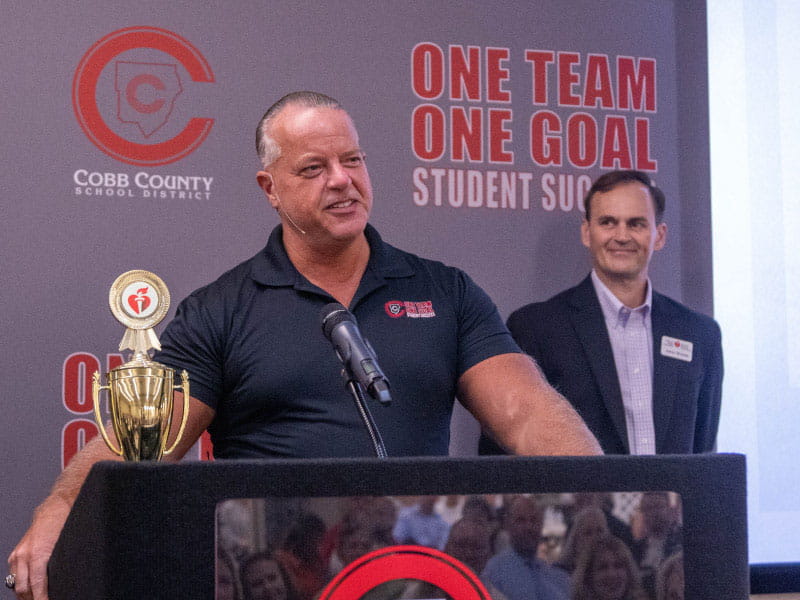 Emily Adams, a PE specialist for Kennesaw Elementary School in Marietta, Georgia, has posed the same question for 30 years to students participating in American Heart Association fundraising programs.
"What's your 'why?'"
Then, she tells them about her "why" — her grandmother, who had a stroke one day after Christmas in 1993. With half her face drooping, doctors gave her an experimental medication. She recovered and lived another 16 years.
"It's because of the money we raise that helps do research to get this kind of medicine to help people," Adams tells her 5- to 8-year-old students.
This school year, her Cobb County School District has raised nearly $750,000 — an all-time record in the 44-year history of AHA school fundraising programs.
The AHA's Kids Heart Challenge promotes elementary students' physical and emotional well-being and the importance of volunteerism. Students participate in jump rope, dance and basketball activities to increase awareness about heart disease and stroke and raise money for the AHA's lifesaving research and programs.
Middle and high school students participate in similar activities in the American Heart Challenge.
So far this year, districts across the country have raised more than $58 million through the two programs.
Adams said talks about her grandmother prompt an open dialogue with students, who learn about their families' experiences with heart disease and stroke and share them with classmates. One student this year even shared that she had heart surgery.
"You make it real to them, and they just buy in," said Adams, whose school has raised $850,000 during her 30-year association with the AHA. "I don't really push the money."
Chester Ransom, a PE specialist at Cobb County School District's Blackwell Elementary School for 40 years, said the program has evolved over the decades, becoming easier to manage for coordinators and more interactive with kids.
Ransom and Adams credit the district's superintendent, Chris Ragsdale, for inspiring schools to embrace the programs. After the district finished as the AHA's top fundraiser in the nation last school year, Ragsdale was passionate about doing it again.
"That lit a fire under him," Ransom said.
Adams said part of the reason for her school's success with the program is AHA support. The program includes age-appropriate lesson plans about key issues such as the importance of drinking water and avoiding tobacco. It also allows schools to get discounts on physical education equipment.
AHA support was especially critical during the COVID-19 pandemic, when the school scrambled to provide remote physical education, Adams said. The AHA "stepped up" and supplied creative ideas for at-home exercise such as "basketball" with balled-up socks and a laundry basket "hoop."
At school, Kennesaw's and Blackwell's Kids Heart Challenge activities feature jump roping that culminates weeks of fundraising and learning.
"I tell (the kids) it's like a jump rope party," Adams said.
The Kennesaw Elementary gym is decorated with big red hearts and stocked with fresh fruit. Even the teachers jump rope with the kids to the rhythm of the music.
"We all just believe in it," Adams said.
---