AHA helps feed staff at three San Antonio hospitals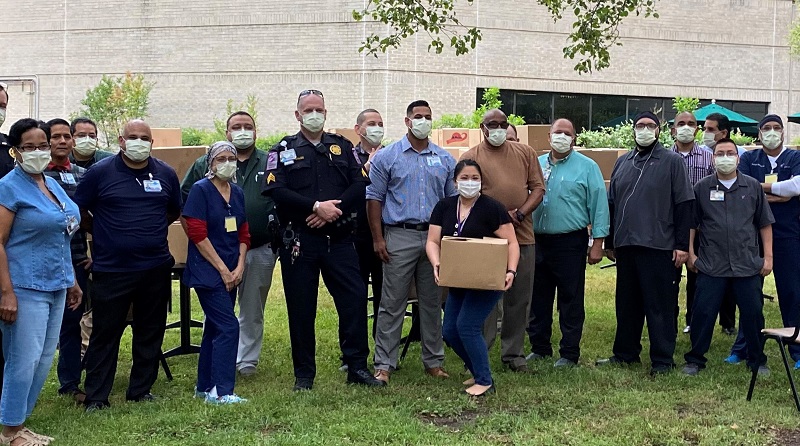 San Antonio hospital employees in need received a special grocery haul, and more deliveries are in the works, thanks to the American Heart Association and the H-E-B supermarket chain.
It started last week with the delivery of 3,000 pounds of fresh produce to three hospitals to help hundreds of Christus Santa Rosa Health System employees. They included staff whose hours had been cut because of declines in patient volumes and those working such long days caring for COVID-19 patients that they've had trouble getting to a grocery store.
"Volunteers poured out of the hospitals to help unload the truck's produce," said Joseph Marks, regional director of communications and marketing for the AHA. "We anticipated one or two volunteers, but not this incredible response from Christus Santa Rosa."
Each box delivered to Christus by River City Produce, a San Antonio distributor of fresh fruit and vegetables, included AHA heart-healthy recipes and bilingual materials with tips on eating a healthy diet, managing blood pressure and stress, and staying physically active while sheltering in place.
Christus is a nonprofit Catholic health care system with five hospitals and several specialty centers in South Texas. The deliveries, made April 28, were funded by a $30,000 grant from H-E-B, which operates more than 400 stores in Texas and Mexico.
Food was delivered less than 72 hours after funding was secured, according to the AHA. A second round of deliveries is in the works, thanks to an additional $25,000 grant from H-E-B in what could become an ongoing effort.
Ultimately the goal is to set up a sustainable "food prescription" program in which doctors can write patients prescriptions for healthy foods.
Local AHA board leadership and volunteers were instrumental in making the deliveries happen. The AHA is now seeking funding to help additional health care systems in South Texas.
---