Early Career Investigator Spotlight
The American Heart Association's® Get With The Guidelines® (GWTG) Early Career Investigator (ECI) Database Research Seed Grants recognize promising and outstanding investigators in the early stages of their careers and stimulate research using the GWTG AFib, Coronary Artery Disease, Heart Failure, Resuscitation, and Stroke registries. For many professionals, these ECI grants serve as stepping stones to future opportunities in research, collaboration, and scientific advancement. For the AHA, these ECI grants provide a step forward in our mission to be a relentless force for a world of longer, healthier lives.
Congratulations to winners!
2022 Early Career Investigator Awardees
---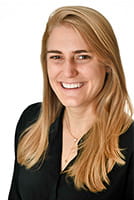 Name: Hannah Schwennesen, MD
Institution: Duke University
"Despite the increasing use of catheter ablation for management of atrial fibrillation, little is known about which patients with recurrence benefit from repeat procedures. Our project will utilize the GWTG-AF database to characterize patients undergoing repeat ablation and explore the effect of patient and procedural characteristics on outcomes after ablation."

Hannah Schwennesen is a second-year internal medicine resident at Duke University School of Medicine. She completed her undergraduate education at Duke University and received her medical degree from the Perelman School of Medicine at the University of Pennsylvania. Her research focuses on the clinical management of atrial fibrillation with a particular interest in catheter ablation. She plans to pursue fellowship in cardiovascular medicine after completion of residency.
---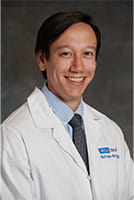 Name: Nicholas K. Brownell, MD
Institution: David Geffen School of Medicine at UCLA
"Randomized control trials have shown that sodium-glucose co-transporter-2 inhibitors (SGLT2is) reduce cardiovascular events for patients with heart failure, yet they are underused in contemporary practice. Using GWTG-Heart Failure, we hope to evaluate the real-world clinical effectiveness of SGLT2is and expand the evidence base for routine SGLT2i use in heart failure."
Nicholas K. Brownell, MD is a cardiology research fellow at the David Geffen School of Medicine at UCLA. He completed his undergraduate education at the University of Pennsylvania with a Bachelor of Science in Engineering, majoring in bioengineering. He then received his medical degree from the Emory University School of Medicine and completed his internal medicine residency training at UT Southwestern. He is currently supported by the UCLA Specialty Training and Advanced Research (STAR) program and an NIH T32 training grant. Dr. Brownell is pursuing a PhD in Health Policy and Management at the UCLA Fielding School of Public Health with a concentration in Implementation Science. His research focuses on the evaluation of care gaps in cardiovascular disease and optimization of healthcare delivery for heart failure.
---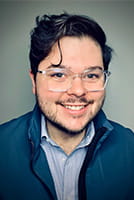 Name: Charles F. Sherrod IV, MD
Institution: Saint Luke's Mid America Heart Institute/UMKC
"Racial disparities are unjustifiably common in our healthcare system, and by improving our understanding, we can work to close the gap in outcomes. Asian and Hispanic Americans represent the two fastest growing racial groups in the US, yet little is known about the challenges faced when confronting in-hospital cardiac arrest."
Charles Sherrod is a first year combined T32 Cardiovascular Outcomes Research and General Cardiology Fellow at Saint Luke's Mid America Heart Institute and the University of Missouri in Kansas City, where he is mentored by Drs. Paul Chan, Andrew Sauer, and John Spertus. He completed his medical school at the University of Missouri in Kansas City as part of the BA/MD program. Thereafter, he was recruited to Brown University and Rhode Island Hospital, where he completed his internal medicine residency in the research track. He is particularly interested in improving the quality and value of healthcare across diverse populations.

---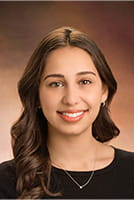 Name: Lindsay Shepard, MD
Institution: Children's Hospital of Philadelphia
"Although respiratory failure is a frequent cause of arrest in children, the optimal airway management for in-hospital cardiac arrest is remains unknown. We hope that this study will help to inform intra-arrest airway management strategy in children to improve survival outcomes."
Dr. Lindsay Shepard is currently a pediatric critical care medicine fellow at the Children's Hospital of Philadelphia, and a postdoctoral T-32 fellow in the Pediatric Hospital Epidemiology and Outcomes Research Training (PHEOT) program. She is currently enrolled in the Master of Science in Clinical Epidemiology (MSCE) program at the University of Pennsylvania. She received her undergraduate degree from the University of Pennsylvania, and her medical degree from Sidney Kimmel Medical College at Thomas Jefferson University, and completed her residency training in pediatrics at New York Presbyterian Columbia University Medical Center.

Dr. Shepard is interested in improving outcomes from pediatric cardiac arrest. In particular, her current research primarily focuses on respiratory failure and ventilation prior to during pediatric cardiac arrest. She previously developed and assessed validity evidence for a code leader assessment tool, and evaluated the influence of a cardiopulmonary resuscitation (CPR) coach on interruptions during chest compressions.
---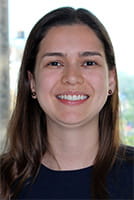 Name: Fernanda Carvalho Poyraz, MD, PhD
Institution: Columbia University
"Antiplatelet use is widespread and associated with hematoma expansion and poor outcomes in intracerebral hemorrhage (ICH) patients. I plan to assess the impact of coagulopathy reversal practices on clinical outcomes in patients on antiplatelet agents. I hope that my research will provide insight into optimizing acute management of ICH."
I am a stroke neurologist, researcher, and director of the Thrombectomy-capable Stroke Center at Cleveland Clinic Fairview Hospital. My clinical practice is dedicated to providing the best evidence-based stroke care for our community, along with my outstanding team. My health-services research is focused on studying the factors, processes, and structures in health care that may affect care access and patient outcomes. In addition, I am also deeply involved in stroke clinical research and machine-learning based imaging analyses.
Fernanda Carvalho Poyraz is a second year Neurocritical Care fellow at New York Presbyterian Hospital (Columbia University and Weill Cornell University). She received her MD/PhD dual degree from Columbia University with a doctorate thesis in Neuroscience. She completed internship in Internal Medicine and residency in Neurology at New York Presbyterian Hospital (Columbia University). She has experience with translational research using rodent models of neuropsychiatric diseases and clinical research in hemorrhagic stroke. Her current research interests are focused on coagulopathy reversal and transfusion practices in patients with spontaneous intracerebral hemorrhage. She is working under the mentorship of Dr. David Roh, Assistant Professor of Neurology at Columbia University.
---