Download the NFL PLAY 60 App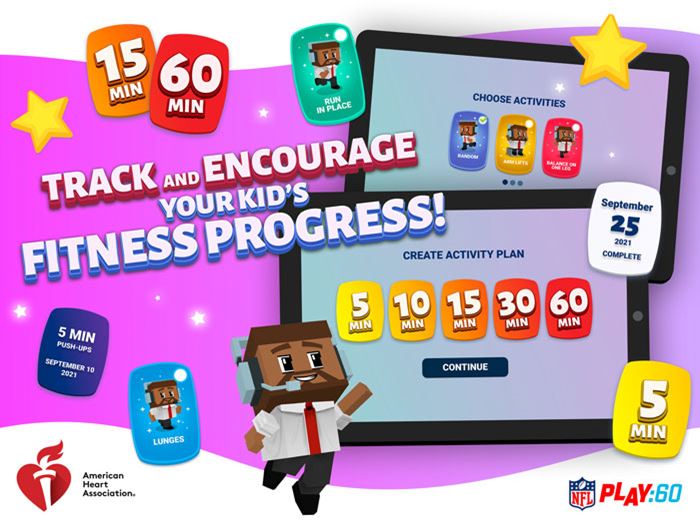 Download and Get Active with the NFL PLAY 60 App!
Are you ready to PLAY 60? The NFL PLAY 60 app, brought to you by the American Heart Association and the National Football League, encourages youth to get active 60 minutes each day. The free app allows users to choose their favorite NFL team and create their own personalized avatar. Users can create custom workouts and play games by controlling their avatars onscreen with their own physical movement. Get moving to earn special PLAY points and unlock cool NFL gear for your PLAY 60 avatar!
The app also has ALL-NEW ways for parents and teachers to get involved! Parents can create activity plans and track fitness development while kids get active to earn PLAY points and mystery boxes. The "Group Play" feature allows parents and teachers to create customized timed workouts for their child or students – featuring exercises like jumping jacks, squats, running in place, and balancing on one leg. Workouts can be 5, 10, 15, 30, or all the way up to 60 minutes!
Congratulations to the Winners of our Fitness Tracking Competition!
From 9/26 to 10/26, teachers and afterschool program facilitators registered their classroom or group for the competition through the NFL PLAY 60 app or utilized a paper tracker to log their students' daily minutes of physical activity. Grants of $1,000 were awarded to most active groups competing for their selected NFL team. Additional schools were awarded for their on-going commitment to getting their students active for 60 minutes per day.
Arizona Cardinals - Justine Spitalny STE3AM School
Atlanta Falcons - Kimberly Elementary
Baltimore Ravens - Trinity Lutheran School
Buffalo Bills - St. Mary's School for the Deaf
Carolina Panthers - Thomas Jefferson Classical Academy
Chicago Bears - Bruning Elementary School
Cincinnati Bengals - Steven Dohanos Elementary
Cleveland Browns - Marion L. Steele High School
Dallas Cowboys - Homestead Elementary
Denver Broncos - Lydia Hawk Elementary
Detroit Lions - Minges Brook Elementary
Green Bay Packers - St. Mary's School
Houston Texans - Von Steuben Middle School
Indianapolis Colts - Winans Elementary School
Jacksonville Jaguars - Abess Park Elementary
Kansas City Chiefs - Bishop Miege High School
Las Vegas Raiders - Louis Weiner Jr. Elementary
Los Angeles Chargers - St. Philomena Elementary
Los Angeles Rams - Hobart Boulevard Elementary School
Miami Dolphins - Leewood K-8 Center
Minnesota Vikings - Garlough Environmental Magnet School
New England Patriots - Pierce Middle School
New Orleans Saints - North Sanpete Middle School
New York Giants - Empowerment Academy
New York Jets - Oakview Elementary School
Philadelphia Eagles - John M. Patterson Elementary School
Pittsburgh Steelers - Phillips Elementary
San Francisco 49ers - Central Elementary
Seattle Seahawks - Pleasant Glade Elementary
Tampa Bay Buccaneers - Rampello Downtown Partnership School
Tennessee Titans - Glengarry Elementary School
Washington Commanders - Watkins Mill Elementary School
And a special congratulations to our grand prize winner who received an additional $1,000 for being the most active group in the nation: Minges Brook Elementary
Download in the App Store or Google play.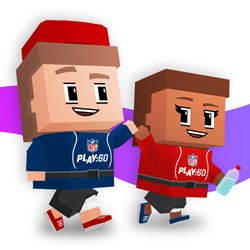 (link opens in new window)
(link opens in new window)
NOTE: Supports iPad 2, iPhone 4S, iPod 5, and later models.
The NFL PLAY 60 app has been developed to meet WCAG 2.1 Level AA success criteria.
If the format of any material in this application interferes with your ability to access the information or if you have questions or comments about accessibility, please contact us at [email protected].
---