Download the NFL PLAY 60 App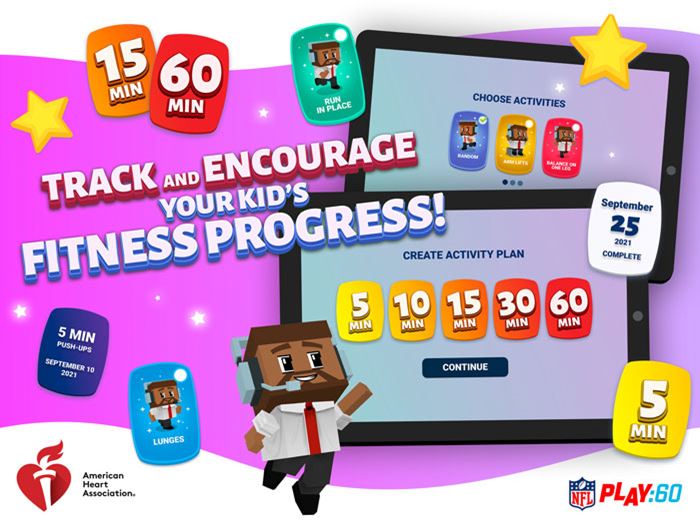 Download and Get Active with the NFL PLAY 60 App!
Are you ready to PLAY 60? The NFL PLAY 60 app, brought to you by the American Heart Association and the National Football League, encourages youth to get active 60 minutes each day. The free app allows users to choose their favorite NFL team and create their own personalized avatar. Users can create custom workouts and play games by controlling their avatars onscreen with their own physical movement. Get moving to earn special PLAY points and unlock cool NFL gear for your PLAY 60 avatar!
The app also has ALL-NEW ways for parents and teachers to get involved! Parents can create activity plans and track fitness development while kids get active to earn PLAY points and mystery boxes. The "Group Play" feature allows parents and teachers to create customized timed workouts for their child or students – featuring exercises like jumping jacks, squats, running in place, and balancing on one leg. Workouts can be 5, 10, 15, 30, or all the way up to 60 minutes!
Join the Fitness Tracking Competition!
Launching 9/26 and ending 10/26, teachers and afterschool program facilitators can register their group for the competition through the NFL PLAY 60 app by entering some basic information and selecting the NFL team to compete under. As the group completes workouts through the app's "Group Quickplay" feature, those physical activity minutes will be logged toward the group's overall total. Students can complete workouts individually at home and have those minutes roll up as well. Groups and students can see where they rank in the standings by viewing a fun leaderboard feature, encouraging healthy competition. The class or afterschool program that logs the most minutes during the competition under their selected NFL team will receive a grant for $1,000! A total of 32 grants will be given.
Our Fitness Tracking Competition has concluded. Thank you to all who participated! Please submit paper trackers by 11/9. Grant winners will be announced on or before January 3, 2023.
View the contest rules (PDF).
Need help getting started? Refer to our NFL Facilitator Guide (PDF).
How do I register for the competition and track physical activity minutes? Take a look at our registration and participation steps (PDF).
Can't use the app and want to participate in the competition? Utilize our digital paper tracker (PDF).
Download in the App Store or Google play.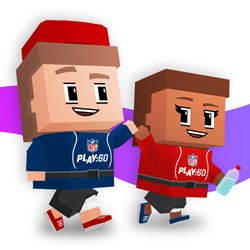 (link opens in new window)
(link opens in new window)
NOTE: Supports iPad 2, iPhone 4S, iPod 5, and later models.
The NFL PLAY 60 app has been developed to meet WCAG 2.1 Level AA success criteria.
If the format of any material in this application interferes with your ability to access the information or if you have questions or comments about accessibility, please contact us at [email protected].
---