Kids Heart Challenge - Elementary Schools
The Kids Heart Challenge is held at schools across the country, delivering heart-healthy physical activity through service learning for the American Heart Association.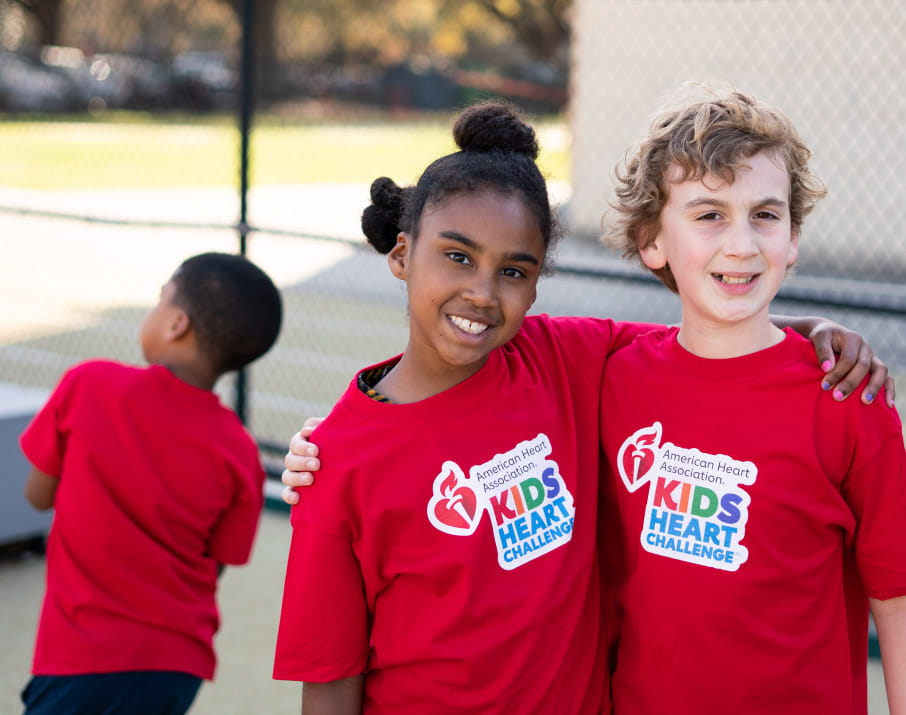 What is the Kids Heart Challenge?
Building on key learnings from nearly 45 years in America's schools, the Kids Heart Challenge focuses on whole body wellness, helping students improve their own health and better their character while raising life-saving donations for the American Heart Association to help kids facing heart-health issues.
Take the Challenge
Register your school or get more information.
Why should your school register to participate?
Build Your Curriculum
OPEN curriculum provides a series of classroom-based physical activity plans and resources that support social and emotional learning.
PE-focused curriculum modules for physical, personal and social responsibility.
More curriculum in development to support whole child.
Support Your Community
Fun interactive characters that reinforce emotional and physical well-being with augmented reality interface and easy online fundraising.
Updates to our popular app and new Heart Hero characters with encouraging messages to support the whole child.
Facebook community site for educators to share stories, best practices and successes.
How does it work?
The Kids Heart Challenge prepares kids for success by supporting their physical and mental well-being. To do so, the American Heart Association has pulled together step-by-step instructions for physical education instructors, coaches or teachers to host fun activities in your school with engaging educational modules that teach heart-healthy information to your students.
OPEN, a public service of US Games and BSN Sports, is a proud supporter and provides amazing resources, including:
Complete activity curriculum modules for your school's chosen event: jump, basketball, dance, warrior and more
Active classroom physical activity breaks
Curriculum modules to teach personal and social responsibility
Heart-healthy academic language tools
Family engagement ideas
More than 40 fitness- and skill-based instruction modules
Additional AHA resources include:
Downloadable lesson plans
Interactive skills resources
Grade-specific ideas for a successful American Heart Challenge event
NFL PLAY60 videos, vignettes and virtual field trips powered by Discovery Education
Resources for healthy eating, physical activity and wellness in the classroom
Communication starters for faculty and parents to address growing concerns about teen vaping and smoking
We're Here to Help!
Specially trained American Heart Association staff or volunteers will be available every step of the way to support your program. If you have any questions or need help, please contact us at 877-824-8531.