Life's Simple 7 Manage Blood Sugar Infographic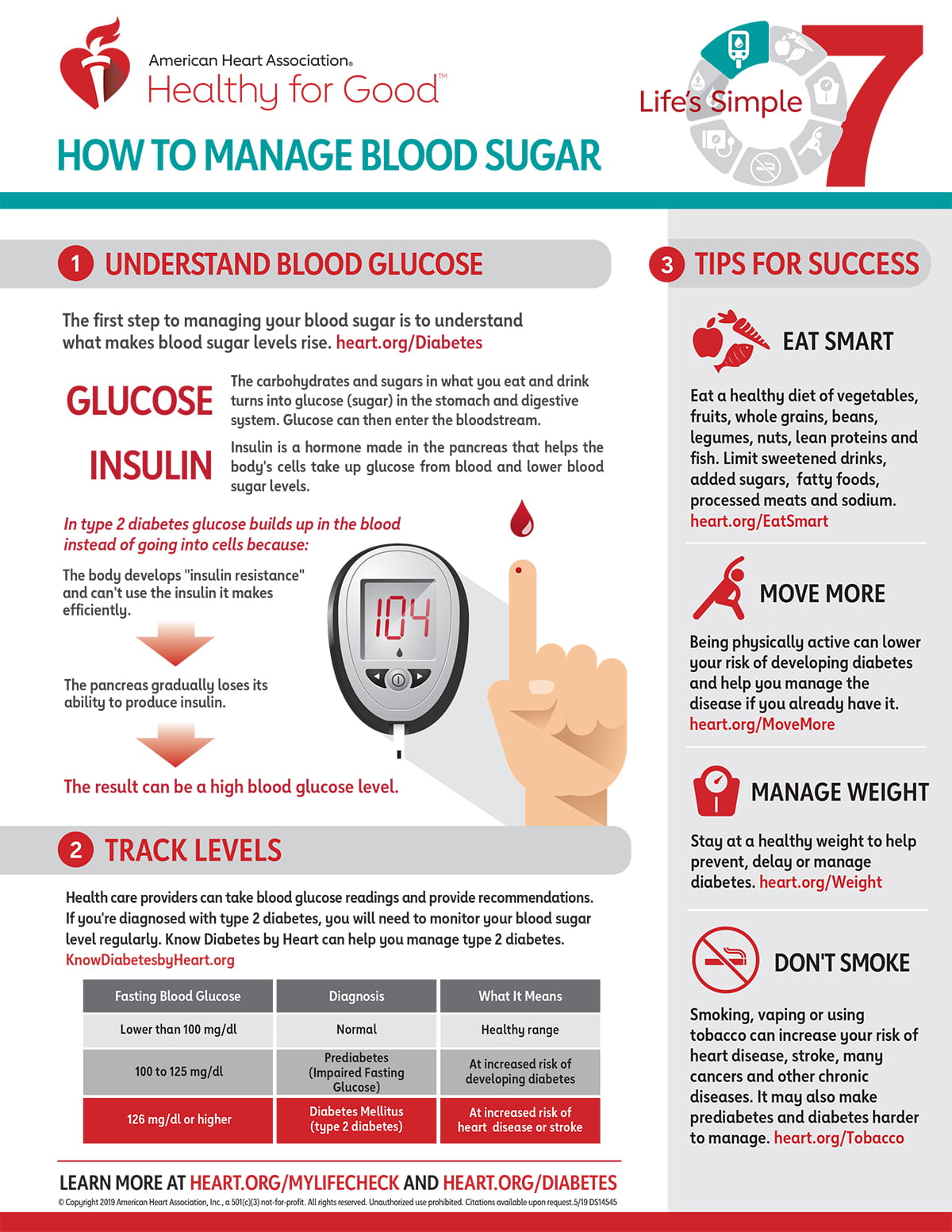 How to Manage Blood Sugar
Understand Blood Glucose
The first step to managing your blood sugar is to understand what makes blood sugar levels rise. heart.org/Diabetes
Glucose: The carbohydrates and sugars in what you eat and drink turns into glucose (sugar) in the stomach and digestive system. Glucose can then enter the bloodstream.
Insulin: Insulin is a hormone made in the pancreas that helps the body's cells take up glucose from blood and lower blood sugar levels.
In type 2 diabetes glucose builds up in the blood instead of going into cells because:
The body develops "insulin resistance" and can't use the insulin it makes efficiently.
The pancreas gradually loses its ability to produce insulin.
The result can be a high blood glucose level.
Track Levels
Health care providers can take blood glucose readings and provide recommendations. If you're diagnosed with type 2 diabetes, you will need to monitor your blood sugar level regularly. Know Diabetes by Heart can help you manage type 2 diabetes. KnowDiabetesbyHeart.org
Fasting Blood Glucose Level, Diagnosis and What It Means:

Lower than 100 mg/dl – Normal – Healthy range
100 to 125 mg/dl – Prediabetes (Impaired Fasting Glucose) – At increased risk of developing diabetes
126 mg/dl or higher – Diabetes Mellitus (type 2 diabetes) – At increased risk of heart disease or stroke
Tips for Success
Eat Smart: Eat a healthy diet of vegetables, fruits, whole grains, beans, legumes, nuts, lean proteins and fish. Limit sweetened drinks, added sugars, fatty foods, processed meats and sodium. heart.org/EatSmart
Move More: Being physically active can lower your risk of developing diabetes and help you manage the disease if you already have it. heart.org/MoveMore
Manage Weight: Stay at a healthy weight to help prevent, delay or manage diabetes. heart.org/Weight
Don't Smoke: Smoking, vaping or using tobacco can increase your risk of heart disease, stroke, many cancers and other chronic diseases. It may also make prediabetes and diabetes harder to manage. heart.org/Tobacco
Learn more at heart.org/MyLifeCheck and heart.org/Diabetes.

© Copyright 2019 American Heart Association, Inc., a 501(c)(3) not-for-profit. All rights reserved. Unauthorized use prohibited. Citations available upon request.