2022 ACTEC
Annual Conference
Why is the American Heart Association here?
The American Heart Association is a sponsor at the 2022 American College of Trust and Estate Counsel, because with 1 in 3 Americans affected by heart disease this year, the next client in your office has likely been touched by heart disease or stroke. As you work with your clients to create their estate plans and build their legacy, the AHA wants to help you offer your clients meaningful options to reach their unique personal and financial goals.
The AHA Professional Advisor Network was created to support advisors, like you, by providing free estate and charitable gift planning solutions, tools and brochures to use with your clients.

Check out a few of these resources below and consider joining our free Network for access to more through our monthly updates. Let us help you grow your practice while helping save more lives from heart disease and stroke.
Access a few of our member benefits now:
Join for more benefits and
be entered to win an Apple Watch!*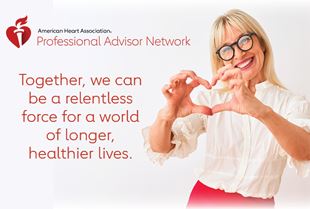 Continuing Education Opportunities
Personal Assistance with Charitable Gift-Use Restriction Language
Custom Gift Illustrations for Clients
Turnkey Solutions for Gifts of Non-Cash Assets
*Sweepstakes Terms and Conditions(link opens in new window)(link opens in new window)
Meet Our On-Site Staff
Bonnie Harris Hayden, Esq.
Senior Advisor, Charitable Estate Planning
(310) 770-4565
[email protected]

Bonnie develops and maintains relationships with wealth advisors and estate planning attorneys to raise awareness for the critical work of the American Heart Association by serving as a knowledgeable resource of charitable giving. She is based in Los Angeles, California, and covers ten western states.

While she frequently paints in her spare time, Bonnie also enjoys getting out into the fresh air to play tennis and hike in addition to spending time with her family, friends and her dog, Noodle.
John W. Cullum, CFP®
Senior Advisor, Charitable Estate Planning
(864) 517-2154
[email protected]

John Cullum is a Certified Financial Planner and Senior Advisor on the Charitable Estate Planning Team at the American Heart Association. John is based in Charlotte, NC, and serves the Southern States. He works with professional advisors to connect the philanthropy of their clients with the mission of the American Heart Association.

He has served on numerous philanthropic boards; most recently Wind Haven Gardens, where he is chairing a 50th Anniversary Campaign. John has two grown sons, a 3-year-old granddaughter, and is an avid gardener.
---