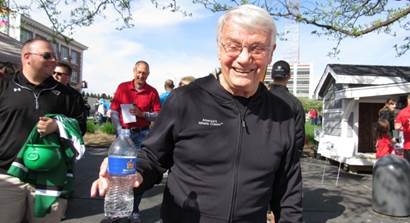 Bob Clark usually works out at the gym. But he also gets his steps in at the American Heart Association's Central Iowa Heart Walk.
The event, and the fundraising that goes along with it, are nothing new for the West Des Moines resident, who's spent nearly five decades as an AHA volunteer.
"I always tried to follow a pattern where I helped people if I could, whether they could help me or not," said Bob, who began donating his spare time to the association in 1968.
That's been the spirit of volunteerism since 1974 when National Volunteer Week was declared. Research has shown a strong relationship between volunteering and health. Those who volunteer have lower mortality rates, function better and suffer less depression than those who don't volunteer, according to a 2007 report from the Corporation for National and Community Service.
In 1968, heart disease death rates, which rose steadily during the first half of the 20th century, had peaked, artificial heart valve replacements were new and the country was still decades away from developments like drug-eluting stents. All Bob knew was that he liked what he learned about the American Heart Association, especially the organization's commitment to research.
Today, he's still going strong, having raised more than $5 million for the association in nearly 50 years.
"I discovered that if you want people to help you, you have to ask them, and it's so easy to ask them if you feel strongly about an organization," Bob said. "The personal contact produced the best results, and in my opinion, the personal way produces the same results today."
Bob's commitment to volunteering began early in his career. He was working in the legal department of a power company in 1953 when his boss encouraged him to join the Jaycees. He did and eventually became the civic organization's national president.
In 1968, he had just started a bank job in Des Moines, when Curly Hultman, his friend and the U.S. attorney for the Northern District of Iowa, called and asked if he'd raise money for the American Heart Association.
Bob agreed, a commitment that started out by raising funds in local church basements and has since taken him as far as Geneva, Barcelona and Seoul.
The more volunteer experience he gained, the more he was asked to do, taking on a variety of local and national roles for the association. It seemed he couldn't spread himself too thin, and today he stays busy volunteering with a handful of organizations.
Bob supports the organization in other ways. He and his wife Mariann have included the American Heart Association in their will.
Long ago, he adopted the Jaycees' creed.
"Service to humanity is the best work of life," Bob said. "I've always tried to follow that."
---