One Heartbeat
Come together for a moment to recharge, move and be inspired. Let's join together as one community with one purpose.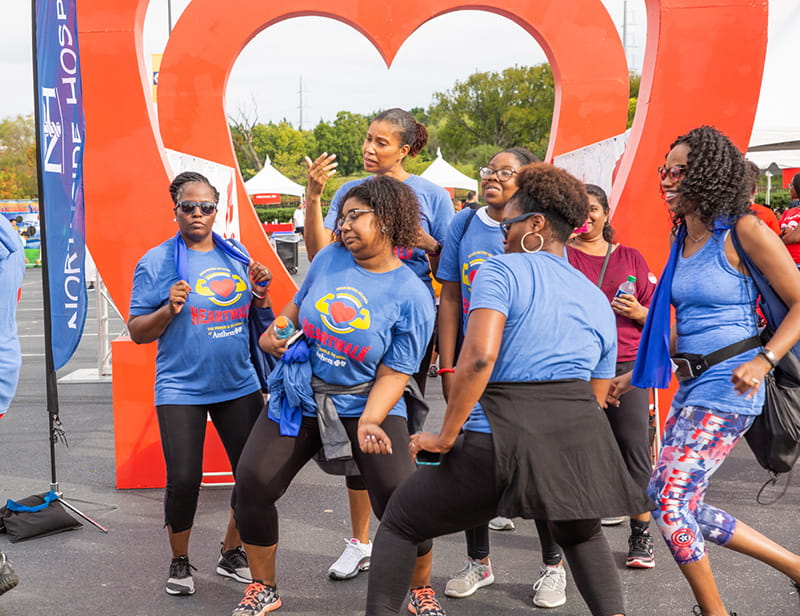 Thank you for supporting the American Heart Association through your participation in our Heart Challenge campaigns – Heart Walk, CycleNation, Field Day and Executives with Heart.
For this special Heart Month edition of our One Heartbeat series, we invite you to take a 30-minute break from your day to join our next event. Together, we will pause to be inspired and learn actionable ways to live healthy.
Heart Walk. CycleNation. Field Day.
Join us for the One Heartbeat Livestream Event!
Tuesday, February 23rd, 2021
11:30 a.m. - 12:00 p.m. CT
Emcee: Katrina McGhee, Executive Vice President of Marketing & Communications, American Heart Association
Special Guest Speakers:
Colleen Lindholz,, President, Kroger Health
Rachelle A. Reed, PhD, Director of Fitness Science, Orangetheory Fitness

Also streaming on YouTube.
Register for an Event
Unite with us in our mission to be a relentless force for a world of longer, healthier lives by joining a Heart Walk or CycleNation event. When you do, you'll come together with communities from across the nation to encourage health, well-being and provide connection all while raising funds to save lives for the American Heart Association. Get registered now!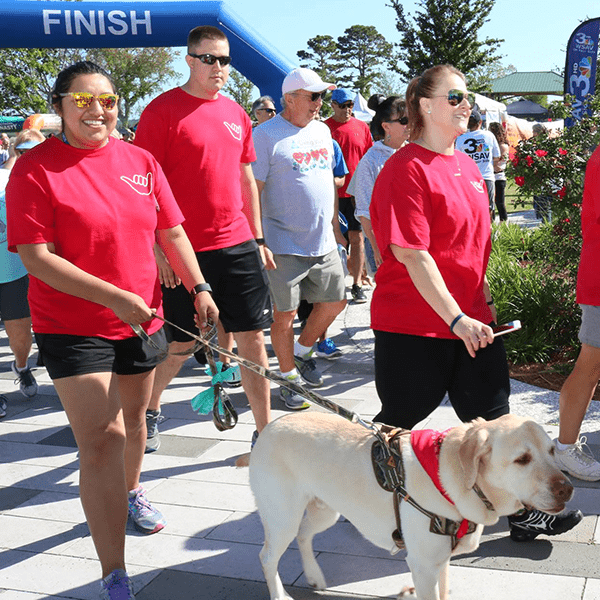 Heart Walk
The Heart Walk is the American Heart Association's premier event for raising funds to save lives from this country's No. 1 and No. 5 killers - heart disease and stroke.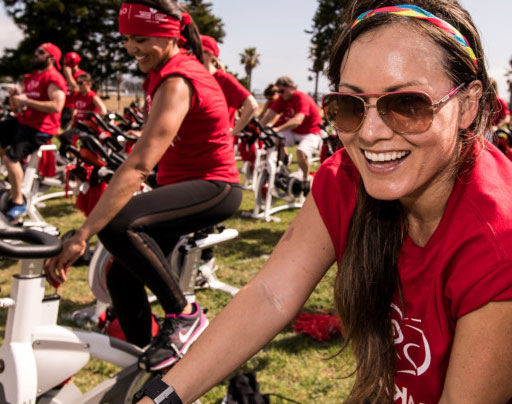 CycleNation
Energizing a nation to get brain and heart healthy through the power of the bicycle.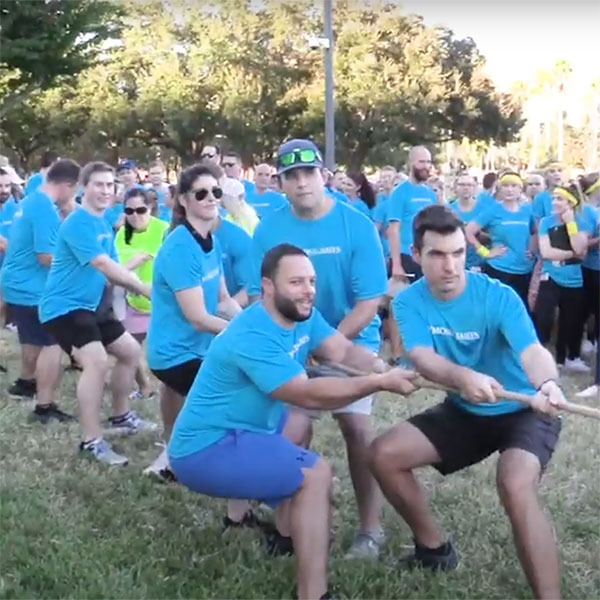 Field Day
Ditch the keyboard for the scoreboard. Field Day puts playspace in your workplace while raising funds for the American Heart Association to end heart disease and stroke.
Be Inspired by Latia Howard
On track for a professional basketball career with the WNBA, she survived heart issues and a stroke to shape the lives of future generations. Here's her story!
Mindful Meditation with Chris Calitz
Improve mood, reduce stress and increase energy with mindfulness meditation.
In the Kitchen with Dr. Marc Watkins

House Calls: Real Docs, Real Talk. Episode 2

Recetas Saludables en Minutos con Luz Varela - Ensalada de Colores

Join Sylvia for yoga en español!

Recetas Saludables en Minutos con Luz Varela - Tostadas de Atun

Let's cook together with a summer-centric meal featuring Grilled Chicken with Vegetables and a Peach and Tomato Salad.
Thank You to our Sponsors
| Market | State | Sponsorship Opportunity |
| --- | --- | --- |
| Tucson | Arizona | Arizona Complete Health |
| Fayetteville | Arkansas | Reckitt Benckiser |
| Bay Area | California | Brown & Toland Physicians |
| Bay Area | California | Cisco Systems, Inc. - HQ |
| Bay Area | California | First Republic Bank |
| Coachella Valley | California | Desert Oasis Healthcare |
| Kern County | California | Dignity Health Bakersfield |
| Los Angeles | California | Children's Hospital Los Angeles |
| Los Angeles | California | Keck Medicine of USC |
| Orange County | California | McCarthy Building Companies |
| Sacramento | California | CVC |
| Sacramento | California | Dignity Health |
| Sacramento | California | Western Health Advantage |
| Stockton-Modesto | California | Adventist Health Lodi Memorial and Dameron Hospital |
| Ventura County | California | Amgen |
| Denver | Colorado | Ardent Mills |
| Destin | Florida | MAG Aerospace |
| Destin | Florida | Mary Esther Bingo |
| Fort Lauderdale | Florida | Baptist Health |
| Fort Lauderdale | Florida | CITY Furniture |
| Fort Lauderdale | Florida | Cleveland Clinic Florida |
| Fort Myers | Florida | Lee Health |
| Jacksonville | Florida | Ascension St. Vincent's |
| Jacksonville | Florida | Baptist Health |
| Jacksonville | Florida | Florida Blue |
| Miami | Florida | Orange Theory |
| Miami | Florida | Schiller Americas, Inc. |
| Orlando | Florida | AdventHealth |
| Tampa Bay | Florida | Tampa General Hospital |
| Atlanta | Georgia | Northside Hospital |
| Honolulu | Hawaii | Kalaeloa Partners L.P. |
| Boise | Idaho | Albertsons Companies |
| Chicago | Illinois | Ann & Robert H. Lurie Children's Hospital of Chicago |
| Chicago | Illinois | Loyola Medicine |
| Southern Indiana | Indiana | American Queen Steamboat Company |
| Des Moines | Iowa | Mercy College of Health Sciences |
| Lexington | Kentucky | Commonwealth Credit Union |
| Lexington | Kentucky | Georgetown Community Hospital |
| Lexington | Kentucky | UK HealthCare |
| Louisville | Kentucky | Kindred Healthcare |
| Baton Rouge | Louisiana | FMOLHS – Our Lady of the Lake Regional Medical Center |
| Baton Rouge | Louisiana | Healthy Blue |
| New Orleans | Louisiana | The King Firm |
| Baltimore | Maryland | Johns Hopkins Health System |
| Baltimore | Maryland | MedStar Health |
| Baltimore | Maryland | University of Maryland |
| Baltimore | Maryland | University of Maryland Medical System |
| Baltimore | Maryland | Whiting Turner Contracting |
| Pascagoula | Mississippi | Ingalls Shipbuilding |
| Southern New Jersey | New Jersey | Atlantic Medical Imaging |
| Central New Jersey | New Jersey | Capital Health |
| Central New Jersey | New Jersey | Janssen Pharmaceutical Companies of Johnson + Johnson |
| Central New Jersey | New Jersey | NRG Energy |
| Albuquerque | New Mexico | Delta Dental of New Mexico |
| Albany | New York | Albany Med |
| Albany | New York | Capital District Physicians Health Plan |
| Binghamton | New York | UHS |
| Binghamton | New York | Visions Federal Credit Union |
| New York, NY | New York | Brookfield |
| New York, NY | New York | Citigroup Inc |
| New York, NY | New York | NYU Langone Medical Center |
| Rochester | New York | UR Medicine (University of Rochester) |
| Tri-County | New York | Garnet Health |
| Charlotte | North Carolina | Atrium Health |
| Charlotte | North Carolina | Compass Group USA |
| Charlotte | North Carolina | Novant Health |
| Raleigh | North Carolina | Advance Auto Parts |
| Raleigh | North Carolina | Butterball, LLC |
| Raleigh | North Carolina | Duke University Health System |
| Winston-Salem | North Carolina | Novant Health |
| Akron | Ohio | FirstEnergy Corp. |
| Canton | Ohio | The Bill Phillips Family |
| Cincinnati | Ohio | Kellogg Company |
| Cincinnati | Ohio | Kroger |
| Cincinnati | Ohio | Medpace |
| Cincinnati | Ohio | Mercy Health |
| Columbus | Ohio | Battelle |
| Columbus | Ohio | Big Lots, Inc. |
| Columbus | Ohio | Cardinal Health |
| Columbus | Ohio | Kroger |
| Columbus | Ohio | ScottsMiracle-Gro |
| Dayton | Ohio | Dayton Freight Lines, Inc |
| Lake Geauga Counties | Ohio | Kinetico Water Systems |
| Lake Geauga Counties | Ohio | Lake Health |
| Lima | Ohio | Mercy Health- Toledo Area |
| Toledo | Ohio | Mercy Health- Toledo Area |
| Oklahoma City | Oklahoma | MidFirst Bank |
| Tulsa | Oklahoma | Matrix Service Company |
| Tulsa | Oklahoma | Williams Companies |
| Capital Region | Pennsylvania | Weis Markets Inc |
| ES HW 2021-2022 Lancaster, PA | Pennsylvania | Lancaster General Health Penn Medicine |
| Philadelphia | Pennsylvania | Independence Blue Cross |
| Charleston | South Carolina | MUSC Health |
| Charleston | South Carolina | The InterTech Group |
| CSRA | South Carolina | Savannah River Nuclear Solutions |
| Florence | South Carolina | McLeod Health |
| Greenville | South Carolina | Bon Secours St. Francis Health System |
| Chattanooga | Tennessee | Vascular Institute of Chattanooga |
| Knoxville | Tennessee | Pilot Company |
| Nashville | Tennessee | Vanderbilt University Medical Center |
| Corpus Christi | Texas | CHRISTUS Spohn Health System |
| Dallas | Texas | Arcosa, Inc. |
| Dallas | Texas | AT&T |
| Dallas | Texas | EnLink Midstream |
| Dallas | Texas | McCarthy Building Companies |
| Dallas | Texas | Oncor |
| Fort Worth | Texas | BNSF Railway |
| Greater Houston | Texas | BP |
| Lubbock | Texas | Texas Tech Univ Health Science Center - Lubbock |
| Permian Basin | Texas | Medical Center Health System |
| San Antonio | Texas | Humana Military |
| San Antonio | Texas | Methodist Healthcare Ministries |
| San Marcos | Texas | Seton Healthcare Family- Administration Offices |
| Salt Lake City | Utah | University of Utah Health |
| Hampton Roads | Virginia | Bon Secours Hampton Roads |
| Richmond | Virginia | VCU Health |
| Puget Sound | Washington | MultiCare Pulse Heart Institute |
| Janesville | Wisconsin | Blain's Farm & Fleet |
| Northeast | Wisconsin | ThedaCare |
| Washington, DC | | Harrity & Harrity LLP |
| Washington, DC | | Kaiser Permanente |