AHA names top advances in cardiovascular disease research for 2022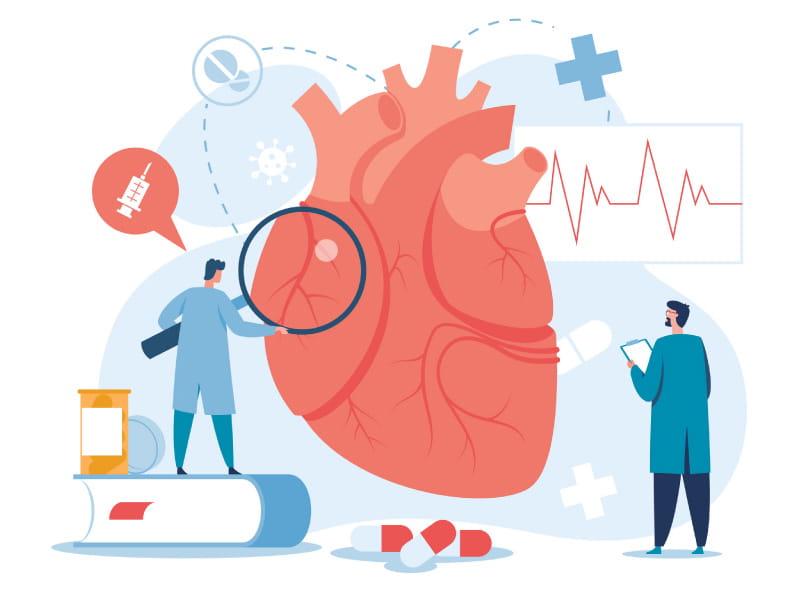 Science marches toward the future in tantalizing steps, some incremental and some quite significant. In 2022, researchers glimpsed the potential cardiovascular futures of individuals in new, promising ways — including as early as in childhood and in women, from clues left behind after pregnancy.
Important gains were made in improving stroke care and pregnancy outcomes and deepening science's understanding of what drives disparities in cardiovascular health. The year's medication milestones hold promise for improving treatment adherence to prevent future heart attacks and strokes and for people with conditions such as heart failure, chronic kidney disease and obesity.
As a leading funder of heart- and stroke-related research, the American Heart Association compiles an annual overview of significant scientific advances in the fight against cardiovascular disease, which claims more than 850,000 lives in the U.S. each year and is the leading cause of death and disability worldwide. Here are some of 2022's most noteworthy developments.
First direct data link childhood risk factors to future heart disease
For the first time, researchers have robust data showing a direct link between childhood risk factors and cardiovascular events later in life.
Researchers have long suspected obesity, smoking and other risk factors occurring in childhood could lead to heart trouble later in life. But until now, they have relied on stringing together different longitudinal studies — using data from different groups of participants at diverse ages — to make those associations. Prospective studies — using data from the same people over time — were a challenge because it takes decades for those children to reach middle age. As an editorial accompanying the newly published data in the New England Journal of Medicine points out, that waiting time could "outstrip the working life of investigators."
Finally, nearly 40,000 people who enrolled in seven study cohorts in the 1970s and '80s have aged enough to reasonably assess long-term associations. The International Childhood Cardiovascular Cohort (i3C) Consortium evaluated whether risk factors seen in children and adolescents when they were 3 to 19 years old were associated with cardiovascular events three or more decades later.
The study focused on five risk factors: body mass index, systolic blood pressure, smoking, and total cholesterol and triglyceride levels during youth, looking at each factor individually as well as using a combined risk score. Researchers reported a clear association between a high level of each childhood risk factor and the occurrence of cardiovascular disease later in life, beginning as early as age 40. And for each unit higher in the combined childhood risk factor score, the risk for having a cardiovascular event in adulthood nearly tripled.
As the researchers expected, those with the highest level of childhood risk factors had the highest risk of later cardiovascular events. However, even slightly elevated risk scores — at levels that would be considered average for children — were associated with a higher risk for cardiovascular events, compared with those who had the lowest risk factor levels in childhood. The change in risk factor score from childhood to adulthood was also associated with later cardiovascular risk, but the childhood risk factor levels were somewhat more strongly associated than the change in score.
Public health strategies focusing on maintaining ideal cardiovascular health in all children, as well as young adults, are needed, experts say.
Treating mild hypertension may improve pregnancy outcomes without compromising fetal growth
High blood pressure during pregnancy is a serious threat to the health of both mother and the developing child. It increases the risk for dangerous pregnancy-related conditions including pre-eclampsia and eclampsia as well as stroke, heart failure, acute kidney injury, preterm delivery and death.
Maternal hypertension, which disproportionately affects Black women, has been on the rise in the U.S. over the past five decades, as more women enter pregnancy with hypertension as well as give birth later in life and do so at heavier weights.
But treating high blood pressure with antihypertensive medicines during pregnancy has been controversial. There's been no clear evidence that doing so helps prevent serious complications, and some evidence suggested it could lead to low-birthweight babies. As a result, hypertension in pregnant women usually isn't treated medically until it becomes severe, with readings greater than 160/110 mmHg.
A study published in the New England Journal of Medicine challenges this approach. It found that prescribing blood pressure medications for women who have mild chronic hypertension (with readings lower than 160/100 mmHg) and are less than six months pregnant led to better pregnancy outcomes without harming fetal growth. The findings, by a consortium of researchers from across the U.S., also support continuing antihypertensive management for women with chronic hypertension when they become pregnant, with a goal of achieving readings lower than 140/90 mmHg. These findings are already changing clinical practice guidelines and practice.
Could the placenta provide clues to maternal cardiovascular health?
Women who give birth prematurely, have low-birthweight babies or who experience other pregnancy complications such as preeclampsia face an increased risk for high blood pressure, heart disease and stroke later in life.
Researchers aren't sure how those conditions are linked but found a place they believe may provide answers: the placenta.
In research published in the American Heart Association journal Hypertension, investigators analyzed medical records from a large Pittsburgh-based maternal and infant database for nearly 500 women who gave birth in 2008 and 2009 and experienced a poor pregnancy outcome. A subset of these women also had a history of placental malperfusion — damage to the placenta related to poor blood flow. Researchers compared later cardiovascular risk profiles for women who had vascular malperfusion lesions against those who did not. They found that a decade after giving birth, women whose placentas had damage from poor blood flow had a worse cardiovascular risk profile, including higher blood pressure and cholesterol levels.
The findings suggest that for women with poor pregnancy outcomes, clues to long-term cardiovascular health might be found in the placenta.
Study measures how much clinical and social factors drive racial disparities in premature heart disease
Black adults have a higher burden of cardiovascular disease than their white peers beginning in young adulthood. Research has shown a complex, interrelated set of clinical and psychosocial factors drives the disparity.
But just how much different factors contribute to the heart health gap was uncertain. Using more than 30 years of data for roughly 5,000 participants in the CARDIA study (Coronary Artery Risk Development in Young Adults), researchers sought to quantify the contribution of socioeconomic, neighborhood, clinical and lifestyle factors to cardiovascular disease disparities. Study participants lived in four U.S. cities: Chicago; Minneapolis; Oakland, California; and Birmingham, Alabama.
The new analysis was in line with what others had previously reported: Differences in traditional clinical cardiovascular risk factors — such as high blood pressure and body weight — were major contributors to worse cardiometabolic health outcomes in Black adults, compared with their white peers. Prior studies demonstrated this for diabetes and stroke. The new work, published in the American Heart Association journal Circulation, showed such clinical risk factors were the main drivers of racial disparities in premature heart disease.
Black women were 2.4 times as likely to have cardiovascular disease as white women. Adjusting for clinical factors alone removed 87% of the difference in cardiovascular risk. Adjusting for neighborhood factors alone removed 32% of the difference, and socioeconomic factors 23%.
Black men faced almost 1.6 times the risk of cardiovascular disease as their white counterparts. As with Black women, clinical factors contributed most to that disparity (64%), with socioeconomic (50%) and lifestyle factors (34%) playing lesser roles.
While the analysis appears to suggest that social determinants of health — such as neighborhood environment and socioeconomic disadvantages — make a smaller contribution to cardiovascular disparities, the authors note that social and economic factors contribute to the differences in clinical risk factors among Black and white adults. Addressing how these factors contribute to disparities at public health and individual levels may help guide strategies to reduce health disparities and improve health care for affected people.
All-in-one pills continue to show promise in preventing recurring heart problems
Although medications can prevent recurring cardiovascular problems after a heart attack or stroke, people only take them about half the time they should.
Studies show the more medication people are prescribed, the less likely they are to take it. Simplifying treatment by packing several medications into a single pill has been found to increase adherence. Researchers have been looking for ways to use these "polypills" to prevent second heart attacks or strokes.
The SECURE trial (Secondary Prevention of Cardiovascular Disease in the Elderly) examined whether combining three medications into a single pill could do a better job of lowering risk for major cardiovascular events, such as heart attacks and strokes, in people 65 or older with a history of heart disease. The combination pill included aspirin (to prevent blood clots), an angiotensin-converting-enzyme, or ACE, inhibitor called ramipril (to lower blood pressure) and atorvastatin (to lower cholesterol).
Nearly 2,500 people from seven European countries who had had heart attacks within the previous six months were randomly assigned to take the polypill or given standard care for three years. As hoped, those who took the polypill had better treatment adherence, leading to a 27% lower risk for cardiovascular events, scientists reported in the New England Journal of Medicine.
Benefits of SGLT2 drugs extend to more heart failure and kidney patients
Sodium-glucose cotransporter 2, or SGLT2, inhibitors, developed as glucose-lowering drugs, quickly became recognized for their ability to reduce cardiovascular risks and preserve kidney function in some people with heart failure and chronic kidney disease, whether they had diabetes or not. New research finds the drugs may benefit an even larger patient pool.
In chronic heart failure, the drugs' benefits were initially studied in people whose hearts could only pump out 40% or less of the blood from the heart chamber called the left ventricle, a condition referred to as heart failure with reduced left ventricular ejection fraction. (Typically, a left ventricular ejection fraction of 50% to 70% is considered normal.) Whether SGLT2s could prevent death or worsening heart failure in people who have heart failure despite having a seemingly normal, or preserved, left ventricular ejection fraction but a stiff heart muscle was unclear.
An international study published in the New England Journal of Medicine randomly assigned 6,263 chronic heart failure patients with left ventricular ejection fractions higher than 40% to the SGLT2 drug dapagliflozin or to a placebo. Those taking the drug were less likely to die or experience worsening heart failure in a median follow-up period of 2.3 years, researchers found, even at left ventricular ejection fractions higher than 60%.
Evidence that SGLT2 drugs could benefit a wider range of heart failure patients is further supported by a meta-analysis of five randomized controlled trials published in the Lancet. The analysis included two large-scale trials, DELIVER and EMPEROR-Preserved, that found SGLT2 drugs to be effective in reducing hospitalizations and death in heart failure patients with mildly reduced or preserved ejection fraction.
A third study found SGLT2 drugs could also help a range of people with chronic kidney disease live healthier, longer lives. Published in the New England Journal of Medicine, the double-blind international EMPA-KIDNEY study randomized 6,609 people with kidney disease to receive the SGLT2 drug empagliflozin or a placebo. Participants included a wider range of patients than previously studied, including people without diabetes and those with less severe kidney disease. Across the board, people who took empagliflozin were less likely to experience worsening kidney disease or death from cardiovascular causes over two years of follow-up.
Double-drug strategy in Marfan syndrome might delay need for surgery
Marfan syndrome is an inherited connective tissue disorder that can affect many parts of the body, especially the cardiovascular system. It sometimes enlarges the aorta, the main artery carrying blood away from the heart, which can be life-threatening.
Two types of drugs — angiotensin receptor blockers, or ARBs, and beta blockers — are widely used to slow expansion of the aorta and to prevent aneurysms at the aortic root, the part of the aorta closest to the heart. But studies have left unclear how well these drugs work individually or together. And a previous attempt to review all the existing data did not clarify the issue.
In a study published in the Lancet, researchers used a different tactic. They re-evaluated individual patient data from the relevant randomized controlled trials according to a new protocol that allowed them to exclude data that was inconclusive, recalculate data sets and perform an in-depth analysis of patient characteristics.
The new analysis included seven clinical trials with 1,442 patients. Four studies compared ARBs with no active treatment, and three compared ARBs with beta blockers.
ARBs could cut the rate of enlargement of the aortic root in half, the analysis found, including among those taking beta blockers. Both drugs were similarly effective and the authors concluded that using them in combination would more effectively slow aortic enlargement than either drug alone. If that treatment were maintained for a sustained period, the authors believe it could substantially delay the need for aortic surgery.
Studies highlight advances in preventing post-stroke disability
Reperfusion — restoring blood flow by clearing blocked arteries during a stroke — is a critical factor limiting damage to the brain and affecting how well a patient will recover. Several studies have shed new light on how best to use reperfusion therapies.
A phase 3 trial published in the Lancet provided evidence that a next-generation clot-busting drug is just as effective as alteplase, the current standard of care. Many health centers around the world have already made the switch to tenecteplase, a genetically modified version of alteplase, because it's easier to use and faster to inject. But unlike alteplase, it has not been approved for use in stroke patients.
An editorial accompanying the study suggests there's now sufficient evidence to support that approval.
From late 2019 to early 2022, researchers identified 1,577 people at 22 stroke centers across Canada who had clot-caused strokes with disabling neurological effects. Patients were randomly assigned to receive alteplase or tenecteplase within 4.5 hours of stroke symptoms appearing.
The results show the two drugs are similarly safe and effective at preventing further disability in the 90 days after a stroke, the study's authors reported.
Another study — the CHOICE randomized clinical trial, described in the Journal of the American Medical Association — found alteplase can help lower the risk for post-stroke neurological problems when used after a thrombectomy to remove blood clots in the large arteries in the brain.
A third study looked at using different types of endovascular therapy to treat people who had acute strokes that caused large areas of brain injury. Endovascular therapy refers to non-surgical treatments to remove blood clots, such as by sucking them out through a catheter or trapping them in a stent and pulling them out during a thrombectomy. Stents also can be used to hold an artery open to improve blood flow.
Though endovascular therapy is considered the standard of care in people with small and medium strokes, it's often avoided in people with large areas of brain injury because of concerns the procedures will cause bleeding in the brain.
The RESCUE-Japan LIMIT trial (Recovery by Endovascular Salvage for Cerebral Ultra-Acute Embolism) compared outcomes for 203 patients at 45 hospitals in Japan who had large strokes and received either endovascular therapy and standard medical care or medical care alone. The trial, described in the New England Journal of Medicine, found that the people who received endovascular therapies were functioning better 90 days later. However, those patients experienced more bleeding in the brain, leaving patients and their physicians to balance the risks and benefits of this type of therapy.
Research provides new insights on sodium intake and cardiovascular health, in two shakes
Too much sodium in the diet can raise blood pressure levels and contribute to cardiovascular disease. Most people get far too much of it each day.
In recent studies, scientists investigated what would happen if people cut back on sodium in the diet, including in table salt (which is about 40% sodium).
In one study, researchers wanted to see whether restricting dietary sodium could lower the incidence of future adverse clinical events in people with heart failure. The research team randomly assigned 806 people with chronic heart failure from six countries (Australia, Canada, Chile, Colombia, Mexico and New Zealand) to two different regimens. They followed a low-sodium diet — defined as less than 1,500 milligrams per day — or usual care. The people were in their late 50s to mid-70s.
Though sodium intake decreased more in the group assigned to the diet arm, it also fell slightly in the control arm. There wasn't a dramatic difference in how much sodium each group ingested, an editorial accompanying the study in the Lancet noted. The researchers found no significant difference between the groups in cardiovascular hospitalizations, deaths or emergency room visits.
A study from China, meanwhile, showed that the benefits of lower-sodium table salt extend beyond heart health.
Prior research found that using a salt substitute could reduce the risk of stroke, heart attack and premature death among people in rural China who have a history of stroke or uncontrolled high blood pressure. In the new study, published in Circulation, researchers showed the salt substitute, containing 25% potassium chloride, lowered stroke risk and also saved people money by cutting health care costs.
The authors conclude this strategy should be a priority in any country in which dietary sodium can be substantially reduced by use of a salt substitute. In contrast to people in the U.S., who eat a lot of processed food that includes high levels of sodium, the rural populations studied in China get most of their sodium from salt added to food in the home.
New drug may help people with obesity lose as much weight as bariatric surgery does
Obesity is the most prevalent chronic disease worldwide, placing people at higher risk for cardiovascular disease and other conditions such as high blood pressure, high cholesterol, Type 2 diabetes, and breathing and joint problems.
Lifestyle strategies, such as diet and exercise, have had limited success in helping people lose and keep off significant weight. The most successful treatment for obesity has been gastric bypass surgery, but as younger adults turn to this approach, there are concerns about lifetime complications. Research meanwhile has shown that anti-obesity drugs, combined with healthier eating and increased physical activity, can help people lose 3% to 12% more of their starting body weight compared with people in a lifestyle program alone.
A new phase 3 trial reported in the New England Journal of Medicine shows one drug, tirzepatide, may help people lose substantially more — 15% to 21% of their body weight, depending on the dose. This once-weekly drug, injected under the skin, was initially developed to treat people with Type 2 diabetes. The drug combines two nutrient-stimulated hormones (Glucagon-like peptide-1 receptor agonist, or GLP-1 RA, and glucose-dependent insulinotropic polypeptide, or GIP) that help people eat less by making the stomach empty more slowly, so they feel fuller longer.
That level of weight reduction is as good as bariatric surgery, offering people with obesity more options, the study's authors wrote.
---