Through large, randomized trials, honoree impacted health worldwide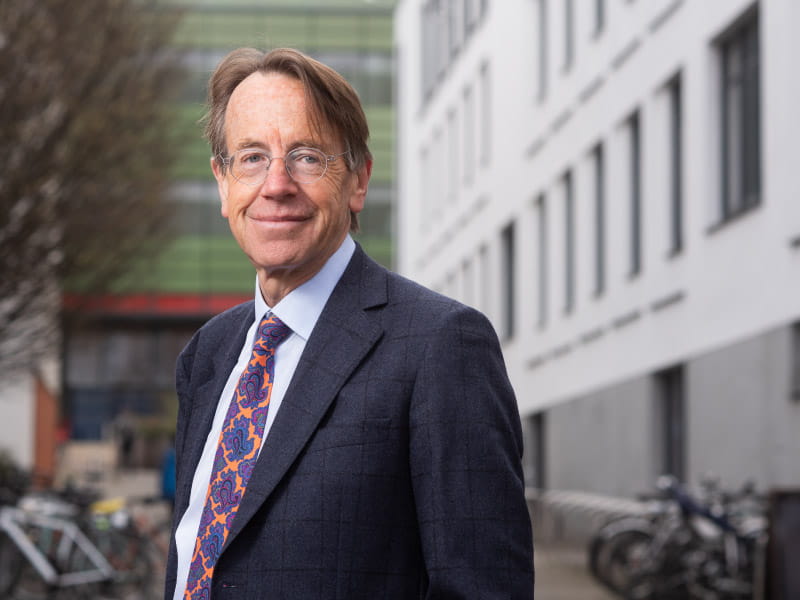 In what he attributes to the good fortune of having superb mentors and supporters when he was starting out in research, Professor Sir Rory Collins has stood at the forefront of groundbreaking discoveries that prevent and treat heart disease.
"When you get such results, it's incredibly exciting," said Collins, a University of Oxford professor.
For his role in demonstrating the effectiveness of lifesaving drugs such as streptokinase, aspirin and statins, Collins will receive the 2022 Ron Haddock International Impact Award during the American Heart Association's annual National Volunteer Awards virtual ceremony on June 28.
Knighted in 2011 for services to science, Collins continues to expand knowledge as the principal investigator and chief executive at the UK Biobank. Founded in 2003, the organization collected biological and lifestyle information from more than 500,000 men and women ages 40 to 69 who have agreed to have their health followed over time and their data made available to researchers around the world.
"As people in the study develop more health conditions over time, evidence will emerge about how to better prevent and treat more of these conditions," Collins said.
An unlikely formula
Fascinated by mathematics since high school, Collins pursued a bachelor's degree in statistics while attending medical school. Most of his fellow students, by contrast, studied more conventional medical subjects such as anatomy or physiology.
Unable to find a university in London to accommodate his passion for mathematics while at medical school, he wrote letters to three dozen universities in the United States, ultimately attending George Washington University in 1976-77.
While there, Collins "discovered the magic of randomization," he said.
In a randomized clinical trial, people are assigned at random to receive the treatment under investigation or to a control group. The process of randomization helps to ensure a comparison of like-versus-like, reducing bias in the treatment comparison.
Conducting randomized trials makes it possible "to find out more reliably whether a treatment works or not, rather than it being a matter of expert opinion which often turns out to be wrong," he said.
After completing medical school in London, in 1981, Collins joined a clinical trial and epidemiological studies unit at the University of Oxford, where he has worked ever since with statistician and epidemiologist Richard Peto.
The big picture
Peto believed that most randomized trials were too small and, consequently, were failing to detect important treatment effects. So, in collaboration with cardiologists Peter Sleight and Salim Yusuf, Peto and Collins set up a series of streamlined randomized "mega-trials" – the International Studies of Infarct Survival (ISIS) – involving the collaboration of hundreds of hospitals around the world, to assess the emergency treatment of heart attacks.
In preparation for the second of these trials, Collins and his colleagues looked at a clot-dissolving medication called streptokinase. Several small studies had been conducted, each involving just a few hundred patients at most, and the results were uncertain. However, combining the results of those studies suggested that streptokinase might reduce mortality by 20%-25%.
As a result, they set up the ISIS-2 trial to test this possibility, as well as to assess whether adding clot-preventing aspirin medication produced benefit. Following the randomization of 18,000 patients, they found that streptokinase reduced death rates by 20%, aspirin reduced death rates by 20%, and the effects were additive and even bigger when given rapidly after the onset of the heart attack.
"We went in 1988 from having no life-saving treatments to having two simple, inexpensive and effective treatments for heart attacks," Collins said. "It was an extraordinary moment."
The new understanding that clots were a cause and not an effect of heart attacks subsequently led to new approaches to opening blocked coronary arteries, such as angioplasty, which along with medications such as streptokinase, is saving countless lives every year around the world.
At the start of this century, the team's Heart Protection Study found that cholesterol-lowering statin drugs led to a 25% reduction in heart attacks and strokes and about an 18% reduction in mortality in a very wide range of patients at high risk of such events. The effects were seen in men and women, young and old — and even in people who already had relatively low cholesterol.
"That changed this idea that there was a threshold for cholesterol below which lowering cholesterol was not beneficial," Collins said. As a result, very many more patients at risk of heart attacks and strokes are now receiving statin therapy.
The future looks bright
Collins, who also heads Oxford Population Health, believes the data from the millions of people who are participants in UK Biobank and similar projects like the China Kadoorie Biobank and the All of Us Research Program at the National Institutes of Health will lead to very significant advances in fighting many different diseases.
"We will become better at identifying people who are at high risk and offering them preventive therapy at a much earlier age," he said. "For example, if you lower the cholesterol of people who are at risk much earlier, you can get bigger benefits than if you wait until their arteries have become blocked."
The UK Biobank has already yielded valuable insights that have informed numerous AHA presentations and scientific papers. More than 30,000 scientists globally are using the biobank's data for their research. In 2021 alone, it was the basis of about 1,700 research papers.
Because the data is available to any researcher, results can be corroborated, and mistakes addressed promptly.
"The system is self-correcting, and it produces a very collaborative way in which to work," Collins said. "The last five years have been fantastically exciting, because we've really seen the value of UK Biobank for discovery science take off."
---