Supporting American Heart Challenge is personal for Iowa principal
Iowa school principal Yonas Michael didn't feel ready for over two years to speak publicly about losing his younger brother, Daniel, at age 32 to heart disease.
But as he stood in front of his Ames Middle School students at the kickoff assembly for the American Heart Challenge in February, something changed.
"In that moment I felt compelled to share my 'why' and let the students know how important it is to support the American Heart Association," he said.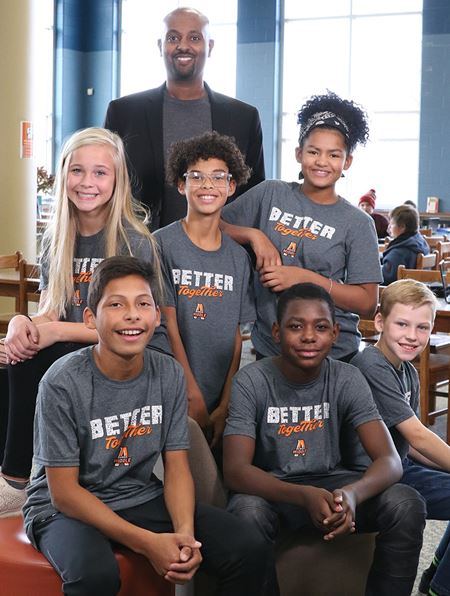 Michael set an ambitious $32,000 goal for the school, which includes his own pledge of $3,200. He also challenged each student and staff member to raise $32. They were on course to meet the target when the coronavirus (COVID-19) pandemic closed the school, slowing donations.
But Michael says the setback only increased his commitment to the AHA because many of those hit hardest by the virus have underlying health issues. He also knows how crucial it is to teach middle schoolers about topics that affect their heart health, such as exercising, eating well and staying away from vaping.
"I gained a greater appreciation for the work the American Heart Association does for our country and around the world," Michael said. "I wanted my school and my community to know that it's a worthy cause that is helping save lives."
Growing up, he and his brother looked so much alike that they were often mistaken as twins, and they were very close. That made Michael particularly grateful for the medical advances — funded in part by the AHA and other organizations — that prolonged the time he had with Daniel, who died in 2017.
And while he was waiting for a heart transplant, Daniel put even more emphasis on taking care of his family and helping those who were less fortunate, Michael said.
"Daniel had the biggest heart and always wanted to help others who were in need," Michael said. "He would ask, 'If we don't provide them with something, who else will?'"
Michael feels compelled to help others who have heart disease, including a student who was recently hospitalized.
"What was amazing to me as a principal is how the other students rallied around this student," Michael said. "It also provided a real-life understanding to them that heart disease does not discriminate."
---