Physician honored for promoting access to cardiology care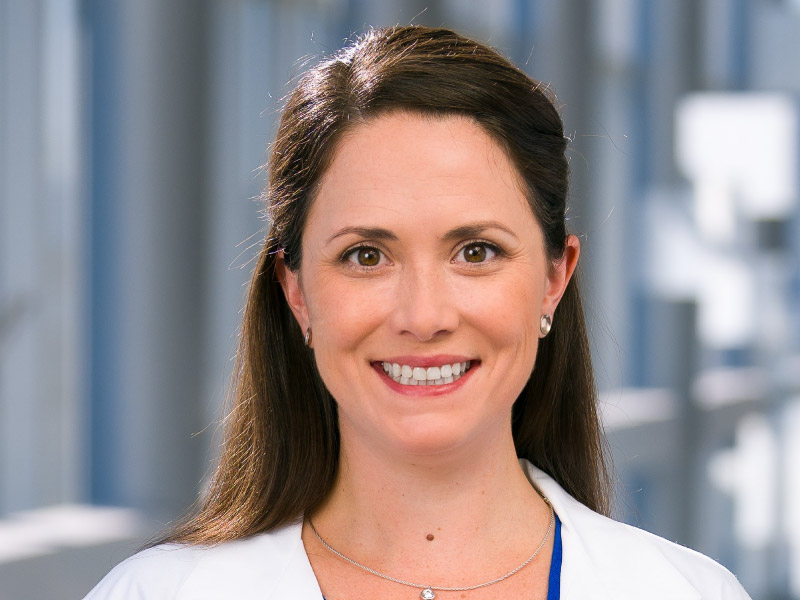 As Dr. Ann Marie Navar tells it, her "party trick" as a toddler was spelling anesthesiologist. She wanted to be like her dad, John, who would take her and her siblings on rounds in the hospital where he worked. "I loved the magic of the hospital," she said.
Along with her mother, Lynette, a registered nurse, Navar's dad instilled in her not just an interest in health care but a desire to use her skills and knowledge to help others.
Navar's preschool flirtation with anesthesiology eventually yielded to a career in cardiology, a focus on heart disease prevention and public health, a passion for research and a drive to better deploy technology to improve patient care. Navar has felt her parents' influence, she said, in "all of it."
That includes one of her latest endeavors — conceiving and driving the development of Doctors With Heart, an American Heart Association initiative to promote access to cardiology care in under-resourced communities. For her foundational role in the initiative, Navar will receive an AHA Award of Meritorious Achievement, which honors individuals and organizations for projects of national significance. The award will be presented in a virtual ceremony June 22.
Doctors With Heart, which provides cardiology consultations via telemedicine with physicians at participating community clinics, traces back to the Navar's hometown — Corpus Christi, Texas. There her mother became nursing director of a fledgling community clinic, Mission of Mercy. Over more than a decade she helped the clinic take root and grow.
"It was a labor of love for her," Navar said.
In addition to being an anesthesiologist, her father was a volunteer and eventually administrative medical director of the clinic, which provides primary care, vision care and other services to uninsured and underinsured patients in South Texas.
Meanwhile Navar, pursuing her career in North Carolina at Duke University, was a clinic supporter and unofficial consultant. Because of her ties to Mission of Mercy, she'd get calls asking her opinion on a heart patient's echocardiogram or treatment. She realized similar clinics could also use such help.
"It's probably unlikely that every clinic's nursing director has a daughter who's a cardiologist," she joked.
Navar viewed the challenge through an AHA lens. She's a volunteer and member of the organization's Health Tech Advisory Group, part of its Center for Health Technology & Innovation. The center fosters the conception, development and implementation of digital health care solutions. She and her collaborators envisioned a tech platform to connect the AHA's deep bench of volunteer cardiologists with such clinics via telehealth nationwide.
With pilot funding from the Aetna Foundation, Doctors With Heart was launched. Its first clinical consultation happened last September — with Mission of Mercy.
Navar is quick to credit others in the achievement, including the AHA for its essential support, noting that the program has been well-received.
"Some patients have really complex cardiovascular issues, and the physicians at these clinics want to provide the highest level of care. Having access to a cardiologist allows them to do that," Navar said.
Ultimately, she said, the program team hopes to have a broad group of medical professionals available for consultations, with expertise in high blood pressure, nutrition, neurology and more.
Navar is similarly motivated in her academic career. Last year she left Duke for the University of Texas Southwestern Medical Center in Dallas, where she's an associate professor of internal medicine and of population and data sciences.
She's excited about UT Southwestern's focus on cardiovascular disease prevention and its affiliation with Dallas County's public hospital, Parkland.
"It's a unique place in that it's able to provide really lights-out, outstanding, top-notch academic care to some of the most vulnerable people," she said.
Navar focuses about three-quarters of her efforts on research. She uses her clinical experience to inform that research, studying questions such as why patients aren't using effective, cutting-edge therapies. She's also interested in discovering the best time to start treating cardiovascular risk factors, such as high cholesterol levels in young adults.
She sees vast opportunities in electronic health records, which log almost every patient-provider interaction. Data collection could be honed to allow for more meaningful research and to get needed therapies to patients sooner, she said. And better digital tools such as risk calculators and built-in alerts can flag health concerns earlier and more clearly.
"It's never too early and it's never too late to prevent cardiovascular disease," Navar said. "That's the driving piece for a lot of my work — how do we prevent heart attacks and strokes across the continuum of disease?"
Funding for the Doctors With Heart pilot program was provided by the Aetna Foundation, an independent, charitable and philanthropic affiliate of CVS Health.
---