How to help reduce your risk of another heart attack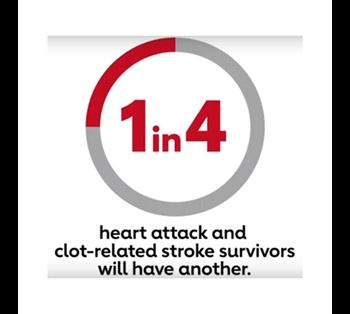 As many as 1 in 4 heart attack survivors will have another one. But you can help reduce your risk of a repeat event with lifestyle changes and by working closely with your doctor to manage your health.
Up to 80% of heart attacks are preventable, so talk to your doctor about how you can work together to help lower your risk.

The American Heart Association has created a secondary prevention program to help develop such plans. The program, sponsored nationally by Bayer, includes this science-based guidance:
Manage your risk factors. After a heart attack, it's important to manage risk factors such as high blood pressure, high cholesterol and diabetes by taking medications as prescribed, quitting smoking, eating healthier and getting active.
Attend your follow-up appointments. This helps your doctors keep track of your condition and recovery. Make the most of your time with your doctor by preparing a list of questions and concerns along with a list of all medications, vitamins and supplements you're taking. Bringing a trusted friend or family member may help as well.
Take your medications as prescribed. Certain medicines can lower your risk of another cardiac event. Taking aspirin as recommended by a doctor is one way to help prevent another heart attack. Don't start, stop or modify an aspirin regimen without first talking to your doctor.
Aspirin is not appropriate for everyone, so be sure to talk to your doctor before you begin an aspirin regimen.
Participate in a cardiac rehabilitation program. Cardiac rehabilitation is a medically supervised program designed to help you recover after a heart attack. You may have received a referral to cardiac rehab when you were discharged from the hospital. If you didn't, ask your doctor if rehab is right for you.
Get support. It's normal to feel scared, overwhelmed or confused after a heart attack. Getting support from loved ones or people who have gone through the same thing can help you cope. Connect with other heart attack survivors and caregivers through local support groups or the American Heart Association's free online Support Network.
See what Marybel Coleman and Sam Prewitt have done to help avoid having a second heart attack.
---