Honorees aim to help turn the tide on heart disease in North Philadelphia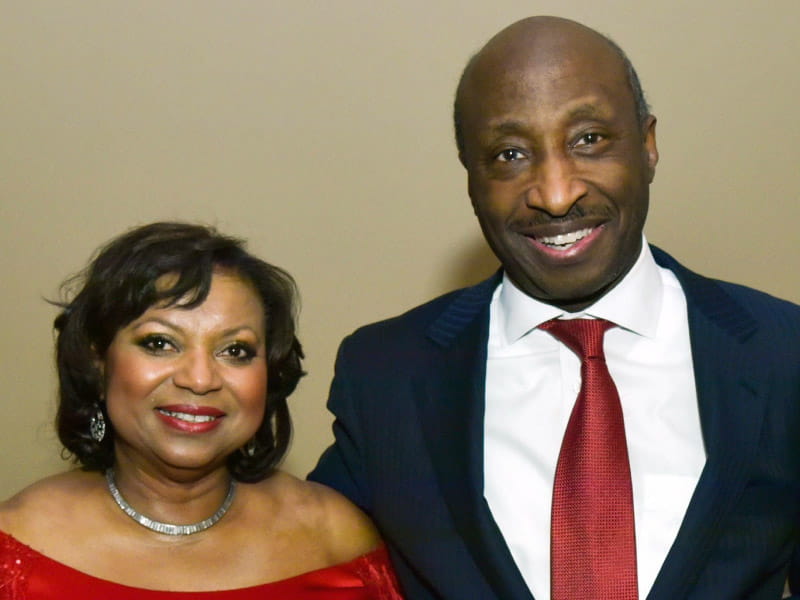 For Ken and Andréa Frazier, paying it forward is a way of life.
Before stepping down as Merck's CEO last year, for example, Ken was instrumental in the formation of many of the company's philanthropic initiatives. And as a longtime supporter and current board member for the American Heart Association's Go Red for Women's Circle of Red society, Andréa has helped increase awareness about heart disease in younger women and raise much-needed funds.
Most recently, the Andréa W. and Kenneth C. Frazier Family Foundation donated $1 million to the AHA's Bernard J. Tyson Impact Fund, which invests in community solutions that address the social determinants of health, such as access to healthy foods, stable income, education and quality health care.
"Your ZIP code is more determinative to the quality of life and duration of life than your genetic code," Ken said. "Being able to use our resources to advance health is something that we very much care about."
For their contributions, Ken and Andréa Frazier will receive the AHA's Louis B. Russell Jr. Memorial Award during the organization's annual National Volunteer Awards virtual event on June 28 that is open for the public to tune in.
Personal perspective
Growing up in a low-income neighborhood in Philadelphia, Ken observed firsthand how the lack of medical facilities, grocery stores and good schools impacted the community's health and well-being. "There's so much systemic disadvantage," he said, noting that people who live in under-resourced communities are at far greater risk for stroke than those who reside just a couple miles away.
Indeed, when Andréa had a stroke at 33, just days after the birth of the couple's first child, she quickly realized how different the experience would be for people who are less fortunate. Andréa had access to a high quality of care, for example, and she was able to focus on her recovery without the pressure of supporting her family as well. Her parents took turns staying with her while Ken worked as a partner in a law firm — something she said would not be possible for many families.
"It takes a toll on the entire family, but I was fortunate that I had a tremendous amount of support to get through that challenging time," she said.
Taking action
Fueled by a desire to provide such support to others who are less fortunate, in 2020 the couple founded The Andréa W. and Kenneth C. Frazier Family Foundation.
Among its many important contributions, the foundation helped the AHA distribute home health kits to people with high blood pressure, place commercial refrigerators in food pantries, and provide more than 10,000 healthy meals to families during COVID-19-related school shutdowns.
In addition, the foundation's generous $1 million donation to the Bernard J. Tyson Impact Fund is supporting local nonprofit organizations and others working to improve access to healthy food, affordable housing and health care in North Philadelphia.
In 2021, the couple launched The Frazier Family Coalition for Stroke Education and Prevention in partnership with Thomas Jefferson University and Temple University. The organization offers programming around managing hypertension and diabetes, smoking cessation, healthy cooking, nutrition and more.
Later this spring, the coalition is scheduled to open a physical location that will offer classes and seminars, onsite testing for hypertension and Type 2 diabetes and health care referrals. "There's a clear relationship between peripheral artery disease and stroke, and we're trying to reduce those numbers or take them down to zero," Andréa said, pointing to the high incidence of stroke, diabetes and associated amputations.
Recognizing the importance of education in public health — and eager to increase high school graduation and college attendance rates in the area — the Fraziers are also strong supporters of the Cornerstone Christian Academy in Philadelphia.
According to Ken, their work is not just altruistic. "There's no Ferrari in the world that will make you feel the way you do when you see those kids and how their life possibilities have been changed," he said. "Doing this work makes me feel good."
---