From resolving tax matters to saving lives, Gold Heart awardee answered call to serve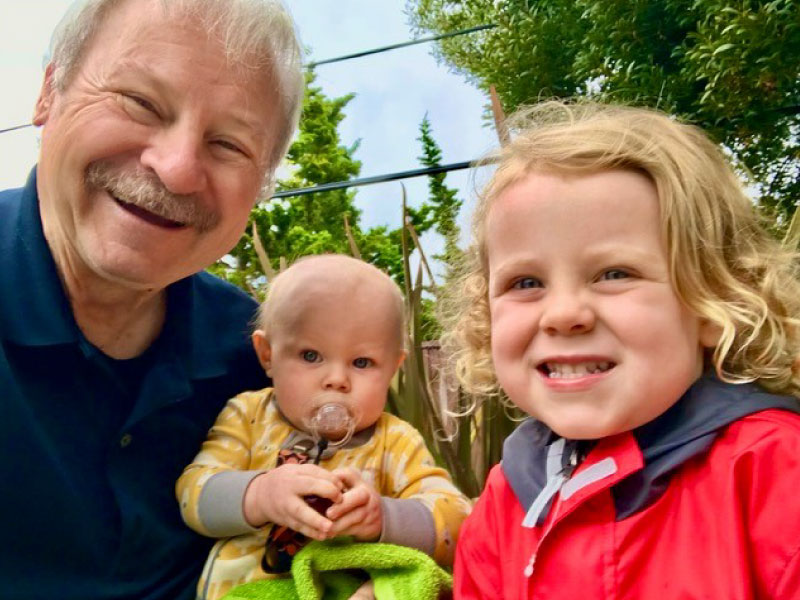 Growing up in North Dakota, Al Royse learned the value of hard work early.
From age 5, he and his four siblings worked after school and during the summer selling the harvest from farms across the country at their family-owned produce stand. When work and school were done, Royse found an escape in his favorite TV drama, "Perry Mason."
"Though I did not know what I wanted to do as a career at the time, in the back of my mind, I wanted to be like Perry Mason," he said. "I also liked business."
He found a way to blend both interests as a tax specialist for the accounting and consulting firm Deloitte. It was his first job after graduating from the University of North Dakota School of Law in 1976, and his star rapidly rose there. He'd already built a reputation as a maverick, winning a seat in the state legislature at 21, one of only two people under 30 in North Dakota to do so at that time. For his achievements, he was named Outstanding Freshman Legislator.
By 1997, Deloitte made him managing partner of its San Francisco and Silicon Valley tax practices. That's when the American Heart Association came calling.
"The local executive director contacted me and said, 'We have a bit of a problem. San Francisco Heart Walk is coming up and the chairperson got transferred to Australia. Would you consider stepping in?'"
For Royse, whose motto is to "say yes before you say no," the answer was easy.
"I figured it would be a growth experience if nothing else," he said.
It became so much more than that. For nearly 25 years, Royse has been a steadfast AHA volunteer at the local, regional and national levels.
As chairman of the board, he positioned the organization as a catalyst to achieve maximum impact in equitable health and well-being. The AHA will present him with its highest volunteer honor, the Gold Heart Award, during its annual National Volunteer Awards ceremony June 22.
All in from the start
Royse chaired the San Francisco Heart Walk in 1997 and 1998. Then, the AHA invited him to join the San Francisco board, which he later led as chairman. That appointment spurred an invitation to join, then chair, the Western States Affiliate board.
During 10 years on the regional board, he was part of the national Joint Operating Committee, which orchestrated merging the Western States and Pacific Mountain affiliates into the current 10-state Western States region. That garnered him the honor of Western States' Volunteer of the Year in 2010.
His trusted voice led to national board appointment in 2011 and, the following year, he was named secretary-treasurer. His ascent continued as chairman-elect of the national board in 2013-14 and chairman in 2015-17.
"My involvement with the AHA started by chance," he said. "It continued for three reasons: I believe in the mission, I believe in the people, and I believe in the results. We save lives and there can be no greater purpose."
During his term as national chairman, Royse helped develop the 2017-20 Strategic Plan and Strategic Value Proposition. He said the latter elevated the AHA "from a provider of products, services and information to a catalyst for change — more innovative, proactive, collaborative and engaged in preventive medicine."
One output of the Strategic Value Proposition was Cardeation Capital, a $30 million venture capital fund to spark stroke and heart disease innovations and to bring those products to market. Royse remains an AHA representative for the fund.
Among the AHA's other crowning achievements during his tenure as national chairman were a long-term strategic revenue plan — leading to record revenues — increased collaboration with other organizations and continuation of the global expansion begun by past national chairman Ron Haddock.
Royse is particularly proud of his role in developing the AHA's Guiding Values, which were established under the leadership of 2013-15 national chairman Bernie Dennis.
"My favorite Guiding Values are making an extraordinary impact and meeting people where they are, because they encompass everything we aim to do," he said.
Those principles informed his service as 2017-20 chairman of Voices for Healthy Kids, founded in 2013 by the AHA and the Robert Wood Johnson Foundation to address childhood obesity through policy advocacy. With a wider lens, today the initiative works to build a culture of health for children in under-resourced communities.
Serving is personal
As a grandfather of two, ages 3 and 6, Royse says creating a healthier world for future generations is his why.
In March 2020, when COVID-19 shuttered schools and closed cafeterias, Voices for Healthy Kids advocated for the U.S. Department of Agriculture to offer meal pickup service for the millions of children who rely on school meals. Other priorities included increasing families' access to the Supplemental Nutrition Assistance Program, also known as SNAP. The initiative also awarded $1 million to 22 nonprofit organizations serving families across 19 states, Puerto Rico and the Lummi Nation.
"The pandemic taught us that anything can happen in the blink of an eye, so it's important to remain in the moment and to be fully present with family and friends," he said.
Royse identifies with that sentiment on a deeply personal level.
"Like 1 in 3 Americans, I have heart disease — I was diagnosed in 2006 and I've had a triple bypass and stenting," he said. "When someone suffers from heart disease and passes away prematurely, it's not just their life that's lost. We lose the impact they had on everyone around them, most importantly their kids and grandkids."
That's why he greets each day with gratitude and the question, "What can I do to be significant in someone's life?"
His charitable roots run deep, including service on nonprofit boards beyond the AHA. Among them is Peninsula Family Service in San Mateo, which provides preschool learning to children from under-resourced families.
Last year, the Town of Hillsborough, California, where he had served on the City Council, elected him mayor — putting him in position to make his own hometown better, healthier.
"I try to be a relentless force for making a difference," he said. "You get back more than you give when you serve."
---