Building a nation of lifesavers in India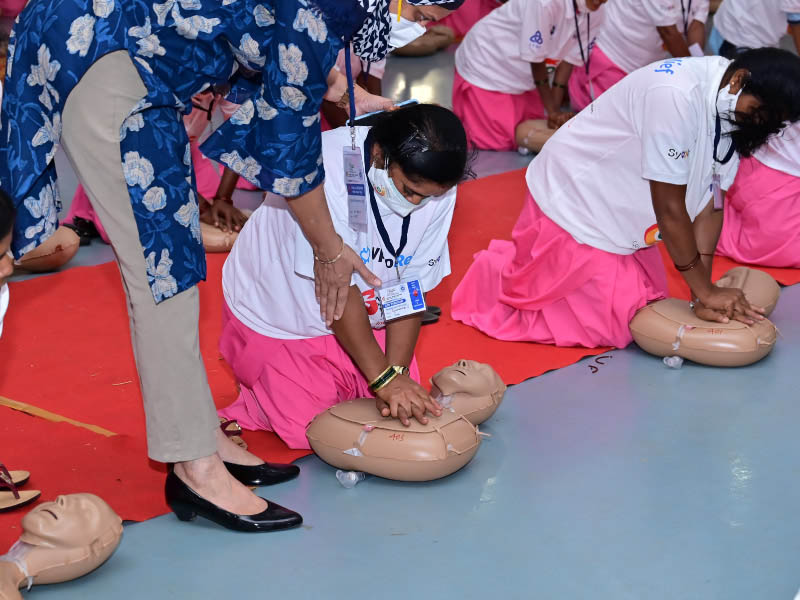 A sweeping training program in India's district of Chitradurga, Karnataka, taught CPR skills to thousands of people in just three days in September.
The event is just one success to be celebrated this Saturday on World Restart a Heart Day, which promotes bystander CPR globally. World Restart a Heart Day is observed every year on Oct. 16.
From Sept. 24 to 26, the Heart and Stroke Foundation of India, a subsidiary of the American Heart Association, trained over 4,500 volunteers, medical students, health care professionals and police personnel in CPR and other first aid, using the foundation's First Aid Everywhere course content. Under the guidance of local health authorities, with distancing and other COVID-19 safety practices in place, participants also learned how to stop bleeding, stabilize fractures, assist an unconscious victim, recognize the early signs of stroke and heart attack, and access timely medical services.
Dr. Naga Nischal, president of the Karnataka chapter of the Society of Emergency Medicine, said his organization had never been involved in CPR training that had a manikin for each participant. Organizers had planned to train 3,000 people during the three days, he said, but due to an overwhelming response, they trained that many in the first two days before topping out at 4,557.
Although heart disease is the leading cause of death in India, fewer than 5% of Indians are trained in cardiopulmonary resuscitation, according to local experts. Prompt CPR can double or triple a person's chance of surviving cardiac arrest, which occurs when the heart stops beating properly due to an electrical system malfunction.
Trainees from the event have since been visiting as many as 190 talukas, or local subdistricts, in Chitradurga in October. Their goal is to teach more than 300,000 people Hands-Only CPR, which involves first calling emergency rescuers, then pressing hard and fast on the center of the chest.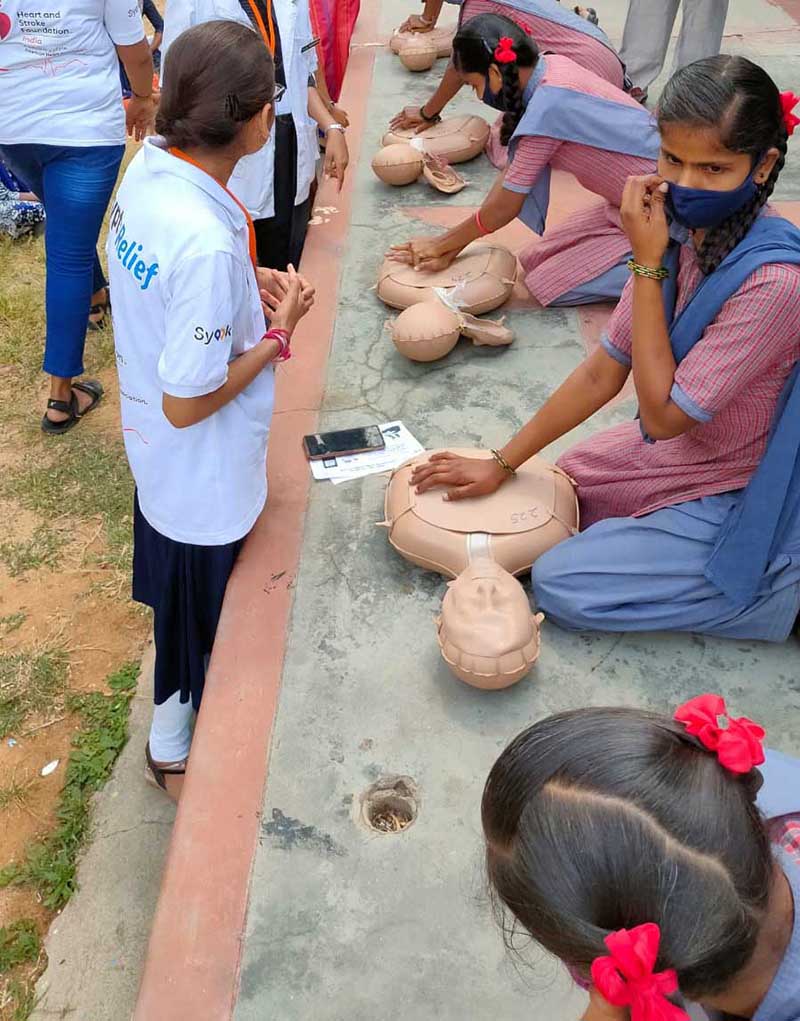 The training event was organized by the Heart and Stroke Foundation of India, the International Critical Care Air Transfer Team, or ICATT, Foundation, COVID India Campaign and the Society of Emergency Medicine to encourage CPR awareness.
Shukanto Das, representative for the Heart and Stroke Foundation of India, said participating in the event was an honor and tremendous learning opportunity. "These trainings have been so massive that words fall short to describe the scale and impact."
In conjunction with the training, organizers successfully advocated for all Accredited Social Health Activist, or ASHA, community health workers and high-school students in Chitradurga to be trained in Hands-Only CPR.
---