Voice of the Mission awardee shares his journey as heart disease 'warrior'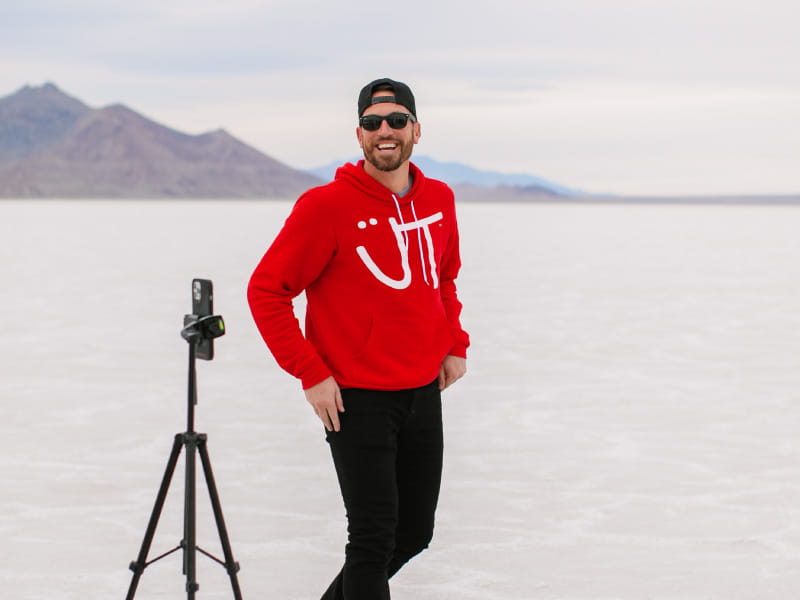 Utah resident JT Laybourne is known for his motivational videos and humorous, upbeat content such as car karaoke.
But in 2020, his TikTok feed took a heavier turn when he posted a heartfelt message about his upcoming open-heart surgery. This TikTok creator's heart journey inspired people across the globe to raise awareness about heart disease and the AHA. At the time, he had about 500,000 followers. Today, he has more than 1.6 million.
"I had built a platform of love and positivity to help people get through difficult times, and this was my opportunity to practice what I preach," said Laybourne, who will be honored with the 2022 Voice of the Mission award during the American Heart Association's annual National Volunteer Awards virtual ceremony on Tuesday, June 28. "The love and support that came in was overwhelming."
Laybourne's message also caught the attention of AHA executives, who soon reached out to discuss a partnership to raise funds. Eager to help, he vowed to raise $25,000 in just a few weeks, even if he had to make a personal donation to cover any shortfalls.
Determined to make good on his commitment, Laybourne appealed to his community and fellow influencers and content creators to do the same. He inspired throngs of people — and some celebrities — to step up and support the AHA. A few days later, they had generated nearly $300,000 in donations from thousands of people around the world.
Two months later, on National Wear Red Day®, he teamed up with singer Andy Grammer, Backstreet Boy AJ McLean and comedian Wayne Brady on an even bigger livestream that brought in more than $400,000. Now, Laybourne is passing the torch to his community and asking them to fundraise for the AHA. Recently, Laybourne held a master class in fundraising that helped his followers raise awareness — and additional funds — for the AHA. "The ripple effect that's happened is unbelievable," he said.
All told, Laybourne has helped raise nearly $1 million from across the nation thanks to his TikTok followers. In addition, he was instrumental as a local volunteer in Utah. There, he inspired the community to support AHA campaigns and events to help the Utah team raise $1 million in new revenue, joining the Million Dollar Market for the first time in its history.
Born a heart warrior
Born with a heart defect called subaortic stenosis that can be fatal when left untreated, Laybourne barely recalls his first open-heart surgery at 4, when he became part of "the zipper club," as his care team called those who had the telltale scar on their chest.
At first, Laybourne took pride in the jagged scar, which made him feel like battle-hardened action heroes like Rambo. But as the years progressed and unkind peers teased him about it, the scar instead symbolized things he was unable to do.
While he's still self-conscious about it at times, Laybourne realizes that his scar is something to take pride in — a message he shares with other kids who have had open-heart surgery. "It shows you're a heart warrior," he said.
A source of comfort
While he was not able to participate in high-impact sports, golf provided a constant source of joy for Laybourne and eventually a livelihood working at a local club, where he taught lessons to earn extra income. On a whim, he started posting tips, jokes and other golf-related content to his Instagram account. It wasn't long before a video of him doing a jaw-dropping golf trick went viral, increasing his followers by nearly tenfold.
His car karaoke videos also caught on. After he posted one of himself enthusiastically singing a tune, some viewers filmed themselves doing the same. When he started sharing them via TikTok in 2019, thousands started following him within weeks.
"They were so loving and supporting and kind," he said. "I found my people — weirdos just like me."
Indeed, the community showed up in a big way after Laybourne's second open-heart surgery in 2020 to repair a leaky mitral valve and replace his aortic valve and a portion of his ascending aorta. Racked with pain in the hospital and unable to roll over, sit up, cough or even laugh on his own, the many messages of love and support "kept me going," he said.
The road ahead
Now a full-time content creator with a line of branded apparel, Laybourne is also serving a three-year national volunteer stint as the AHA's digital innovation chair, leading the organization's online strategy and working to expand its social media engagement.
In the meantime, he's laser-focused on fundraising and hopes to cross the $1 million mark in national TikTok donations within days or weeks. To commemorate the occasion, he plans to have his chest tattooed with an old-timey graphic of an anatomically correct heart with flowers growing out of its valves. "It shows that there is beauty in everything," he said. "It's going to be big and bold."
---