American Heart Association
South Dakota
Help us ensure everyone in South Dakota has the opportunity to live longer, healthier lives.
Healthy for Good
Living healthy and free of disease makes a critical difference in quality of life. That's why we're working to raise awareness about the vital effect lifestyle has on health and helping communities form healthy habits.
Show You Have South Dakota at Heart
You can make a difference by lending your support to help improve the long-term health of South Dakota.
Show Your Support
Summer Drive: Make your heart happy helping other hearts live healthy
We're making hearts happier and healthier all summer long, but we can't do it without YOU. Please make your lifesaving gift in support of our Summer Drive today and download a Shop Smart, Eat Smart recipe booklet as our thanks!
Local Events
Join the fight to end heart disease and stroke by attending a South Dakota event!
Sioux Falls Go Red for Women, Location: Sioux Falls Convention Center, Date: Tuesday, May 11, 2021 - 12:00 AM
Leading with Survivors
On Friday, August 9th 2019, if you'd asked Chris Dieters what her plans were for the weekend, she would have told you about the vacation she was planning with her family to the Black Hills. She was feeling the healthiest she'd felt in years, and had no idea that her plans were about the change significantly. That afternoon, her heart stopped… Chris suffered a sudden cardiac arrest. If not for the quick actions of her co-workers, who immediately began performing CPR and used the on-site AED, Chris wouldn't be here today to tell her story. Chris's sudden cardiac arrest was the result of blockages in her heart that were repaired. Today, she advocates for CPR training so that more lives like hers can be saved and tells women to listen to their hearts, because screenings are so important to catch the subtle signs and symptoms you might be missing.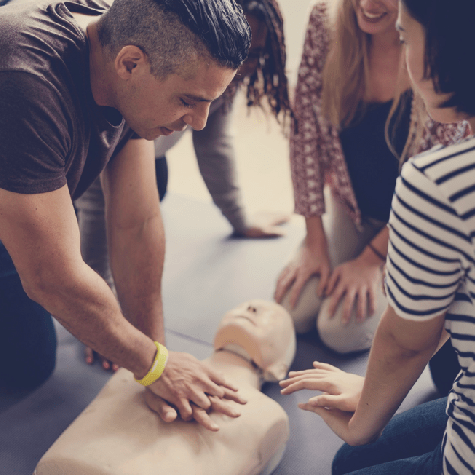 CPR & First Aid Training
Emergencies leave us feeling helpless, but they don't have to. Take two minutes to learn Hands-Only CPR™ now. 70 percent of out-of-hospital cardiac arrests happen in homes. When a person has a cardiac arrest, immediate CPR can double or triple their chance of survival. Prepare to save a life, find a CPR course near you today.
Healthy people, healthy communities, healthy South Dakota
Preventing Cardiovascular Diseases and improving the health of everyone living in South Dakota requires collaboration, responsibility, and shared-accountability across various sectors - this is the driving force behind the South Dakota Cardiovascular Collaborative.
The South Dakota Cardiovascular Collaborative works to improve the quality of life for all South Dakotans through the prevention and control of heart disease and stroke. Founded in 2017, medical and public health representatives from across the state, including the American Heart Association, came together to combine resources, tools and expertise to create momentum for moving the needle forward on this complex healthcare challenge.
Making Communities More Livable
Research continues to show that where we live can determine how well – or how long – we live. Factors like housing, transportation, health services, outdoor spaces and social connections all contribute to the "livability" of a community.
Focusing on these domains of livability create great places to live for all ages. The American Heart Association is working with partners across the state on Livable 605, a project that aims to encourage livability champions in SD communities.
Changing Policy
Our legislative and regulatory priorities help to mitigate risk factors and protect survivors in communities across the country. We advocate for federal, state and local policies that help Americans build healthier lives free of cardiovascular disease and stroke.
Contact Us
PO Box 90545
Sioux Falls, SD 57109
Phone: 605-360-2542