---
Telehealth helps Latino communities in rural areas, but access can still be challenging
By Lourdes Medrano, American Heart Association News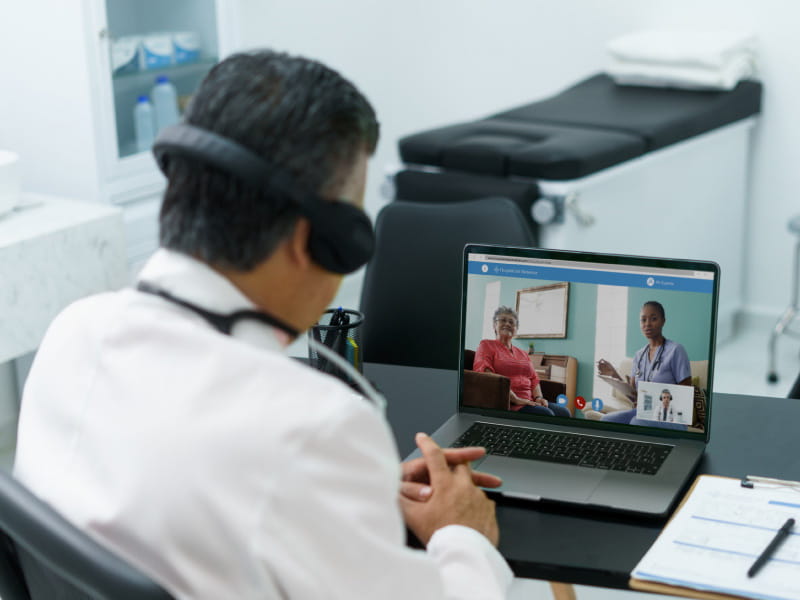 Rosa Jaime Alcantar started feeling extreme fatigue last summer. She couldn't quench a constant thirst, and her legs felt as if they were on fire. She went to a nonprofit health center in California's Central Valley, where she learned she had diabetes.
She'd been living a sedentary lifestyle since 2016, when she crushed her hand while trying to break a fall at the tree nursery where she worked. Unable to work again, she moved in with her son. "I gained a lot of weight," Jaime Alcantar said. "I didn't take care of myself."
The diagnosis shook her deeply. She took steps to modify her lifestyle and diet – including learning to manage diabetes through a telehealth program.
Jaime Alcantar, who arrived from Mexico in 1991, was unfamiliar with virtual medical visits. The technology saw increased usage during the COVID-19 pandemic, including among Latino people. But some research has found persistent gaps in remote health care access due to long-existing inequities, such as access to broadband internet.
In rural communities, such as Jaime Alcantar's, language barriers, a dearth of health care professionals and limited internet access and other digital tools have contributed to a gap in telehealth use among Black and Latino people. Programs, like the one Jaime Alcantar enrolled in and another in western New York, aim to reduce those inequities and digital barriers.
California's Central Valley is a roughly 20,000-square-mile, agriculturally rich region surrounded by mountains, including the Sierra Nevada to the east.
"Rural Central Valley has some of the worst indicators in terms of air quality, water quality and pollution of the state," said Katherine Kim, an adjunct associate professor of health sciences and health informatics at the University of California, Davis. "So, you have this challenge of an impoverished population, poor environmental conditions, and an area of health professional shortages. When you have all three of those challenges together, it means that the patients living in those regions have kind of the worst of everything."
To help close the digital gap, the university launched ACTIVATE, a public-private, remote patient monitoring program in four community health centers across the valley. "We wanted to target areas of greatest need," Kim said.
The program started at Livingston Health Center in Merced County, where Jaime Alcantar sought help. She and others with diabetes received a tablet device to upload their health data, a glucometer to check blood sugar and in-person instructions in Spanish. The program also included virtual health coaching sessions twice a month.
"Using the technology was convenient," Jaime Alcantar said. "It was easier to send the information to the doctor right away, without having to go to the clinic."
Dr. Juan Lopez Solorza, a Livingston physician, said about 250 patients used the digital tools to monitor their glucose and blood pressure levels at home. "They engaged more in caring for their health," he said. "That certainly influenced their behavior."
The program also influenced his health team. "I got to hear what the health coach was telling the patient, and the health coach got to hear what I usually say," he said. "We were all on the same page."
Over a six-month period, the program's first 50 patients – mostly Latino adults – at Livingston transmitted more than 10,000 glucose and blood pressure readings, Solorza said.
By the end of their participation, most Livingston patients had their diabetes under control and had lower blood pressure levels, Kim said. The program is scheduled to end in December, but she said the hope is to continue telehealth services with more sustained funding.
In western New York, staff at Finger Lakes Community Health have used an integrated telehealth program for Latino farmworkers since 2006.
"We started our telehealth work specifically to try to find ways to mitigate the geographical barriers, language barriers and financial barriers for our mostly Latino patients that got sent up to specialty care," Finger Lakes CEO Mary Zelazny said.
Telehealth allowed the center to reduce rides for patients to see a specialist, Zelazny said. "We were driving people all over western New York, and we couldn't meet all the needs," she said.
A grant allowed the center to get the technology, such as video equipment, so its patients could connect with a cardiologist and other specialists.
Over time, the telehealth component expanded to include primary care at all eight Finger Lakes sites. Nurses assist patients during the remote session, with interpreters available on-site.
"A lot of our farmworkers and other immigrant populations that we serve get in when they can. They sometimes don't have the ability to wait for an appointment," Zelazny said.
About 27,000 patients were seen in 2022 and 60% of them preferred to speak Spanish, she said. Patients also have the option of connecting to a health center professional from home.
The success of telemedicine, Finger Lakes chief innovation officer Sirene Garcia said, will depend on its careful integration into health care systems. Patients and staff need to be educated on how the technology works, she said, and staff should understand how the telehealth process works to provide support.
"Just because a person has a smartphone doesn't necessarily mean that they're using it the way that we think they are," she said.
Back in California, Jaime Alcantar credits telemedicine and her health care team for helping her realize that she needed to take control of her health. She's walking daily, eating healthier and watching her sugar intake. She lost 50 pounds in the past year.
"I'm feeling a lot better these days," she said.
---