---
El trabajo híbrido puede ser saludable en la casa y en la oficina
Por Michael Precker, American Heart Association News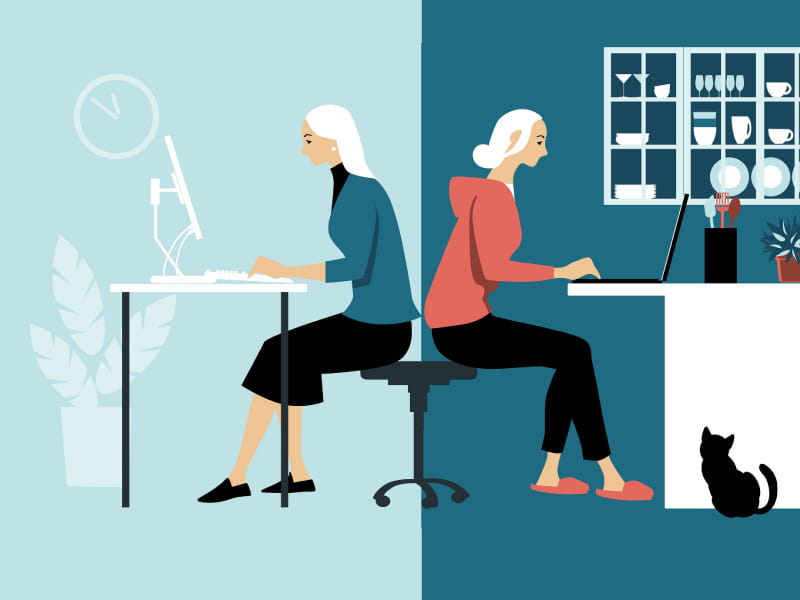 Primero, recibíamos consejos para mantenernos en forma y sanos mientras trabajábamos en la oficina. Después, cuando empezó la pandemia, recibíamos consejos para mantenernos en forma y sanos mientras trabajábamos desde casa.
A medida que se establece la era del trabajo híbrido – hacer el mismo trabajo en ambos lugares – ¿ahora qué hacemos?
Hay muchas ventajas y desventajas para la salud, dijo Shawn Roll, terapeuta ocupacional y profesor adjunto en la University of Southern California en Los Angeles, quien realiza investigaciones sobre la salud en el trabajo. "Puedes obtener muchos beneficios de los dos, pero también muchos posibles problemas y preocupaciones. Tiene que haber un equilibrio".
Una encuesta de Gallup del otoño pasado reveló que el 45% de los empleados de tiempo completo trabajaron en casa ya sea todo el tiempo o parte del tiempo, eso incluye un 67% de trabajadores de oficina. De los que trabajaron de manera remota, el 54% esperaba mantener su trabajo híbrido, dividiendo el tiempo entre la casa y la oficina.
Uno de ellos es el Dr. Jeffrey Harris, profesor en el departamento de los sistemas de salud y salud de la población en la University of Washington en Seattle.
"Generalmente voy a la oficina tres días a la semana y trabajo en casa dos días a la semana", dijo él. "Indudablemente soy igual de productivo y no extraño tener que trasladarme al trabajo. Pero extraño la interacción humana".
Al menos para algunas personas, esa es una de las concesiones. Un informe de febrero de la Organización Mundial de la Salud advirtió que el aislamiento de trabajar en casa puede llevar al desgaste y la depresión, y urgió a que los empleadores promuevan entornos laborales saludables, así como apoyo para los trabajadores en casa.
Trabajar solo en vez de en una oficina puede afectar la salud positiva o negativamente. No tener un supervisor o reglas del lugar de trabajo, dijo Harris, podría darle a alguien la libertad de beber alcohol o fumar más que antes. Ese refrigerador solo a unos cuantos pasos de distancia puede ser una fuente de alimentos sanos; o de comida chatarra fácilmente accesible. Pero un entorno de hogar podría ofrecer más flexibilidad para tomar descansos, levantarte y moverte; eso es un factor clave para contrarrestar los efectos negativos del trabajo sedentario de escritorio.
Incluso viajar al trabajo puede considerarse bueno o malo. Aunque la gente puede disfrutar el tiempo que se ahorra al no tener que trasladarse a la oficina, Roll dijo que los datos de su encuesta muestran que algunos preferirían realizar el trayecto.
"Para muchas personas, es una buena separación clara y una transición entre la casa y el trabajo, lo que crea límites entre ellos", dijo él. "En casa existe la pregunta de cuándo termina el día laboral y si el empleador piensa que estás disponible a toda hora".
Donde sea que se realice el trabajo, ambos expertos hicieron hincapié en los hábitos saludables que se deben tener en cuenta:
– Interactuar con colegas, ya sea en persona o virtualmente, ayuda a calmar la ansiedad y el estrés.
– Crear un espacio de trabajo saludable, con sillas de calidad, buena iluminación y un entorno diseñado ergonómicamente, es importante tanto en la oficina como en la mesa de la cocina. "La gente que se acuesta en el sillón todo el día con una computadora portátil suele tener más problemas", dijo Roll. "Puede cansar la vista y crear una terrible postura".
– Estar sentado en cualquier lugar por mucho tiempo es una mala idea. "Levántate, estírate y toma descansos de ejercicio", dijo Harris. "Y pon atención a las cosas que pueden representar riesgos a la salud, como beber, fumar y la proximidad al refrigerador".
Si el trabajo híbrido está aquí para quedarse, Roll espera que los empleadores ayuden a hacer que el espacio de trabajo en casa sea lo más eficaz posible.
"Deben estar conscientes de que cada empleado tiene una situación residencial diferente, con recursos diferentes", dijo él. "No solo se trata del trabajo y lo que sea mejor para el negocio, también se trata de apoyar la salud y el bienestar del empleado".
Sin embargo, los trabajadores híbridos necesitan cuidarse a sí mismos.
"Ten una idea de quién eres, cómo te sientes física y mentalmente, y cómo y dónde trabajas mejor", dijo Roll. "Trata de organizar tu vida laboral de modo que sea lo más productiva y lo más saludable posible".
Si tiene preguntas o comentarios sobre esta historia de la American Heart Association News, por favor envíe un correo electrónico a [email protected].
---