---
Superar las barreras de la mediana edad para hacer ejercicio y mejorar la salud
Por Laura Williamson, American Heart Association News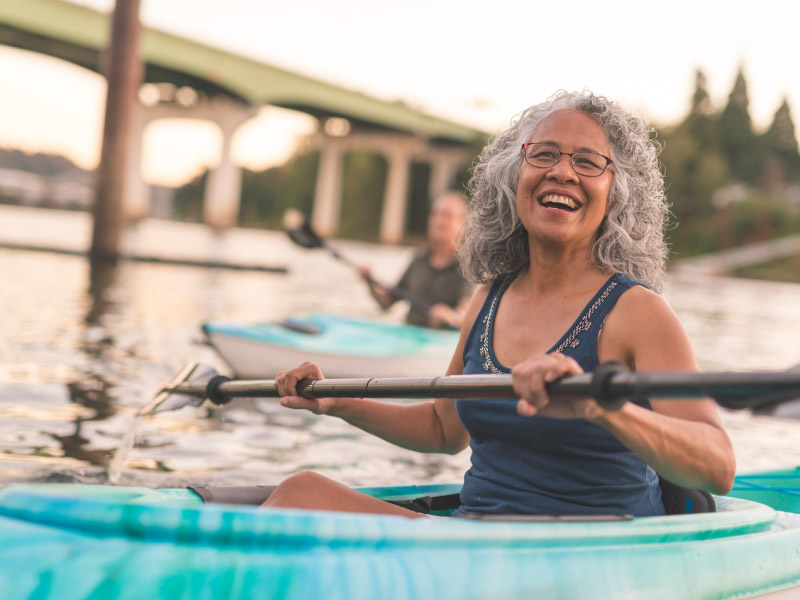 Puede ser literalmente tan fácil como salir a pasear al parque.
Basta con 30 minutos de movimiento (cualquier cosa que haga que su corazón lata más rápido) cinco veces a la semana para cumplir las directrices federales de actividad física. De hecho, el objetivo es de 150 minutos a la semana, divididos diariamente, o juntos.
Además, hay bastantes razones para ejercitarse: en estudio tras estudio se encuentra que la actividad física, sobre todo en la mediana edad, es crítica para preservar la buena salud cardíaca y cerebral al ir envejeciendo. Sin embargo, a pesar de la gran cantidad de investigaciones que demuestran que mantenerse activo es uno de los medios más eficaces y asequibles para evitar enfermedades crónicas como los padecimientos del corazón, la diabetes y la demencia, las estadísticas muestran que relativamente pocas personas de mediana edad se mueven tanto como los expertos en salud dicen que deberían hacerlo.
De acuerdo con los Centros para el Control y la Prevención de Enfermedades, casi una tercera parte de los adultos mayores de 50 años en Estados Unidos no realiza ninguna actividad física fuera del trabajo.
"La mediana edad es una etapa muy ajetreada", dijo Margie Lachman, profesora de psicología de la Universidad Brandeis y directora del Centro Roybal de Boston para Intervenciones de Estilo de Vida Activo. Su equipo estudia los obstáculos a la actividad física, así como las formas de mantener a la gente en movimiento en la mediana edad y más allá.
"Hemos visto que la barrera principal es carecer de suficiente tiempo", añadió. "Normalmente, las personas de mediana edad tienen múltiples roles y desempeñan varias tareas a la vez como locos; trabajan, crían a los hijos y a veces incluso cuidan de sus padres mayores, sin mencionar otras responsabilidades que puedan tener en la comunidad".
Y todas esas responsabilidades contribuyen a otra barrera para el ejercicio: la fatiga.
Si tienen algo de tiempo libre o energía, el ejercicio puede no figurar en su lista de prioridades, dijo Lachman. "También pueden sentirse culpables por hacer algo que se percibe como tomar tiempo para sí mismos, en lugar de trabajar hasta tarde o pasar más tiempo con la familia".
Aunque parezcan difíciles, esos obstáculos no deben resultar insuperables, dijo Lachman.
Recomienda establecer objetivos y seguir un plan para saber dónde y cuándo hacer ejercicio. Su investigación, publicada en la revista Psychology & Health, descubrió que los adultos de mediana edad que creían no tener suficiente tiempo para hacer ejercicio aumentaban su actividad física, así como su confianza en alcanzar sus objetivos de ejercicio, si utilizaban herramientas de planificación.
"Al igual que tenemos recordatorios para reuniones y tareas que necesitamos hacer en el trabajo, tenemos que poner la actividad física en nuestro calendario y bloquear tiempo. Si no es todos los días, tal vez se pueda empezar con dos o tres veces a la semana", dijo Vanessa Xanthakis, profesora adjunta de medicina y bioestadística en la Facultad de Medicina de la Universidad de Boston.
"Si pone la actividad física en su calendario con antelación, no va a programar reuniones a la misma hora", dijo. "Saldrá a caminar, irá al gimnasio, irá a nadar, saldrá a andar en bicicleta. Eso es lo que significa bloquear el tiempo".
Competir con otras personas para lograr el mayor número de pasos, y el apoyo social de hacer ejercicio con amigos y familiares, también pueden ayudar a mantener la motivación de los adultos, según muestra otro estudio de Lachman en la revista Research on Aging.
"Algo que creo que es útil en la mediana edad es tratar de integrar la actividad física con otras cosas que también quiera hacer", dijo Lachman.
Es posible incorporar movimiento a lo largo del día para lograr que cada momento cuente, dijo. "Suba por las escaleras en lugar del ascensor. Si es posible, lleve a sus hijos al colegio a pie. Salga a caminar con un compañero de trabajo en lugar de reunirse sentados. Cada pequeña cosa que haga se va sumando".
"No es necesario ser excesivamente ambicioso al fijarse los objetivos", dijo Xanthakis, "estos también deben adaptarse a los niveles de aptitud física de cada persona". Los que no son nada activos pueden empezar poco a poco, mientras que los que ya son moderadamente activos pueden aumentar la intensidad o la frecuencia de su actividad.
"Sólo empiece a mover el cuerpo. Hay cosas fáciles que puede hacer. Estacione el coche lo más lejos posible del supermercado para dar pasos adicionales. Si le queda cerca, intente hacer un mandado a pie en lugar de ir en coche".
Si no hay nada más, dijo Lachman, simplemente camine.
"Caminar regularmente tiene enormes beneficios. No es necesario contar con equipo ni unirse a un gimnasio. En su mayor parte, es algo que la gente puede hacer sin tener que hacer una inversión".
Las recompensas seguirán.
La gente se siente mejor en los días que hace ejercicio, dijo Lachman, quien fue coautora de un estudio en Sleep Health en el que se mostró que las mujeres de mediana edad que hacen más ejercicio también duermen mejor.
Añadió que las cosas se van facilitando una vez que se establece el hábito. "Te sientes mejor, física y mentalmente, psicológicamente, y es una experiencia que se refuerza a sí misma. Deseará volver a hacerlo precisamente por sentir ese bienestar. Extrañará el ejercicio cuando no lo realice, aunque se necesita algo tiempo para establecer esta dinámica".
Además, es un factor de riesgo para la salud cardíaca y cerebral sobre el que las personas tienen un control total, dijo Xanthakis. Recientemente dirigió un estudio publicado en el Journal of the American Heart Association que muestra que hacer ejercicio con regularidad y seguir una dieta saludable durante la mediana edad ayuda a lograr una buena salud cardiometabólica más adelante.
"Esto es algo que podemos emprender", señaló. "No es fácil bajar la presión arterial o el colesterol de un día para otro, pero algo que sí podemos controlar es que podemos hacer más ejercicio, tanto en términos de cantidad como de calidad".
Si tiene una pregunta o un comentario sobre este artículo, por favor mande un correo electrónico a [email protected].
---