---
Cómo aprovechar bien las aplicaciones de salud
Por American Heart Association News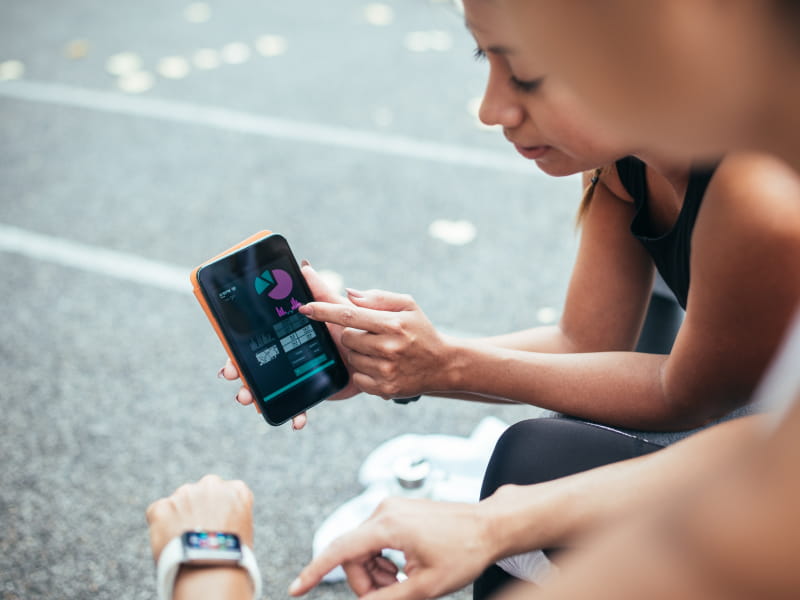 No es secreto que las aplicaciones pueden convertir su teléfono en una herramienta valiosa para su salud y condición física. Pero, con cientos de miles de aplicaciones disponibles, puede ser intimidante encontrar una buena.
No hay por qué deba serlo.
Escoger una aplicación no debe implicar más que hacer clic y descargarla, dicen los expertos, aunque hay pasos que puede tomar para mejorar las probabilidades de encontrar algo seguro y útil. Solo debe tener en mente un factor que no se puede desbloquear en línea: la automotivación
Si nunca ha explorado el mundo de las aplicaciones, quizás no sepa lo que se está perdiendo. El Dr. John Higgins, cardiólogo especializado en deportes de la Escuela de Medicina McGovern de UTHealth en Houston, dijo que pueden ser particularmente buenas para motivar a la gente a levantarse y moverse.
Higgins, autor de un artículo con evaluaciones de aplicaciones para el The American Journal of Medicine, dijo que estas también pueden ayudar a las personas a comer bien y a aprender acerca de ciertas enfermedades. Cuando se compaginan con un monitor o medidor ponible, pueden mejorar las rutinas de ejercicio y ofrecer estadísticas valiosas que las personas pueden compartir con su médico.
En el caso de los niños, agregó, las aplicaciones pueden enseñarles hábitos buenos. En cuanto a los adultos, sirven para monitorear los medicamentos, entrenar el cerebro y ayudar a "evitar cosas que sabemos que son dañinas para la salud, como mantenerse sentado navegando en Internet o viendo películas todo el día".
Los estudios muestran que las aplicaciones pueden ser excelentes para ayudar a las personas a adelgazar, sobre todo cuando les permiten mantenerse al tanto de lo que comen, dijo Lora Burke, profesora de enfermería y epidemiología de la Universidad de Pittsburgh.
Burke, quien dirigió la redacción de un informe publicado por la American Heart Association en 2015 para evaluar la tecnología de las aplicaciones, dijo que la información que proporciona una aplicación de registro de alimentos puede ser realmente reveladora. "Todos piensan que comen menos de lo que realmente ingieren", dijo. Ver el conteo y las gráficas de calorías puede dejar "atónitos" a los nuevos usuarios.
Burke señaló que aplicaciones como esas funcionan porque mejorar la salud comienza con los cambios de conducta, y, el auto monitoreo es el núcleo de esos cambios.
"La persona debe darse cuenta de su comportamiento y de lo que puede mejorar", dijo. "Luego deben monitorear su conducta para ver cómo va cambiando".
También añadió que este es el truco para que funcione cualquier aplicación. Solo es útil si se utiliza.
"No lo hará hacer ejercicio", dijo. "Únicamente le dirá si logró tomar 2 mil o 12 mil pasos. Usted es quien debe darlos".
La gente también debe ser precavida al seleccionar aplicaciones. La Administración de Alimentos y Fármacos considera que las aplicaciones móviles que fomentan un estilo de vida saludable quedan, por lo general, fuera del alcance de su regulación. Algunos expertos han manifestado inquietudes acerca de la forma en que las aplicaciones comparten datos personales.
Otros cuestionan su seguridad. Los investigadores expusieron docenas de aplicaciones nocivas en una reseña publicada en el Journal of the American Medical Informatics Association. Farah Magrabi, profesora asociada del Instituto Australiano de Innovación para la Salud de la Universidad Macquarie en Sydney, fue la autora principal de ese estudio realizado en 2019.
"Los errores más atroces fueron los que lastimaron a los pacientes", dijo. Por ejemplo, se encontró que una aplicación que supuestamente ayudaba a mujeres que tendrían cirugía para cáncer de los senos, de hecho aumentaba la ansiedad y la depresión. Otra que tenía la intención de reducir el consumo del alcohol en efecto hizo que se bebiera en exceso.

La reseña también encontró una aplicación sobre melanomas que indicaba diagnósticos incorrectos y otra para trastorno bipolar que aconsejaba erróneamente que los pacientes "bebieran un trago de licor fuerte una hora antes de acostarse a dormir".
Para protegerse, dijo Magrabi, no dependa de valoraciones de audiencia. "Los estudios han mostrado que las valoraciones de la audiencia de una aplicación no tienen relación con la calidad ni la seguridad".
En su lugar, agregó, quédese con aplicaciones de fuentes creíbles o aprobadas por estas, o sea, proveedores de atención médica, organizaciones de salud o agencias gubernamentales. (El Servicio Nacional Británico de la Salud tiene una lista al respecto en nhs.uk/apps-library/).
¿Qué más puede ayudar? Revise qué tan vigente es la aplicación. Un estudio del BMJ de 2019, encontró que las aplicaciones no actualizadas dentro del último periodo de seis meses tendían a provocar más inquietudes de seguridad.
Higgins sugirió investigar acerca de los creadores de alguna aplicación. Una aplicación sobre dietas, desarrollada por un dietista registrado, sería más útil que una desarrollada por personas ajenas al tema, dijo.
Burke también dijo que si se conecta una aplicación a un aparato que se utilice para dirigir un tratamiento, quizás un monitor de presión sanguínea, el aparato debe ser revisado por un profesional de atención médica.
En cuanto a los monitores y medidores para acondicionamiento físico y adelgazamiento, señaló, quédese con marcas conocidas que existen desde hace tiempo.
Ambos Burke y Higgins dijeron que es buena idea probar las aplicaciones para ver si concuerdan con sus necesidades y determinar si le corresponden bien a usted. Muchas ofrecen versiones de prueba.
Las aplicaciones, dijo Burke, pueden ser "buenos amigos y pequeños entrenadores". Pero necesita comprometerse.
"No se desanime", dijo. "Cambiar el comportamiento es muy difícil. Es un reto. Pero estas cosas realmente pueden ayudarlo con retroalimentación sobre los cambios que está efectuando en sus hábitos de vida".
Si tiene una pregunta o un comentario sobre este artículo, por favor mande un correo electrónico a [email protected].
---