---
Making the most of your health in the workplace
By American Heart Association News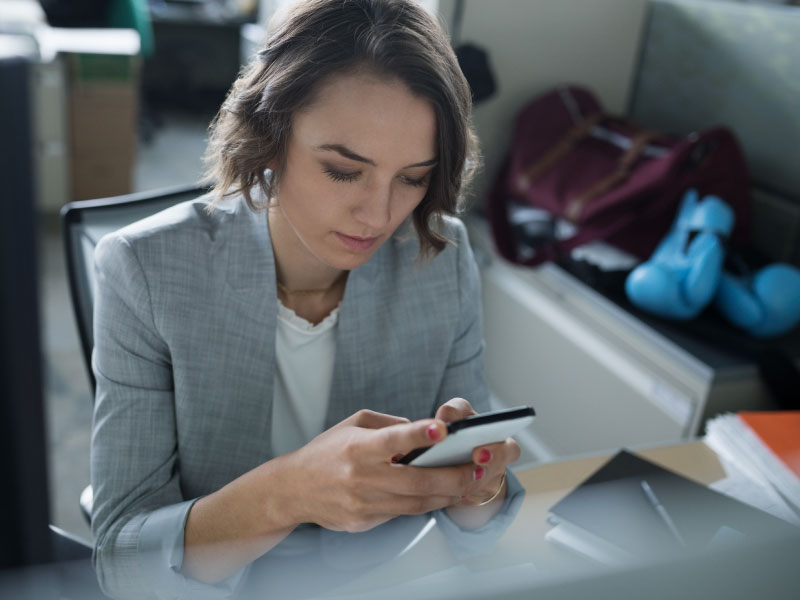 Creating a healthy workplace is a common goal these days. To achieve it, employers and employees must be mindful of big and small steps that can add up to better health.
It's important to think about health at work, given the number of hours spent there each week, said Dr. Jeffrey R. Harris, chair of the Department of Health Services at the University of Washington's School of Public Health in Seattle.
"It's where 160 million people go every day. We spend a lot of time in the workplace," Harris said, and most people eat at least one meal, or sometimes more, during their workday.
Work also is where many in the United States get their health insurance. But instead of only being a safety net when emergencies happen, those benefits can help employees get on the right track to good heart health, said Harris, who leads the workplace health recognition committee for the American Heart Association.
But it takes action, he said, "Know what your preventive benefits are and use them."
Today's health insurance plans typically cover free annual exams with basic screenings for things like blood pressure and cholesterol levels. Employees also can take advantage of health savings accounts, health reimbursement accounts or flexible spending accounts to help with additional out-of-pocket medical costs.
Telephone-based counseling and smartphone apps can make the most of technology and provide easy options for employees seeking help in making healthy choices, Harris said. Some plans carry perks like covering the cost of over-the-counter nicotine patches to quit smoking.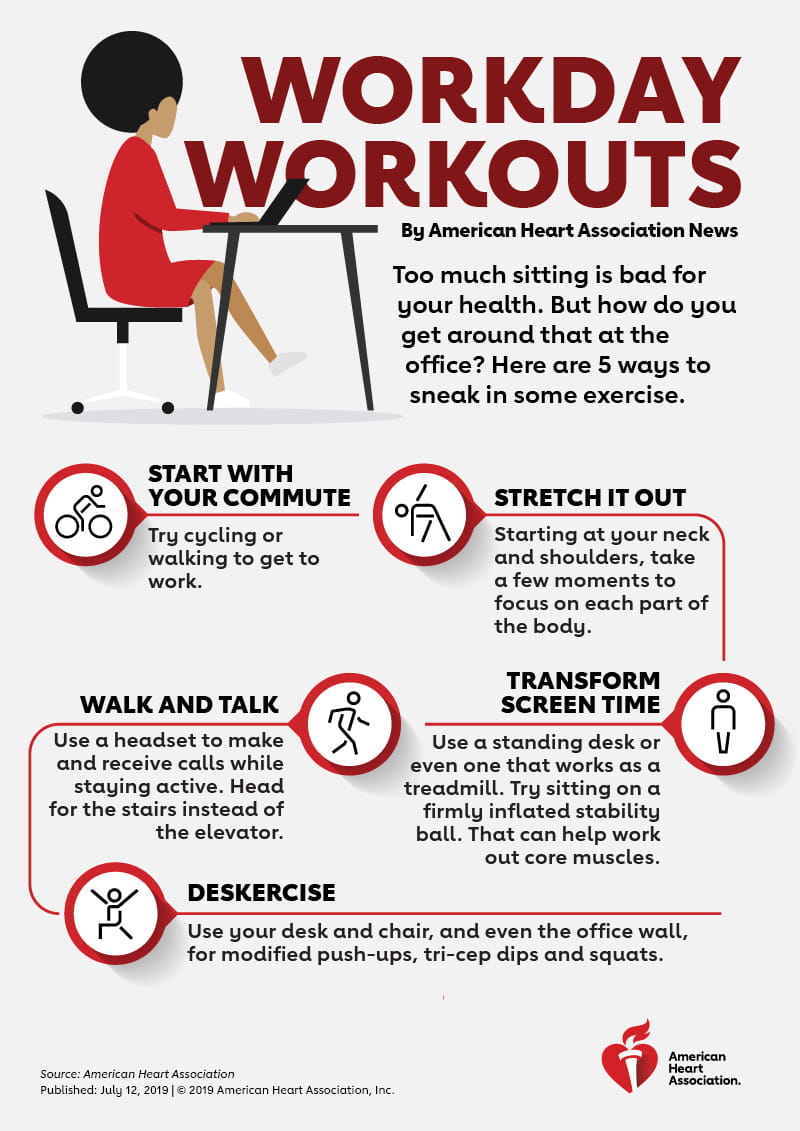 View text version of infographic.
Everyday actions, though, can help, too. Parking farther away from the office to encourage more walking can help boost physical activity, Harris said. And modifications to a work area, such as standing desks can allow for more movement and less sedentary time.
Some workplaces have banned sugar-sweetened beverages in vending machines to foster better health, he said.
Employees sometimes can encounter barriers to care in their health insurance plans even if seemingly small, Harris said. A $10 copay for blood pressure medication may sound inexpensive to some, but for lower-income employees it could prevent the purchase of the prescription.
Meanwhile, obstacles to mental health treatment remain, too.
More than 40 leading chief executives recently issued a report offering strategies to raise awareness and help employees manage mental health. The executives said mental health should receive the same attention as physical health.
It's important to read the fine print and find out what's available. Many programs may include health assessments, financial incentives and help with smoking cessation, weight management, stress reduction or other lifestyle changes.
While their primary goal is to improve employees' quality of life through better health, workplace health initiatives also can help the employer. They can boost productivity, decrease absenteeism and lower health care costs for employers.
The direct medical costs of cardiovascular disease are higher than those of any other disease and include hospital and physician services, prescription drugs and services such as home health or nursing home care. They are expected to reach $749 billion by 2035. Indirect costs, including days lost from work, are expected to reach $368 billion by then.
Harris said more research is needed on programs' impact on health improvements and cost reductions.
A recent study indicated the programs continue to be a work in progress and that perhaps companies should consider more targeted approaches.
Employees and managers can be a voice to help company leaders at every level embrace policies that promote good health and are "rolling in the same direction," he said. The strongest programs create a "culture of health," according to research.
If there's a gym or yoga class on the premises or if the company pays for gym memberships, use that perk. Friends at work can influence behavior, so find ways to make exercise and healthy eating on the job a social activity.
Walking is the most convenient form of exercise. So, head out on foot for a walk during a lunch break – perhaps with co-workers – or park farther from your office building to get in some extra steps. Look for ways to sneak in bits of movement during the day, whether it's stretching at your desk or taking stairs instead of the elevator.
"Little things matter," Harris said. "Those little things add up."
If you have questions or comments about this story, please email [email protected].
---