---
Officials seek ways to help teens understand dangers of e-cigarettes
By American Heart Association News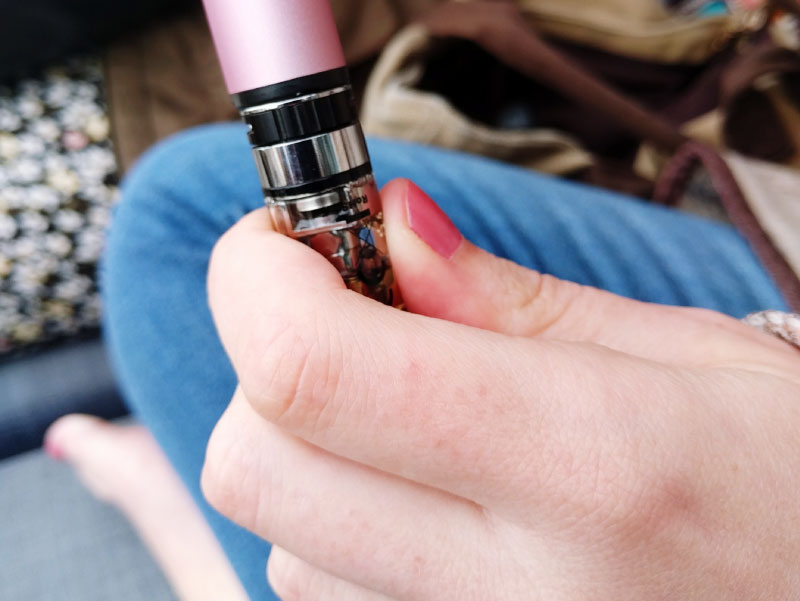 Teenagers are vaping at unprecedented levels, a disturbing trend that experts say is putting future generations at higher risk of untold health problems because of nicotine addiction.
A big problem, health and government officials say, is that many young people simply don't see e-cigarettes as a health threat.
"E-cigs have become an almost ubiquitous – and dangerous – trend among teens," Food and Drug Administration Commissioner Dr. Scott Gottlieb said recently. "We see clear signs that youth use of electronic cigarettes has reached an epidemic proportion."
To combat that epidemic, the FDA announced last week that it plans to limit the sale of flavored e-cigarettes and will begin the process of banning menthol cigarettes and flavored cigars.
An estimated 3.05 million high school students vape, according to a 2018 report from the Centers for Disease Control and Prevention, a 78 percent increase over 2017. E-cigarettes contain nicotine, which acts like a stimulant in small doses. Adolescent exposure to nicotine can harm a developing brain and lead to addiction. Juul, one of the best-selling e-cigarette products, contains as much nicotine as a pack of cigarettes.
Government agencies, health organizations and experts nationwide are working to help teens and others understand the many dangers of vaping.
The FDA recently announced a new campaign emphasizing that nicotine and addiction can harm the brain.
"We went into this campaign thinking we could focus on addiction, but teens told us that wasn't enough of a deterrent," said Kathy Crosby, director of the Center for Tobacco Products' Office of Health Communication and Education. "That was really eye-opening for us to realize how much teens' mindset has changed."
The new FDA campaign will feature ads placed in bathrooms that show parasite-like creatures or teens with worm-like parasites under the skin on their faces with the tagline, "There's an epidemic spreading." The focus is helping teens see consequences rather than purely trying to dissuade vaping.
Dr. Suchrita Krishnan-Sarin, professor of psychiatry at Yale University School of Medicine, worries about young people's disconnect between vaping and danger.
"Most kids, unless they have used other tobacco products before, don't really know about nicotine and its effect on the brain," she said.
Research shows exposure to nicotine at a young age can have lasting impacts on cognitive ability, mental health and personality.
Dr. Michelle Fiscus, deputy director at the Division of Family Wealth and Wellness for the Tennessee Department of Health, said she's also hearing of a disconnect among parents.
Parents have reported finding e-cigarettes to be a safer choice when their kids experiment, given traditional smoking's proven connection to serious illnesses such as heart disease, cancer and lung disease.
In Tennessee, 22 percent of high school students said they had used an e-cigarette, according to 2015 data from the CDC.
"The vast majority of these students have never smoked a cigarette, but they have been convinced that electronic cigarettes are not harmful," Fiscus said.
The Tennessee Department of Health is developing a statewide anti-tobacco media campaign that includes messages about e-cigarettes, and schools and organizations are also spreading the word about the unseen risk of e-cigarettes.
Other metropolitan areas are taking a tougher approach. In June, San Francisco voters approved a ban on the sale of flavored tobacco products, including e-cigarette liquids.
Tougher federal enforcement has been an ongoing issue.
In July 2017 the FDA announced it was extending the deadline to 2022 for e-cigarette makers to submit tobacco product review applications to the agency. The American Heart Association and other major health groups filed a lawsuit against the agency for extending the deadline and allowing products to stay on the market without FDA review.
"The American Heart Association believes protecting the health of young people in this country should be one of the FDA's top priorities and that's why our organization joined this lawsuit," said Mark Schoeberl, executive vice president of advocacy at the AHA.
The legal action was partly prompted by the surging popularity of "kid-friendly" e-cigarette flavors. Companies such as Juul market a range of flavors, such as mango and cool cucumber. Juul Labs said last week, just days ahead of the FDA's announcement, that it will no longer sell its cucumber, mango, crème and fruit-flavored pods in retail stores and is shutting down some of its social media accounts.
These flavors are particularly appealing to younger users.
A 2015 study found that 80 percent of youth who currently used tobacco reported using a flavored tobacco product within the past 30 days. According to the study, 81.5 percent of young e-cigarette users said they used these products because of the flavoring.
Whatever the outcome of the lawsuit, the vaping industry is evolving quickly and posing new threats, experts say.
"We should at all costs try to avoid kids from getting hooked on nicotine," said Krishnan-Sarin. "We do not want to have a new generation of youth who are now addicted to these products."
If you have questions or comments about this story, please email [email protected].
---